I cheated on Strava and got a really amazing KOM
Could Strava athletes use e-bikes to take KOMs on epic climbs and get away with it? We put it to the test.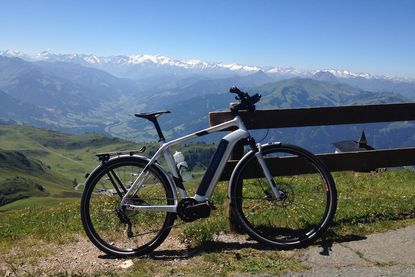 No-one enjoys getting an email through from Strava informing you that someone has taken one of your KOMs. You hastily check the segment to see what they did, and you instantly try to rationalise it. There must have been a big tail wind today, maybe they were sat behind a big group of riders, or even a car, perhaps they were on a time trial bike?
Either way, they certainly didn't take the segment because they were fitter than you.
>>> Majorca's Sa Calobra. The perfect climb?
Many Strava users will be familiar with the mysterious JP. For those who aren't, he is an anonymous Strava user, who has a habit of taking KOMs on iconic climbs off famous pros.
Somewhat provocatively his profile picture is of Lance Armstrong, with some conspiracy theorists suggesting that the account does in fact belong to the disgraced Texan. Others have suggested it may even be Sir Bradley Wiggins.
>>> Six underhand ways to make your Strava rides look better
However, I have another theory. What if JP is not a pro at all, but just a regular cyclist, with the power output and VO2 max of an average human. If so, would it be possible to cheat? I wanted to find out, as this would have implications for all Strava users. In effect, is it possible to ride up a famous climb, in a convincing way and get the KOM by cheating, and geting away with it in the process?
Analysis of JP's ride data suggests at first glance that it's legitimate. He has power, cadence and heart rate. Furthermore, his numbers appear feasible too.
So, how could he and others be cheating? My suggestion is with an e-bike. By attaching a powermeter, such as Garmin Vector pedals to an e-bike you would still get your power output and cadence. Heart rate could be recorded as per normal.
You can adjust the assistance on most electric bikes, so it is possible to still put in a lot of effort, resulting in a high and realistic looking heart rate. Furthermore, anything around 300W for 30 mins could be enough to take a KOM if you weigh 60Kg. After all, how is Strava to know that you actually weigh 85Kg and enjoy a pint or five!
For a bit of fun, I decided to put this to the test. First I needed a climb, so I chose a brute – the Kitzbuheler Horn is found in Austria, next to the town of Kitzbuhel. For those not familiar, this fearsome hors catagorie monster is 9.7km of 13% unrelenting brutality, and is often featured in the Tour of Austria.
>>> Ten epic climbs you may not have heard of
Next, I needed an e-bike. Having done some research, I opted for a Kalkhoff Integrale 10G. This particular bike is designed primarily for town use and features Kalkhoff's proprietary Impulse Evo 36V / 250W motor with shift-sensor technology. The motor is impressive, producing a claimed 70Nm of torque. In real terms this is like having a crank arm 1 metre long with a 70kg weight pushing on the end of it. I hoped this would be enough to cope with the 20% gradients I had to ride. Furthermore, the battery life is good too, with a claimed range of approximately 200km on 'eco mode.'
The Integrale 10G is limited to 27kph, beyond which the motor ceases to assist you. Kalkoff do make a model above this with a more powerful 350W motor that is limited to 45kph. This however requires a licence to ride on the road.
Considering the current KOM on the Kitzbuheler Horn was set at average speed of 12.1 kph, I figured the 27kph max speed would not hold me back. I was keen to see if the motor could cope with the sustained torque loads and heat (it was a stifling 30ºC).
Although the battery life is long, this is dramatically reduced if you use the motor a lot, so I wanted to see if the battery would last the course too.
I swapped the flat pedals for my own Mavic Zxellium SLs and also changed the wide padded saddle for a Selle Italia SLR. Other than that, the bike was off the shelf and the motor was not tweaked in anyway. The fork was also locked out, as suspension would not be required.
I set out, heading towards the climb. The 'Horn' as it is know is clearly visible as you approach it. Imposing itself upon the horizon, it certainly is intimidating. Rolling along the flat valley on the approach I was consistently exceeding the 27kph limit, whereupon the Integrale 10 would suddenly become a really heavy bike.
I reached the base of the climb and pre-emptively switched the Kalkhoff motor to give me maximum assistance, in 'Ultra mode'. However, it quickly became apparent that this was going to take the proverbial and look completely unrealistic.
The initial 14% ramps of the 'Horn' were demolished at over 20kph. It felt effortless too, my heart rate was really low and I wasn't having to pedal hard. Maybe this is what EPO feels like?
Worried that my heart rate was too low and my speed too high to look convincing, I turned down the assistance. The motor actually features five levels and I struck a happy medium on the second level – 'sport.' This level seemed to give me some assistance but also required me to work pretty hard and get my HR up at a speed which was just enough to take the KOM.
Further up the road, scattered along the length of the climb were several cyclists also attempting the Horn, the majority of whom were astride expensive carbon road bikes.
I saw the first rider up the road, snaking his way up, weaving in an effort to take the sting out of the relentless gradient. As I flew past, he was able to exclaim 'wow' through his panting. I passed another cyclist who I heard say 'Jesus Christ' as I blasted past him at a speed only a pro could realistically hope to achieve.
>>> How to master a long climb
Interestingly people didn't seem to notice that I was on an electrically assisted bike and effectively cheating. I felt a mixture of pity and amusement for them. After all, they were giving it their all on lightweight carbon bikes, only to have someone fly past on an upright town bike, looking like they were going to the shops.
Ramps of 20% are common on the Horn and with each kilometre, there is a sign informing you what the average gradient of the next kilometre is. One particularly cruel sign near the top informs you that the next 1000m has an average gradient of 19.5%. Ouch.
>>> What have we learnt from Froome's power data
The e-bike had absolutely no problem and continued to be more than up to the task in just its second level of assistance.
So did I take the KOM? I did, and interestingly, I appeared to do it in a way which was convincing enough not to be flagged. Friends were impressed, giving me plenty of virtual 'kudos' and messages of congratulation.
Now I have admitted to my deception, I fully expect the climb to be flagged, but I wanted to see if it could be done in a believable way and if an e-bike was up to the task. It would appear it can. I have subsequently removed the ride.
Interestingly my VAM score was a high 1689 Vm/h. VAM is a measure of climbing speed, measured in metres-per-hour.
>>> The kings and queens of Strava
The biggest values ever seen in pro cycling, over sustained climbs, were in excess of 1800 Vm/h, from Lance Armstrong and Marco Pantani. But crucially mine was actually higher than Chris Froome's ascent up the climb to La-Pierre-Saint-Martin on stage 10 of the 2015 Tour de France. Froome's VAM was 1602 Vm/h.
Before all the trolls break out of their cages (dank bedrooms), I should point out several things. Riding an e-bike up a climb is great fun. You can adjust the assistance, as I did, so that you still have the sensation of pushing yourself up a climb. The crucial difference, is that you are travelling at a fast speed, giving you a unique inkling of what it must be like to be Chris Froome or Nairo Quintana. Also, Strava isn't life or death and this was an amusing experiment.
So… what have we learnt? If you are that way inclined and want to take all the KOMs on the biggest climbs, buy an e-bike. However, although I found the Kalkhoff incredibly enjoyable to ride, the feat of taking that KOM was completely empty. This only touches the surface, but it gave me an insight into what it may feel like for any of the winners of any major cycle races who have done so by foul play.
This is not to say I am against the idea of e-bikes. For people who for whatever reason would struggle up a hors catagorie climb, e-bikes represent a great solution.
Key climbs of the Tour de France. Montvernier
Thank you for reading 20 articles this month* Join now for unlimited access
Enjoy your first month for just £1 / $1 / €1
*Read 5 free articles per month without a subscription
Join now for unlimited access
Try first month for just £1 / $1 / €1