10 climbs from around the world you haven't heard of
We take a look at 10 huge cycling climbs from around the world (with a little help from Strava) that you might not know too much about...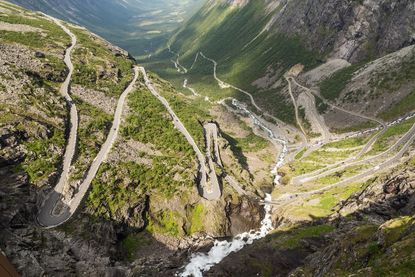 (Image credit: Tristan Taussac, Flickr)
1. Colombia - Alto de Letras, 79.9km, 4% avg. grade
The Letras allegedly holds the dubious honour of being the longest cycling climb in the world, with the Strava segment for the climb rounding off at a whopping 80km at an average gradient of 4%. By the time you've reached the top of the Colombian climb you'll be sitting at almost 3,700m altitude, which might be another reason why you're breathing so heavily.
As you might expect, it's a fairly quiet climb to take your bike out on, with only 340 riders having recorded times on the Strava leaderboard.
2. UK - The Great Dun Fell, 7.4km, 8% avg. grade
Ok, so it's quite likely that you've probably heard of Great Dun Fell if you're a UK reader, with the climb billed by some as the 'Alpe d'Huez of the UK' because if its twisty roads.
Hitting gradients of almost up to 25%, the KOM on the 7.4km Cumbrian climb, which is Britain's second-highest hill all told, is held by former national hill climb runner-up James Gullen. And when a national hill climb podium finisher averages 17.6kmh up a climb, you know it's going to be a real slog for most of us.
3. Portugal - Seia - Torre, 28.4km, avg. grade 5%
Portugal is rarely the first nation to make it into the thoughts of cyclists looking to escape for some winter training, but it's certainly not short in it's capability to provide a gruelling climb.
'The Torre' is situated near Portugal's highest city, Guarda and is measured on the Strava segment at 28.4km in length. Leading into the Serra de Estrela mountain range, there's a hell of a view on the way up the winding road if you're somehow able to take some time out to observe while you're attempting to conquer the 5% average gradient.
>>> Nail it: Climbing technique
4. USA - Mount Evans, 44.3km, 4% avg. grade
'The road into the sky' is how the Mount Evans website describes the highest paved road in North America, which is laden with switch backs over its 44.3km, if you're partial to that.
While it might it not have some of the toughest gradients of the climbs featured here, the Colorado mountain pass is apparently prone to quite drastic weather changes, meaning you'll need to be ready for sudden heat, instant cold or even storms out of nowhere.
5. Australia - Mount Hotham, 29.9km, 4% avg. grade
Forget Old Willunga Hill, Mount Hotham is one of Australia's toughest climbs and is certainly a popular one, with almost 6000 riders trying their hand on the 29.9km ascent.
The open summit is almost Ventoux-esque, while there are some false flats in there which can make you feel like you're on a really bad day. There's a popular ski resort at the top, so you can always find another way down if you're in the right season, while an off-season trip means you'll likely have the roads to yourself for much of the time.
6. Ireland - Healy Pass, 5.7km, 5% avg. grade
Another treat for the hairpin-hungry UK and Ireland readers with Healy Pass, a 5.7km test out in the sprawling countryside of County Cork.
It's another fairly well-used pass, having featured in the Irish domestic race Ras Mumhan, where current KOM Simon Yates smashed up the climb at 29.3kmh in the 2013 edition of the race.
7. Malaysia - Genting Highlands, 21.6km, 7% avg. grade
This Tour of Langkawi classic summit finish has been pretty sparsely attempted considering it's stature, with 40 attempts on this particular segment.
At 21.6km, it's another long one, but here the gradient is a real killer, with the steepest sections coming right towards the summit with an apparent 30% section appearing on one corner.
The climb had to be dropped from the Malaysian race in 2015, with apparent landslides blocking the roads and forcing the organiser's hand to remove the finish there.
It can get extremely hot and exhausting up there, so make sure you're equipped with enough hydration to get you through the marathon climb safely.
8. Chile - Farellones, 30.7km, 5% avg. grade
Ski-crazy in the winter months, you can access the climb up to Farellones from the Chile's capital, Santiago.
High-up in the Andes, you'll reach about 2,300 metres, and the air is going to get pretty thin, meaning you'll want to pace yourself well on this mammoth climb which relents very little with its plethora of switchbacks.
There are bars and shops when you reach the ski resort at the top, so have a beer on us when you make it.
9. Norway - Trollstigen, 9.4km, 7% avg. grade
The most northern climb in our selection here, 'The Troll's Ladder' as it translates might also be the most picturesque.
It's not the longest, but its seemingly sports quite a lot of undulations with some tricky gradients. But looking at the hairpins that lead to the finish is the kind of picture that would make most cyclists curious to give it a go.
Norway's not known for its heat, so you can imagine it probably gets a bit chilly towards the top, so you might want to pack a few extra layers if you're going to make the trip.
10. UK - Bealach na Ba, 9.3km, 7% avg. grade
There are very few properly long climbs around the UK, but Bealach na Ba in Scotland probably beats the lot with its 9.3km.
It's got a feel of the Alps about it, with the twisty single track road winding through the Applecross peninsula. But it packs a punch with some of its gradients, touching 20% allegedly with a definitely steep finish at the summit.
There's a number of sportive events that now take in the famous pass, so plenty of opportunity for those of you looking for a UK-based challenge to head up to the Highlands.
The best fact Wikipedia could give us on the climb is that surreal 1990s comedy-drama series Hamish Macbeth - the one with Robert Carlyle - was filmed up there.
Looking for more? You can check out Strava's full list of Classic Segments over on its website here.
Thank you for reading 20 articles this month* Join now for unlimited access
Enjoy your first month for just £1 / $1 / €1
*Read 5 free articles per month without a subscription
Join now for unlimited access
Try first month for just £1 / $1 / €1