Simon Yates targeting 2015 Tour de France stage wins
Orica-GreenEdge rider Simon Yates is targeting Tour de France stage wins as he says the 2015 route suits him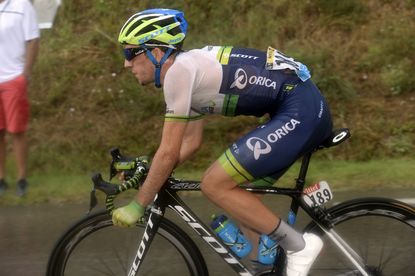 (Image credit: Graham Watson)
Orica-GreenEdge rider Simon Yates is aiming for multiple stage wins at the 2015 Tour de France after missing out in this year's race.
Yates feels the 2015 route is better suited to him and says "there are potentially plenty of opportunities to go for stage wins".
The Briton also vented his disappointment at winning nothing during 2014.
"I won't lie, I'm a little bit frustrated I didn't get a win. It's nothing to do with the fact that my twin brother and Orica-GreenEdge team-mate, Adam, got three – honestly! – but more that this was the first season in which I haven't had a win since I was about 12," Yates wrote on his Sky Sports blog.
"And ok, yes, I would like to shut Adam up because he keeps giving me a ribbing," Yates added.
This was Yates' first season riding as an professional cyclist and it was dotted with highs and lows, from his World Tour debut at Paris-Nice to breaking his collarbone in the Tour of Turkey, then being selected for the Tour de France line-up.
"It's been a good year, but I just feel that without breaking my collarbone, I might have been able to step it up another level and maybe get that first win, which in the end eluded me," Yates said.
In the more immediate feature, Yates will be heading to the Alps this December as part of his winter training programme.
Source: Sky Sports (opens in new tab)
Tour de France debutant and youngest rider in the race, Simon Yates says he's never experienced anything like it
British rider Simon Yates abandons 2014 Tour de France on second rest day
21-year-old Orica-GreenEdge debutant Simon Yates talks about his Tour de France experience as he withdraws from the race
Thank you for reading 10 articles this month* Join now for unlimited access
Enjoy your first month for just £1 / $1 / €1
*Read 5 free articles per month without a subscription
Join now for unlimited access
Try first month for just £1 / $1 / €1