Simon Yates coping with the Tour de France's media frenzy
Tour de France debutant and youngest rider in the race, Simon Yates says he's never experienced anything like it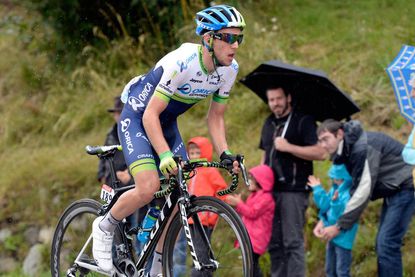 (Image credit: Graham Watson)
Simon Yates was remarkably relaxed at the start of stage 12 of the Tour de France in baking hot Bourg-en-Bresse, though by this point in the race he was entering the unknown.
"I'm curious," said Yates, "because I've never raced as many days as this before, I'm not sure how I'll recover. At the moment I've got a little bit of a tight chest, but it's not bad." Sitting on the top tube of his bike as riders prepared to line up, Yates was in the middle of the madness that is the Tour.
"What's the one thing that strikes me more than anything else about the Tour? The media. There's so much more media interest here than in any other race. I suppose partly it was because the Tour started in Yorkshire and I'm the youngest rider in the race, but still, it's incredible. In the end though, once the media goes and the stage starts, it's just like every other bike race."
If Yates had been getting plenty of attention, it was partly of his own making after he got into a break on stage eight to Gerardmer.
"Yeah, well, when you get a chance to get in a break and maybe win a stage, you can't say no, can you? You don't get a chance to win a Tour stage every day."
What does happen every day is that Yates has a job to do.
"Yes, every day I've got a job to do, it's not like I'm just floating around at the back of the bunch for experience and trying to get round. In some ways it helps keep me focused and makes me ride at the front of the bunch, which isn't easy in the Tour."
Orica-GreenEdge sports director says 21-year-old British rider will have his chance to go for wins in Tour de France
21-year-old British rider hoping to make mark in mid-section of race as it heads back to France
Thank you for reading 20 articles this month* Join now for unlimited access
Enjoy your first month for just £1 / $1 / €1
*Read 5 free articles per month without a subscription
Join now for unlimited access
Try first month for just £1 / $1 / €1