Simon Yates is a 'potential stage winner' at Tour de France
Orica-GreenEdge sports director says 21-year-old British rider will have his chance to go for wins in Tour de France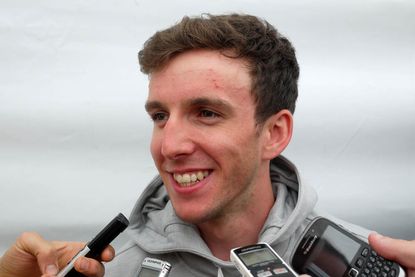 (Image credit: Gregor Brown)
Simon Yates starts the Tour de France not just as helper, but as a potential stage winner, says his Orica-GreenEdge team.
"He might be 21, but he's a race winner," head sports director, Matt White told Cycling Weekly. "He'll have his opportunity to go for wins at the Tour de France, that's for sure."
Orica presented Yates in its nine-man team today in Leeds, where the 101st Tour de France kicks off tomorrow. On stage and off to the side, Yates said that he was at the race – his first Grand Tour in his debut season – to help Simon Gerrans and his team-mates, but White explained otherwise.
"He's obviously quite humble in his answers when he says that he will work for the team," White said. "We've been very impressed with both Yates brothers and the reason why we brought Simon here is because he fits into the stages that we are targeting.
"He'll be able to go off the leash in certain stages for sure. We haven't talked about day-to-day plans, but we have a big focus on Sunday with Gerrans and he should already have a card to play. There may be a possibly for him to move ahead because it's always better to have someone in a break. Afterwards, he'll have his chances, the biggest possibilities are in the stages from here to stage 12."
Yates and his twin brother Adam, from Bury, have never raced on the roads that stage two uses but they train on them regularly. Simon said that he would feed any information he has about the day to his team.
"Gerrans has a huge opportunity to win that stage," Yates said, "If he's up there on the first day, then he could possibly win the yellow jersey, too."
Orica signed Simon, and Adam, after he placed 10th overall in the Tour de L'Avenir and won two stages. He also won a stage and placed third overall at the Tour of Britain behind Bradley Wiggins. This year, he rode to 12th overall in one of cycling's hardest stage races, the Tour of the Basque Country before breaking his collarbone in the Tour of Turkey, where Adam won the overall.
Turkey helped since his broken collarbone forced him to rest. He had been building up for the Tour of Poland, but since the team saw he was fresh, they gave him the green light for the Tour. It could turn out to be the toughest race yet for Yates since the longest race he has completed so far has been only eight days.
"That's all part of it, getting a lot of experience in your first Grand Tour," Yates added. "Hopefully that will bring me out a lot, as well. It's hard racing, the biggest race all year and hopefully that will bring me out a bit for the future."
"He'll get a lot of experience out of this," White said. "I think he can handle this experience even if it is a big step. He's already shown to be a winner this year, he's been a world champion on the track in the past, he knows how to win bike races. He's been thrown into the deep end, but he's been handling the pressure and the whole Tour circus very well."
Adam and Simon Yates are two of most talked about talents in British cycling, and as they embark on their
Thank you for reading 20 articles this month* Join now for unlimited access
Enjoy your first month for just £1 / $1 / €1
*Read 5 free articles per month without a subscription
Join now for unlimited access
Try first month for just £1 / $1 / €1