Simon Yates: 'I didn't go to the Tour de France just to ride around'
21-year-old Orica-GreenEdge debutant Simon Yates talks about his Tour de France experience as he withdraws from the race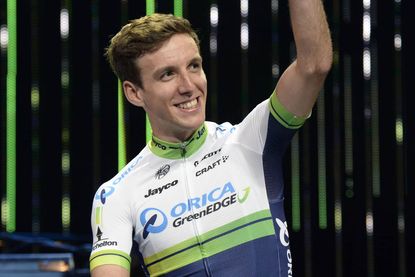 (Image credit: Graham Watson)
Simon Yates (Orica-GreenEdge) left his first Tour de France after the 15th stage in Nîmes, but did so having gained valuable experience. The neo-professional said that it would count for the next grand tour that he races.
"From the start, there was no pressure to finish," Yates told Cycling Weekly. "I wanted to go to the finish. The idea is to get myself more competitive for the next race so that I'm not just riding around."
In their short pro careers, the 21-year-old Yates twins, Adam and Simon have made an impact. Simon rode to 12th overall in the Tour of the Basque Country and has now completed two weeks of the Tour de France. Adam won a stage and overall of the Tour of Turkey, and placed sixth in the Critérium du Dauphiné.
"Adam's still reminding me that I don't have a win this year," Simon Yates said, "but I say the same thing [that the Tour de France is not the Tour of Turkey]!"
Australian team Orica gave the green light to Simon Yates to race the Tour de France partly because he had to stop and rest after breaking his collarbone in the Tour of Turkey. It believed that the Tour would have been too much for his brother since had been racing from January through June. Adam Yates is now in Livigno, Italy, for a training camp.
Simon Yates made the most of his chance. He worked for his older team-mates and made the escapes in stages eight and 14, both summit finish days. In stage 14 to Risoul, he lasted until 5.5 kilometres to race.
"Towards the end of the day in the escape, you can tell that you are lacking a bit, but that is more with how I came into the Tour than anything else," Yates said.
"I'd just raced five days since breaking my collarbone, just Slovenia and the nationals. I felt that it was more the racing, the lack of it, than the experience that hurt my chances [in the escapes]. I'm just missing that tiny bit."
Yates overcame a chest infection and a cough between his days in the escape. He also learned in that time to take it easy. Older team-mates like Svein Tuft or head sports director, Matt White, told him to not work so hard when he does not have to.
"A lot of this game is a lot about recovery, you have to choose your times to take it easy and you have to choose your times to go because you can't just go flat-stick everywhere," Yates said.
"I rode in the front a bit to bring the break back one day, once I did that I just sat up and cruised in. In the past, I'd just keep fighting and working, but I learned to just sit up after my job is done and recover."
Many journalists following Yates were impressed by his attitude and motivation. Even as a neo-pro/debutant in the Tour, he had desire to win and to learn.
"I'm quite an ambitious guy," Yates said. "I want to take the opportunities when they are there. If you just look at it from the bad side, you finish in the back all the time."
He left the Tour with the impression that he will soon be back, and next time to win.
Tour de France debutant and youngest rider in the race, Simon Yates says he's never experienced anything like it
The two remaining British riders in the 2014 Tour de France, Geraint Thomas and Simon Yates, in stage 14's escape
British rider Simon Yates abandons 2014 Tour de France on second rest day
Thank you for reading 20 articles this month* Join now for unlimited access
Enjoy your first month for just £1 / $1 / €1
*Read 5 free articles per month without a subscription
Join now for unlimited access
Try first month for just £1 / $1 / €1