Best cycling socks 2023: cool socks and winter warmers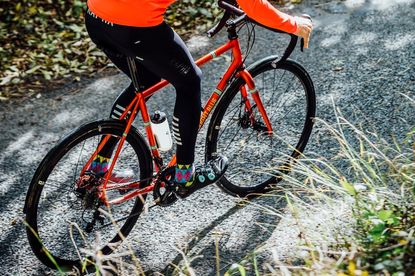 (Image credit: chris catchpole)
Cycling socks are the easiest and cheapest way to express your personality while pedalling around town, rural roads and up and down hills.
Summer is when most of us are out on the road for longer rides, and as there's no bib tights to hide away your choice of socks, you need high-quality socks that also look the part.
Come winter, you'll want socks that keep your feet toasty without being too bulky thus affecting the fit of your shoes when out riding the your best winter road bike.
Some brands tend to use funky designs, while others go big and bold with their colour schemes.
We recognize that a lot of these designs and colour schemes are hit and miss and so we have also tried to include links to the rest of the range by these brands.
We've split the guide in to two sections, summer and winter, but depending on how warm or cold your feet get when riding means these categories are totally interchangeable.
Best summer cycling socks
Why you can trust Cycling Weekly Our expert reviewers spend hours testing and comparing products and services so you can choose the best for you. Find out more about how we test.
With each pair of socks is a 'See more' or 'Best Deal' link. If you click on this then we may receive a small amount of money from the retailer when you purchase the item. This doesn't affect the amount you pay.
DeFeet Aireator 6'' Barnstormer Ombre cycling socks
Best cycling socks for standing out on a group ride
You won't blend into the group ride with these bright neptune and hi-vis yellow ombre socks from DeFeet. This design features in DeFeet's Aireator mesh range of socks which are optimized for ventilation, comfort and versatility. These socks are also eco-friendly as they are made partly from plastic bottles - so you can look cool while helping the environment at the same time. If you do get really hot on rides then our Hot weather cycling: five tips to help you keep (opens in new tab) your cool could be a handy read for you.
Assos Monogram Socks
Best cycling socks for high intensity riding
Using the classic Assos logo for styling, the Monogram socks use a performance blended yarn to make them not only comfortable but highly breathable too.
Using a blend of Polypropylene, Elastane, and Polyamide, Assos say that the classic length sock will contour your foot perfectly as well as offering a high level of breathability. This airflow optimisation make them a perfect pair of socks for hot weather and riding at high intensities.
Available in a range of sizes and either blue, black or white footbeds.
SockGuy SGX Raceday sock
Best cycling socks for racing
We're big fans of SockGuy socks, as they are incredibly comfortable and have great durability. The SGX Raceday sock is a departure from the brand's usual fare of bright colours and designs, and controversially in black only - causes great divide amongst the road racing fraternity.
Boasting a comfortable compression and enhanced ventilation, SockGuy say that the performance footwear is designed to reduce friction. The double cuff at 5" isn't about average, and promises to stay put even when pedalling fast.
Sealskinz Super Thin Pro Ankle Sock
Best cycling socks for dry feet in warm weather downpours
Another brand we really rate at Cycling Weekly. This time Sealskinz have come up with the perfect cycling sock for dealing with summer downpours, when waterproof overshoes would mean over heating.
Sealskinz say that the Super Thin Pro socks are 100% waterproof, windproof and breathable, but 33% lighter than it's standard "thin" waterproof socks.
The silicone free Hydrostop cuff helps reduce water ingress, while an from eco-friendly bamboo liner keeps the socks feeling soft next to the skin.
There are plenty of sizes to choose from an in theory red, navy blue and neon yellow to choose from, but it does depend on what country your picking from.
Ratio 20cm cycling socks
Best cycling socks for matching team kit
The wallet friendly Ratio socks come in eight colours, including black and white, so it's almost certain there's a pair to match even the trickiest of team colours. If you are looking for something more jazzy, you'll be pleased to know that there are multiple pattern options in the same fit as well.
Despite their length, the brand have added mesh where your feet get hot, and extra support in the heal and toe area to help prevent blisters.
The Polyamide yarn properties make these great cycling socks for sweat wicking, making these a great warm weather option.
If you find the UCI legal 20" height a tad too tall, you'll be pleased to know that there is a 16" option in all the same colours too.
Primal cycling socks
Best cycling socks for fun
There are around 27 pairs of Primal socks all with different patterns, logos or pictures to choose from. While most will not exactly match your cycling kit, they do provide a lot of entertainment for you and your riding buddies.
What ever design you opt for the affordable cycling socks are all constructed from a mix of cotton (70 percent), polyester (10 percent) and promise to be both breathable and sweat wicking, ideal for warm weather rides.
Prendas Spring/Summer Dryarn cycling socks
Best lightweight and ventilated cycling socks
Constructed using Dryarn and Carbon fibres which promises to make these house branded socks exceptionally breathable and cool to wear.
The Dryarn fibres are said to be less absorbent, instead transferring moisture away from the skin to the surface of the fabric. Thanks to a claimed low thermal conductivity compared to other fibres, the Prendas socks have the potential to repel summer heat, which when teamed with carbon yarn provides a comfortable durable fabric.
The added bonus with these is that the Dryarn is exceptionally low weight, making these nearly a third lighter than a standard cotton pair, perfect for climbing mountains in the sunshine.
With eight colours and multiple sizes to choose from, there's bound to be a pair of these wallet friendly cycling socks to match your kid.
Swiftwick Vision Six
Best cycling socks for high performance in a creative design.
With several different designs, including a National Parks, as well as more muted colours, the Swiftwick Vision Six socks belie their technical attributes, and do in fact stake a claim on being one of the most comfortable socks on the market.
Swiftwick say that the USA made cycling socks use advanced high-performance fibers wick moisture to keep your feet dry and cool, while its knitting process helps keep feet blister-free and provides a medium cushion.
Multiple designs, colours, sizes to choose from in these Nylon, Polyester/ Spandex mix socks means that there should be a pair out there for everyone.
Stolen Goat Coolmax cycling socks
Best cycling socks for crash damage replacement
Stolen Goat's CoolMax range are designed to be breathable, lightweight, and quick-wicking.
Made in Italy, these socks also have a compressive fit, and according to the brand perfectly contours your foot for a comfortable riding experience.
As well as being able to buy the perfect pair to match your Stolen Goat jersey, the brand also offer a lifetime guarantee and crash damage replacement, so if it can't be repaired, you'll get a 50% discount voucher for a new pair.
Sportful Mate cycling socks
Best cycling socks for odour control
Constructed using Cupron fibres, the Sportful Mate cycling socks claim to use a embedded copper-based antimicrobial technology for self sanitizing reducing unpleasant odours.
Teamed with Polyester and a light semi-mesh construction means the sock will also breathable and have good sweat wicking capabilities.
The two-tone striped Mate Socks from Sportful come several different colour options and sizes.
Shimano S-Phyre tall socks
Best cycling socks for team with Shimano S-Phyre shoes
Over the year's Shimano has designed its gear to work as a system, and the S-Phyre socks are the perfect example of that as the perfect partner for the Shimano S-Phyre cycling shoe (opens in new tab) range.
The dot pattern over the top of the foot lines up with the top BOA dial and strap to help relieve pressure, and the left and right specific airflow channels line up with the vents on the shoes. Shimano have even knitted the heel to provide extra grip for the silver cat's tongue, one-way fabric used in the back of the S-phyre shoes.
However, just because they are designed to be used with Shimano shoes, doesn't mean you can't wear them with anything else. They promise to provide pleasant compression through the forefoot and bottom of the calf, and never slip down over the course of a ride.
Available in four colours and multiple sizes.
Best winter cycling socks
The two worst things about riding during the winter months have got to be numb hands and numb toes.
Freezing extremities are greatly reduced by wearing a good pair of winter cycling socks, and teaming with the best cycling overshoes (opens in new tab) and best winter cycling shoes (opens in new tab) will defeat the chances any of numb feet no mater what the weather.
One of the key mistakes winter cyclists make is to overpack shoes with too much sock - either wearing socks which are too thick or doubling up. The result is that the shoes become overly tight, cutting off blood supply and thus actually causing numb toes.
A good winter sock is able to provide warmth without being thick and bulky. Some also come with water-resistant or even waterproof treatment, to keep out the splashes on those wet and sloppy winter days.
Castelli Quindici Sock
Best cycling sock for long cold rides
Made from 100% Merino wool, the Quindici are the ideal cycling sock for keeping you incredibly warm in a low volume sock, preventing any pinching from your regular cycling shoes. The soft and durable yarn is also known for it's odour minimizing properties helping to keep your footwear fresh all year round.
The 15cm cuff should prevent any bibtight to sock gaps, while muted tones means that should they be worn without overshoes, they'll recover from the winter road spray after a machine wash.
dhb Aeron Winter Weight Merino Sock
Best cycling sock for affordable winter warmth
These mix 65-percent wool with Elastane, Lycra and Nylon - not only promises an excellent "warmth to weight" ratio but also provides an entry level price tag for everyone to experience the naturally warm and breathable material.
The cuff measures 18cm / 7in ensuring that there'll be no chilly ankle gaps on display when wearing a pair of these sock from the Wiggle house brand.
A reinforced heel should make these great winter cycling socks extra durable, while a padded foot-bed and flat toe seam will help provide support at the midfoot, and prevent friction rubs.
Best cycling socks for below freezing temperatures
For days when the mercury has well and truly dropped, there's these 'deep winter' socks from Rapha.
The long cuff comes up just below the knee, and a thick wind-resistant front panel keeps out the chills. The bulk of these tall socks is a blend of merino wool, nylon and elastane, and there's extra wind resistance built into the toes.
The seams are double stitched for durability and footbed is padded, for extra comfort.
On test we rated these a 9/10 , but best saved until it really is cold outside.
Sealskinz Waterproof Cold Weather Mid Length Sock with Hydrostop
Best cycling sock for cold wet weather
For any form of waterproof socks, we'll aways lean towards Sealskinz as the market leader.
A silicone free Hydrostop cuff is designed to prevent drips from sneaking through and down to your foot.
The fabric itself promises to be totally waterproof, while still being breathable and windproof. A Merino wool lining aims to wick sweat and dry quickly, while also providing a soft and comfortable layer next to you skin.
They can seem an expensive option, but can be the best investment you make in winter kit.
DeFeet Woolie Boolie 6'' Cuff socks
Best cycling socks for around cycling
If you by one pair of winter cycling socks, you won't regret purchasing DeFeet's Woolie Boolie.
The mid-weight versatile option, which is roughly twice the thickness of DeFeet's summer Aireator sock, is a firm favourite and go to pair of cycling socks once the leaves start falling.
These socks are almost half wool (48-percent), half nylon (49-percent) with a touch of lycra (3-percent) to help maintain their shape. With a padded terry loop top cuff and sole, and arch compression for greater stabilization, the Woolie Boolie will keep you warm and comfortable on warmer winter rides.
The only downside is the lack of colour choice, but this does make them more forgiving of any winter road muck that gets thrown at them.
Swiftwick Pursuit Seven
Best cycling sock for no-itchy merino
With a reinforced heel and two, Swiftwick's Pursuit merino wool socks provide just the right amount of warmth to cut through the biting cold without much bulk.
The socks are made from a fine gauge merino wool which is soft, non-itchy, and comes in a range of cuff heights and colours — we like the seven-inch cuff because it covers that bit of extra skin.
Like most winter sock options, colours are more muted, but plenty of sizes to choose from meaning there should be a pair to fit most riders.
Coming soon more cycling socks and sock buying advice, including what to look for to get the best seasonal sock for you.
Thank you for reading 10 articles this month* Join now for unlimited access
Enjoy your first month for just £1 / $1 / €1
*Read 5 free articles per month without a subscription
Join now for unlimited access
Try first month for just £1 / $1 / €1