Best cycling socks 2023: Funky and functional top performers
From high performance lightweight socks to three-season winter warmers, here are our favorite models - rated and reviewed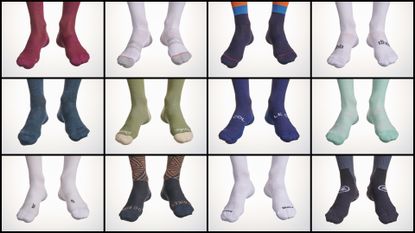 (Image credit: Future)
Get The Leadout Newsletter
The latest race content, interviews, features, reviews and expert buying guides, direct to your inbox!
Thank you for signing up to The Pick. You will receive a verification email shortly.
There was a problem. Please refresh the page and try again.
For sure, cycling socks are an excellent way to add a bit more personality to your riding gear. Although things have moved on quite a way from the times when your only choices were either bright fluro or black, there still tends to be a smaller pool of colorways when it comes to jackets and shorts.
But just as with bar tape, buffs and casquettes, although you can make your choice based on the relative funkiness of their designs, there is actually quite a bit of tech going on behind the scenes. Not all cycling socks are created equal - and there are some which do really stand out amongst the rest.
Style is, of course, still a consideration. But when form is supported by a bedrock of function, that is when you've landed upon a very special sort of sock indeed. Qualities such as breathability, moisture wicking, durability, warmth, odor control, and fit don't just happen by accident. You can make do with socks that are less than perfect - but why would you choose to?
We've tested a wide range of socks of varying styles and purposes, from three-season warmers to the lightest, thinnest and coolest options for beating the heat - outdoors and in. The brands represented include - but are not limited to - Assos, Rapha, Velocio, Castelli and dhb, with our favorite models picked out below...
Best summer cycling socks
Best overall
1. Rapha Pro Team Socks - regular
Best cycling socks overall
The fabric of Rapha's Pro Team socks feels luxuriously soft and has a reassuring thickness whilst still being breathable and wicking - helped by the mesh panels across the 'low-wear' areas of the sock (the top of the foot and around the arch) for better longevity. An ideal workhorse performance sock for temperate climates.
Shoulder-season performance
Best shoulder-season performance
Best described as a three-season performance sock for temperate regions. The upper section is a medium weight mesh fabric, which is fast wicking and breathable. There are thicker panels across the sole and heel - great for a bit of warmth and also longevity (though more riding is needed to confirm the latter).
Best lightweight socks
3. Velocio Signature Socks
Best lightweight cycling socks
These socks are super thin and also super soft. Whereas the Castelli Superleggera and Assos Essence socks match Velocio for heat dissipation and breathability, they feel coarser in comparison - particularly the Assos Essence. In the case of Assos, it also imparts a feeling of robustness - time will with these.
Retro styling
Retro-cool for warm rides
The material around the ankle of these socks is a little thicker than the section around the foot - which also features mesh panels running along the top. It's a construction that works really nicely in places with mild summers or, for hotter regions, in the spring/fall.
Best Merino all-rounder
5. Rapha Merino Socks - regular
Best Merino all-rounder
This a three-season Merino sock rather than an ultra-thick deep winter sort of pair - and as a result they are incredibly versatile. The breathability and moisture wicking is sufficient for riding in the summer, although they are a bit on the warmer side. 60% Merino in the blend is sufficient for helping minimize odours.
Best Merino socks for the heat
6. Velocio Signature Wool Sock
Best Merino socks for the heat
Another three-season Merino sock, however Velocio's construction is significantly lighter and thinner. In hot climates, that makes these a go-to Merino option. They hold up impressively well for their thickness when it's 12°C/54°F and drizzling, but I'd only suggest them as a full three-season sock in warmer climates.
Best mid-height option
7. Castelli Superleggera T12 Socks
Best mid-height cycling socks
These are super lightweight socks for riding in the hottest conditions. The fabrics are quite thin, but the use of mesh helps the socks balance longevity with breathability there - the threads are actually pretty thick. A panel underneath the forefoot provides some cushioning when pressing down in the pedal stroke.
Best for lightweight durability
8. Assos Essence Socks High
Best for lightweight durability
Like the Castelli Superleggera, these are another pair of lightweight socks for hot weather riding. Whereas the Superleggera socks employ a greater variety of thread thickness and mesh sections, these are much more uniform. Breathability is about on par - from past Assos experience, this design will likely last longer.
Best value lightweight socks
Best value lightweight socks
A little thicker than the Castelli Superleggera and Assos Essence Socks, the varying thread thicknesses and mesh sections bear a greater similarity to the former than the latter. Despite the ankle cuff being thicker, the underfoot is quite thin - it's more for rider comfort/preference than for being harder wearing.
Best value Merino socks
10. dhb Aeron Merino Sock 2.0
Best value Merino socks
The ankle and the upper part of these socks is a thin(ish) Merino blend that's maybe a little lighter than that on Rapha's Merino socks. However, around the toes and underneath the foot, the material is much thicker - more like a deep-winter sock. It's a blend which manages warmth and breathability really well.
Best for versatility
11. Sportful Matchy Socks
Best cycling socks for versatility
I would put these socks very closely on a par with dhb's Aeron LAB socks. Both are a little thicker than the super light Assos Essence and Castelli Superleggera, but still provide fast wicking and good breathability. It's a great option as a slightly more versatile performance sock - and they come in a range of tasteful colors.
Best gravel socks overall
Best gravel socks overall
Really it depends on where you get cold. If your shoes are heavily vented, dhb's Aeron Merino socks work best. But if your shoes are a little more insulated, these make an excellent pairing with a thin foot section and being warm around the calf.
Best value gravel socks
Best value gravel socks
Another great option for temperate climates. These have a slightly thicker and tougher weave than the lighter weight socks on this list - particularly around the calf. But the panel around the top of the foot is rather more open and helps with breathability and heat dissipation. It makes these socks notably robust for gravel.
FAQs
What are cycling socks ?
Cycling specific socks are largely defined by the fit and the fabric. Given that cycling shoes are designed to be close fitting, cycling socks tend to be thin so as not to make the shoes uncomfortable. Equally, thicker socks are more prone to rub. Even winter cycling socks are pretty thin and rely on low-bulk warmth from materials such as merino wool.
While the aforementioned merino wool is a popular choice given it's breathability and odor resistance, most cycling socks use synthetic fabrics to deliver the desired combination of ventilation with sweat wicking properties.
The final piece of the puzzle is good elasticity alongside a solid gripper - the last thing any cyclist wants is a pair of socks that won't stay up.
How high should cycling socks be?
Unless you're looking for cycling socks that promise some aerodynamic advantage, the answer is any height - presuming you're not entering a UCI race. If you are you'll need to adhere to its rule that states:
'Socks and overshoes used in competition may not rise above the height defined by half the distance between the middle of the lateral malleolus and the middle of the fibula head.'
Outside of competition anything goes with sock height largely governed by taste and fashion. Aero socks tend to be tall, as do many 'pro' socks, which have grown in height over the years. Likewise some winter socks are designed to cover the entire lower leg, adding another layer of insulation under your bib tights. Regular cycling socks typically feature a cuff that is between 3" and 7".
Thank you for reading 20 articles this month* Join now for unlimited access
Enjoy your first month for just £1 / $1 / €1
*Read 5 free articles per month without a subscription
Join now for unlimited access
Try first month for just £1 / $1 / €1