Best winter cycling shoes 2023: footwear for the cold months reviewed
Investing in the best winter cycling shoes will keep your feet warm every winter for years to come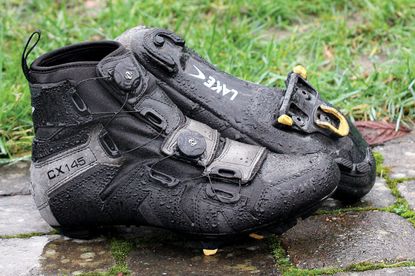 This year Black Friday is running from November 24th - 27th. We've rounded up all the best Black Friday bike deals - spanning fully built bikes, components and tech - in our main hub page. You're guaranteed to find a bargain.
Is it time to invest in a pair of winter cycling shoes? If you've exhausted all the options for warm socks and overshoes with your regular cycling shoes, you have probably declared a truce with winter and are now looking for more robust options to keep your feet warm and dry in the coldest months of the year.
Although winter cycling shoes can be seen as a 'last resort' – once you've invested in a pair, you'll wonder why you didn't take the plunge sooner.
Winter shoes are incredibly robust and resilient, and frankly, basic black boots don't go out of fashion. If numb toes are consistently a problem for you, it's well worth investing because they'll see you through several seasons.
When temperatures really drop, it's the extremities that suffer the most. Your feet, being far away from the source of blood supply, can become extremely cold or even numb – and winter cycling shoes are designed to combat this.
Our guide to the best winter cycling shoes helps you navigate your way through the cold weather footwear to find the best option for you. However, before we go through what to look for here's our choice for some of the best on the market.
Our pick of the best winter cycling shoes
You can trust Cycling Weekly. Our team of experts put in hard miles testing cycling tech and will always share honest, unbiased advice to help you choose. Find out more about how we test.
Best winter cycling shoes for narrow feet
Specifications
Sizes: EU 36, 37-47 and 48
Upper: Waterproof and Breathable Membrane, Microtex Reinforced Shell
Outsole: Carbon reinforced nylon
Closure: Internal Speed Lacing system
Weight: 398g (size 42 - 1/2 pair)
Reasons to buy
+
Easy-clean outer
+
Snug fit
+
Sleek aesthetics
Reasons to avoid
-
Tightness at bridge of the foot
-
Restrictive fit
These weatherproof shoes are designed to provide protection in the cold and the wet, whilst still offering a good fit and a stiff-enough carbon-reinforced nylon sole.
We found them warm and dry, though the fit was fairly snug — so trying before you buy is a good idea.
Read more: Fizik R5 Artica winter cycling shoes full review
Best winter cycling shoes for wider feet
Specifications
Sizes: EU 36-50
Upper: Waxed Canvas, Clarino Microfiber and a Waterproof membrane
Outsole: Fiberglass-injected nylon
Closure: BOA IP1 lacing system
Weight: N/A
Reasons to buy
+
Keep out water well
+
Keep your feet warm
As mentioned previously, fastenings are really important when it comes to winter cycling shoes - and we've seen it done wrong. The Lake CX145s get it right - with two Boa dials and a retention system working all along the outside edge of the shoe. The pronounced toe and heel bumpers provided a bit of grip while treading on slippery ground, but only the heel pad is replaceable.
The upper is made from a mixture of waxed canvas, leather and a waterproof membrane. The outer sole is made from fibreglass-injected nylon. Lake makes its shoes with a wider toe box than most which allows a bit for added space for thick socks, and it offers the CX145 in a standard, women's and wide last so there are plenty of fit options.
Best winter cycling shoes for visibility
Specifications
Sizes: 37-49
Upper: Gore-Tex windproof and waterproof membrane
Outsole: NRG Air Carbon Reinforced sole
Closure: SLW2 dial
Weight:
Reasons to buy
+
Fully enclosed winter boot
+
Good level of insulation
+
Thoroughly waterproof
Reasons to avoid
-
Heel slips around when pedalling
-
Quite difficult to get on
There is a lot of insulation in the Northwave Flash Arctic GTX winter cycling boots, but that can mean less support than a summer shoe.
The bottom half uses Northwave's own dial and reel system, much like a summer shoe, while the upper is constructed with a Climaflex collar which does away with the need for overlaps or Velcro.
The upper is flexible so that your normal pedal stroke and range of motion aren't impacted in any way, but you still get the warmth and drip protection of a winter boot.
The sole — a NRG Air Carbon Reinforced construction — promises a stiffness index of 8.0. These shoes are designed to suit conditions from 26°F to +60°F and there's still some breathability built-in at the front.
Best winter cycling shoes for versatility
Specifications
Sizes:
Upper: Gore-Tex membrane with Gore-Tex Rattler collar
Outsole: EPS Carbon Power Sole 7.0
Closure: Boa IP1
Weight: 358g (size 43)
Reasons to buy
+
Full winter coverage
+
Gore-Tex membrane for breathability
+
Good insulation under the sole and in the uppers
Gaerne's winter offerings feature a full Gore-Tex membrane and ankle collar which Gaerne say keeps the shoe waterproof and breathable for when a cold snap hits.
To prevent heat loss through the bottom of the boots, a thermo-reflective aluminium layer is placed between the outer and inner sole, and insulation top and bottom.
Underneath features EPS Carbon Power Sole 7.0 which combines carbon and nylon to create a composite sole rated at 8 out of 12 for pedaling stiffness.
Specialized Defroster winter cycling shoes
Best winter boots for off-road excursions
Specifications
Sizes: EU 39-47
Upper: Thinsulate 400-gram insulation, waterproof, seam-sealed internal bootie construction
Outsole: ylon composite sole with wet traction SlipNot rubber tread:
Closure: Boa dial
Weight: 533g (1/2 pair, Size 42)
Reasons to buy
+
Plenty of warmth
+
Grips on sole to reduce risk of slipping
Reasons to avoid
-
Only fits two bolt cleats
-
Chunky looks
-
Pretty heavy at over 1kg a pair
Specialized places a huge focus on shoe fit through its Body Geometry research, always using its own footbeds which are designed to correct any knee tracking issues which can cause injury.
When it comes to warmth, the brand has called in experts at Thinsulate, using a 400 gram fabric with a neoprene collar to keep the rain out. All the seams are sealed and a single Boa dial at the bottom and Velcro at the ankle help you get the right fit. The sole itself is a nylon composite, designed to be stiff enough for efficient power transfer whilst remaining comfortable.
Sidi Zero Gore 2 winter boots
Best winter cycling shoes for quality
Specifications
Sizes: EU 39-50
Upper: Microfibre Microtech mesh upper with Gore-Tex lining
Outsole: Injected carbon fibre in a nylon matrix
Closure: Sidi Tecno-3 dial
Weight: N/A
Reasons to buy
+
Robust build
+
Uses Sidi's quality dial closure system
+
Decent level of stiffness
+
Replaceable small parts
Reasons to avoid
-
Sidi shoes can be narrow and small for size
We're big fans of Sidi here at Cycling Weekly so although we've not put the Sidi Zero Gore 2 winter boots to the test, we feel assured that they will be a great option for cold weather riding.
The upper is made from a microfibre Microtech fabric which Sidi claims features resistance, stability, water-repellence as well as eco-friendly credentials.
Sidi's own Techno-3 system dial acts in a similar way to a Boa dial, and there is velcro top and bottom to help achieve a precise fit.
At the bottom is a sole with a carbon injected and nylon mix, which should balance out the stiffness required to press and the durability of harsh wear in temperature changes.
Be aware, Sidi shoes usually come up narrow and smaller than other mainstream brands.
45NRTH Ragnarok
Best winter cycling shoes for cold weather bikepacking trips
Specifications
Sizes: 36-48, 50
Upper: Premium microfiber, neoprene ankle, abrasion-resistant Tec Tuff toe and heel
Outsole: Real rubber, anti-slip micro-glass filament lugs, Fiberglass-injected nylon midsole
Closure: Side-mounted BOA IP1 reel and lacing system
Weight: N/A
Reasons to buy
+
Excellent insulation down to -3C
+
Grippy soles
+
All-over reflective option
The winters in Minnesota are nothing short of biblical: they are cold, windy, and wet, so it's no surprise that Bloomington based 45NRTH makes some of the best cold weather kicks money can buy.
The Ragnarok sees a fully waterproof membrane just beneath the microfibre face fabric to keep the water on the outside, but also to allow for thermal and moisture regulation on the inside. Around the ankle is a neoprene cuff to keep drips out, and a single Boa dial reels the shoe in. 45NRTH say they are comfortable down to about 25ºF / -3ºC.
Like the Specialized shoes, these are technically mountain bike shoes and will only work with two-bolt cleats. The lugs are semi-aggressive, but also see microscopic glass fibres embedded into the rubber to create abrasive protruding shards to produce grip on slippery surfaces like ice, wet wood, wet tiles, and wet metal.
What to expect from winter cycling shoes
How do winter cycling shoes differ from those I wear during spring and summer?
For summer cycling shoes, manufacturers will go all out in the pursuit of breathability; this becomes less of a concern for riders doing battle with December.
Ventilation is the first feature to be addressed – you won't find large vent holes in winter cycling shoes as you do in summer versions, though you can still expect a touch of breathability (no one wants to bake their own feet).
Often, the top of the shoe will feature a neoprene cuff or cover. This will keep the rain out and act as an extra layer of defense against the chill.
The ankle cuff will be high, too – this is to prevent puddle water from seeping into the shoe. If you can try on the shoes, check that the cuff is not overly tight for you and allows full range of motion – ideally you're looking for an adjustable fit.
What are the best fastenings for winter cycling shoes?
Fastenings, as per summer cycling shoes, can be Boa dials, ratchets, Velcro, or even laces. Boa dials and ratchets are the most effective when it comes to holding your foot in place and surviving the conditions.
What are the best soles for winter cycling shoes?
The same rules applied to summer shoes come into play when it comes to the sole, too. Nylon soles are cheapest, they'll do the job but will provide a little more flex — they also insulate a bit better than carbon.
Carbon soles are the most expensive, they'll be mega stiff and will offer plenty of power transfer. It's worth bearing in mind that in winter you may be completing long base miles, where you might not want the ultimate stiffness, and a nylon/carbon mix may be more comfortable, but this is down to personal preference.
Since it's possible that you might be walking on slippery surfaces (dismounting to get to that long-awaited hot chocolate stop, for example), a sole with some grip is desirable. Replaceable heel treads are a 'nice to have' as you'll expect that these shoes will last for more than one season.
For the added traction, it may even be worth considering a set of two-bolt MTB winter kicks; the rubber lugs provide miles of additional purchase as you're trudging through the snow or across a wet tile floor at the coffee shop — but you'll then need to invest in a set of two-bolt pedals too, if you don't already have them.
Finally - obviously if you're cycling clipped in then your shoes need to be compatible with the pedal system - all road-specific winter cycling shoes should come ready to fit three-bolt pedals and cleats.
How should winter cycling shoes fit?
Making sure the shoe allows enough room without letting the foot float around has been a big issue for us - in previous tests, we've found both Boa versions and Velcro versions that haven't really done the job. The shoe needs adequate fastenings to stop your heel from slipping during the pedal stroke.
Shoe brand sizing differs tremendously. Where a rider might wear a Euro 38 in one brand, they could be pulling on a 42 in another – sounds ridiculous, but it's true. Where possible, try shoes on; where it's not, look to buy shoes from a brand you're already familiar with.
One of the biggest mistakes riders make over winter is wearing thick socks which reduce the amount of space in the shoe and cut off blood supply – worsening the numbness or even causing it. With good winter boots, you shouldn't need to go overboard, and a thin merino sock should be enough. But if you think you'll need more sock, make sure you leave a little extra breathing room.
With Black Friday coming up on November 24th and running until the 27th, all the major retailers are already starting their discounts. On the tech side of things, we've rounded up the best Black Friday Wahoo deals over here and the best Garmin deals over here.
More generally, we have specific hub pages for power meter deals and bike computer deals. With the nights drawing in, we've also picked out the best bike light deals as well
Beyond that, we've got a hub on the best Black Friday cycle clothing deals, deep winter glove deals and our top picks from Adidas' Black Friday bike kit deals.
And with Christmas coming up, we absolutely have a page on the best kids' bikes deals - from balance bikes to fully equipped gears.
Get The Leadout Newsletter
The latest race content, interviews, features, reviews and expert buying guides, direct to your inbox!
Michelle Arthurs-Brennan the Editor of Cycling Weekly website. An NCTJ qualified traditional journalist by trade, Michelle began her career working for local newspapers. She's worked within the cycling industry since 2012, and joined the Cycling Weekly team in 2017, having previously been Editor at Total Women's Cycling. Prior to welcoming her daughter in 2022, Michelle raced on the road, track, and in time trials, and still rides as much as she can - albeit a fair proportion indoors, for now.