Lance Armstrong: It's my fault Chris Froome has to deal with doping questions
Lance Armstrong says he feels sorry for the fact that Chris Froome is subjected to doping allegations at the Tour de France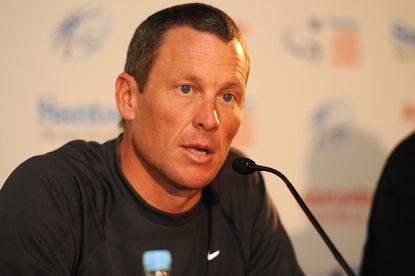 Upon touching down in France, Lance Armstrong has admitted that it's his fault that Chris Froome is being subjected to the doping allegations that have plagued this Tour de France.
Speaking with Sky Sports News, Armstrong says he feels sorry that Froome is being grilled about the legitimacy of his performances - something that the Texan feels is not fair.
Team Sky claim Froome's power data was hacked, with a video released earlier this week of his win on Mont Ventoux in 2013 with his wattage and heart rate overlaid.
"I know what that is like for a guy like Chris to be in the middle of the Tour, to deal with the constant questions, which of course he is, and to be fair and to be honest, a lot of that is my fault," Armstrong said.
"A lot of people ask those questions, they see his style, they see his performance, they see the time gaps, they see the cadence and they think, 'This guy is just another one of them'.
"I feel bad about that. Whoever is winning the Tour de France in 2015 should not be answering questions about someone who won it 10 or 15 years ago. That's just not legitimate; that's just not fair."
It is claimed that Froome will undergo independent physiological testing after the Tour de France to discover what makes him the athlete he is. Sir Dave Brailsford said Sky have consulted their lawyers over the potentially hacked data.
>>> Will Chris Froome undergo independent anti-doping testing?
Watch highlights from stage 11 of the Tour de France
Thank you for reading 20 articles this month* Join now for unlimited access
Enjoy your first month for just £1 / $1 / €1
*Read 5 free articles per month without a subscription
Join now for unlimited access
Try first month for just £1 / $1 / €1