Team Sky say Chris Froome's data was hacked as doping accusations fly
Sir Dave Brailsford claims that critics of Team Sky have hacked into Tour de France leader Chris Froome's performance data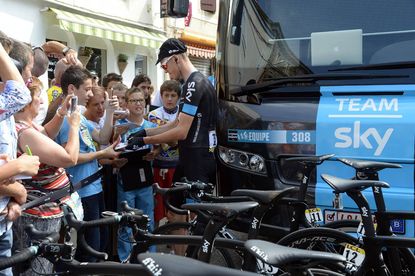 (Image credit: Watson)
Team Sky have consulted their lawyers following what they believe could be the hacking of Chris Froome's performance data.
Team principal Sir Dave Brailsford highlighted the possible theft on Monday's first rest day of the 2015 Tour de France as the race prepared to enter the Pyrenees.
Brailsford believes the data has been stolen by critics of the team in order to discredit Froome's performances and raise suggestions of doping.
"We think someone has hacked into our training data and got Chris' files, so we've got some legal guys on the case there," he said, according to the Guardian.
"I would never mention a name [but] ethically and morally if you are going to accuse someone of doping then don't cheat."
Froome led the 2015 Tour by 12 seconds on the first rest day in Pau and both he and his team insist they are compete cleanly.
Froome faced repeated doping accusations during his victorious ride in the 2013 Tour. Team Sky went so far as to release Froome's climbing data dating back to 2011 to French sports newspaper L'Equipe, whose expert concluded Froome's performances were possible without doping.
>>> Sky under fire for hogging Tour de France hotel car parks
A video purportedly showing Chris Froome's ride on Mont Ventoux during the 2013 Tour with data on power, heart rate, speed and cadence overlaid was removed from YouTube on Monday evening.
Viewers of the video took to social media to interpret the data, with some concluding that it was evidence of doping.
Ahead of the Tour, Chris Froome expressed his frustration of "clowns" interpreting power data, and yesterday Brailsford was reported to have said the team were expecting further questions of its performance in this year's Tour.
"It's part of the game, isn't it? If he does well [on Tuesday], the rest of the Tour it's 'How do you know he's not doping?'" added Brailsford. "The question of how to prove a negative is always going to be a difficult one."
Brailsford declined to speak anymore about the potential hacking at the start of Tuesday's Tour stage 10, which started in Tarbes.
The data leak wasn't the only controversy surrounding Sky on the rest day — photographers were reportedly trying to catch a glimpse of Chris Froome sleeping in the motorhome being used at the Tour by Brailsford.
In the interests of fairness, riders were recently obliged by the UCI to sleep in the hotels provided by race organisers after Richie Porte pioneered the use of a motorhome at the Giro d'Italia earlier this year.
Sky's large fleet of vehicles has also riled rival teams; FDJ's manager Marc Madiot said Sky's consumption of hotel car park space lacked "basic etiquette."
Chris Froome's Tour de France Pinarello Dogma F8
Thank you for reading 20 articles this month* Join now for unlimited access
Enjoy your first month for just £1 / $1 / €1
*Read 5 free articles per month without a subscription
Join now for unlimited access
Try first month for just £1 / $1 / €1