Sky's Richie Porte sleeping in a motorhome at Giro d'Italia
It's carry on camping for Sky's leader in the Italian Grand Tour as the team continues to search for every competitive advantage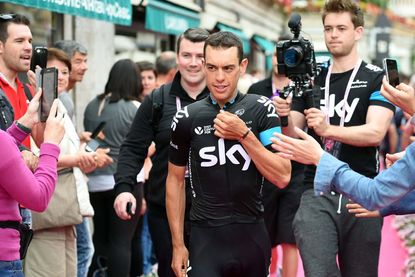 (Image credit: Watson)
It looks like Team Sky are taking marginal gains to another level in the Giro d'Italia this year — team leader Richie Porte is sleeping in a motorhome outside the hotel every night so that he is not "stressed" by different hotel rooms and unfamiliarity.
Porte is hardly slumming it, mind. The bus, in grey and black, has its own kitchen, TV, toilet and sleeping area. Sky has employed a driver to guide it around the three-week stage race, from team hotel to team hotel.
"It's the next step from using our own mattresses every night, which we were already doing," a Sky spokesperson told Cycling Weekly.
"We got the idea from Moto GP drivers. The benefit is the familiarity. They studied the impact of different hotels every day for three weeks in a Grand Tour, which showed to be stressful. This lessens the stress. It's a continuation of marginal gains approach."
Sky famous marginal gains include turbo trainers to warm down after races, high-altitude train camps and aero skinsuits in road races.
After the opening two stages of the Giro, Porte is 27 seconds behind the lead, and 20 seconds behind Alberto Contador, his biggest rival for the general classification.
"He's not sleeping out there because he snores! None of that!" continued Sky's spokesperson. "The other night he was sleeping by the road side in the parking lot. We asked if he'd be OK, he said 'yes.' Tonight he's under a bell tower!"
Sky Principal David Brailsford and coach Tim Kerrison are using the Italian Grand Tour as a test run for the Tour de France in July. If Porte's RV experiment is a success, Chris Froome could follow suit in the summer.
The Giro d'Italia race director, Mauro Vegni, said there were no rules governing riders' sleeping arrangements.
"I'm sorry he's sleeping in the caravan — the Italian hotels are some of the best," Vegni told Cycling Weekly.
"Whatever works for the team. You'd have to ask the other Grand Tour winners what works for them."
Thank you for reading 20 articles this month* Join now for unlimited access
Enjoy your first month for just £1 / $1 / €1
*Read 5 free articles per month without a subscription
Join now for unlimited access
Try first month for just £1 / $1 / €1