Experts back Alberto Contador for Giro d'Italia win
Riders and team staff pick Alberto Contador as the stand-out favourite to take the victory in the 2015 Giro d'Italia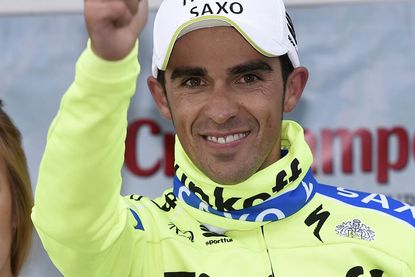 (Image credit: Watson)
Spain's Alberto Contador (Tinkoff-Saxo) will win the 2015 Giro d'Italia, according to experts. They say that his experience from winning six (or eight) Grand Tours will make the difference.
Contador won the Vuelta a España last in September. He also won there in 2012 and 2008. He also counts wins from the other two Grand Tours: 2008 in the Giro, and 2007 and 2009 in the Tour de France. His 2011 Giro and 2010 Tour wins were stripped due to a doping ban.
That experience, according to our experts, should help him battle and beat rivals such as Australian Richie Porte (Sky) and the stars of this year's Giro.
The 2015 Giro d'Italia starts today in San Lorenzo al Mare and ends on May 31 in Milan.
>>> Giro d'Italia 2015 route preview
Mauro Vegni, Giro race director
"Contador is the favourite. He has the experience, he knows how to manage himself in difficult moments. It's a particular Giro with every stage having its pitfalls, descents and climbs. A time trial with a 60km route, when he saw it, he said, 'Mauro, a time trial of 60 kilometres!' You have to have the legs and to be able to manage yourself."
Marc Sergeant, Lotto-Soudal general manager
"Contador. The team is under pressure because they haven't won a lot. They are fourth on the list of teams with low win counts. If you have the quality that Tinkoff has, you should have more wins. That's one of the reasons why Contador is going to be very strong here. He can handle the pressure."
Matt White, Orica-GreenEdge sports director
"Contador is the favourite. He's experienced, he's won Grand Tours before. He's done more Grand Tours than Urán, Porte and Aru put together, he has those experiences, he's been in those situations. He knows how to work his team-mates and deal with the unknowns, and how to race over three weeks. The others have yet to win one Grand Tour."
Gianni Savio, Androni general manager
"Contador, but Urán and Porte are right there. He's a champion, he has huge experience, he's fuori classe. He's won all three Grand Tours. He's prepared well for this Giro. He's the favourite on paper. Cycling is great though, because it's unpredictable. Honestly, I don't see a big difference between Contador, Porte and Urán."
The Cycling Weekly Giro d'Italia contenders preview
Ciro Scognamiglio, La Gazzetta dello Sport journalist
"Contador is the strongest, he has the strongest team, too. I think he's going to win. He'll win it in the mountains. He won't lose much in the time trial. Porte could start to fade in the last week since he's been going so well all year long."
Tom Boonen (Etixx-QuickStep)
"I'm not a betting man. I never do that! If you are in cycling for so long, then you know that everything is so close and it's so hard to say who will win or even have a top three. We have a good card to play with Rigoberto for the 60km time trial. He should take some time there. Richie Porte could go well there, too, but then there's a hard week afterwards. It'll be all up to the guy who has the freshest legs. It's almost impossible to say now who has the best cards to play."
Graham Watson, photographer
"Alberto Contador: he has to win it because if he does so he doesn't have to win the Tour de France, which is possibly quite impossible. If he doesn't win the Giro then the pressure's on him for the Tour de France. It's three weeks long, he's the best guy in the business for three-week racing. He's done it so many times, he knows what he needs to do. He calculated his form for this one period. If he wins the Giro, then he'll start to think about the Tour. The pressure's on the team, too, but Contador rides better in those situations."
André Greipel (Lotto-Soudal)
"It's hard to say. I don't know the climbers as closely as I do the sprinters. I think it'll be a fight between Porte and Contador. My team-mate, Jurgen Van den Broeck? I hope he will be up there."
Davide Cassani, ex-pro and Italian team director
"The big favourite is Alberto Contador, the only one among the four contenders who's already won a Grand Tour, he's won many and at the Giro d'Italia. I think he's trained well for this race. Also, he has a great team. Experience counts in this race, Porte, Aru and Urán haven't won a Giro, he knows how to do it, how to manage a team. He knows how to race a Giro, in his team he can rely on riders like Ivan Basso, who already won the Giro twice."
Thank you for reading 20 articles this month* Join now for unlimited access
Enjoy your first month for just £1 / $1 / €1
*Read 5 free articles per month without a subscription
Join now for unlimited access
Try first month for just £1 / $1 / €1