Fausto Pinarello: The Merchant of Veneto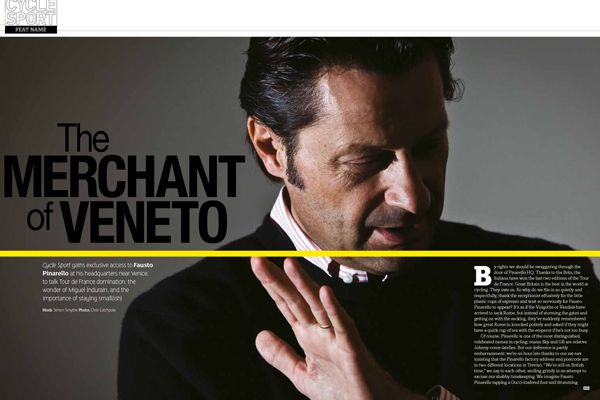 In November, Cycle Sport went to visit Fausto Pinarello to ask him about Team Sky, Miguel Indurain, Mark Cavendish and Bradley Wiggins. Below are some of the choice quotes from one of the personalities of the Italian cycle trade
"I start training in October or November and stop in July. Our Gran Fondo Pinarello is the last race for me. It means I can recover - I like the sun, the beach, the sand, the water... two months without the bike is not bad."
Fausto Pinarello on his season
"My father had a completely different mentality. He had a shopkeeper's mentality, so for negotiating with the customer he was the best teacher in the world."
Fausto Pinarello on his father's influence
The famous Espada bike ridden by Miguel Indurain
"What else was I going to do? I left school when I was 17. My brother became a doctor; my sister was in commerce. I didn't want that."
Fausto Pinarello on his career choice
"Of course, Movistar are one of the best teams in the world and they had a lot to offer us. But we want to concentrate on Team Sky."
Fausto Pinarello on the team he has committed too




Recently sprayed brake fairings hung out to dry
The Pinarello factory is vast
You can read the full feature on Fausto Pinarello and the factory visit in the February edition of Cycle Sport magazine. Out this week priced £4.75