Pinarello Dogma F10 X-Light – new featherweight model launched by the Italian brand
Everything you need to know about the brand new Pinarello Dogma F10 X-Light model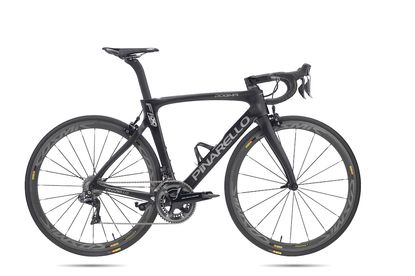 Pinarello has expanded its fleet of F10s yet further, this time with the announcement of a Pinarello F10 X-Light model.
The lightweight bike follows the Italian company's announcement of the Pinarello F10 Disc and the new Pinarello Dogma K10 Endurance model.
Much the same as the new disc brake model, Pinarello is happy to admit that the X-Light is effectively the same bike as the Pinarello Dogma F10, just a supposed 60g lighter.
The weight has come from the frame, which now weighs 760g, while the fork weighs in at 340g.
However, to put that into context, the X-Light still weighs over 100g more than the new Trek Émonda, as ridden by Alberto Contador.
Watch: Pro bikes: Chris Froome's Pinarello Dogma F10
Pinarello has been able to keep the weight off thanks to a new carbon fibre layup and a slower, more controlled moulding process – according to Pinarello the Dogma F10 X-Light received its own dedicated mould.
Alongside the above, a special Torayca t1100G UD carbon fibre in the form of prepeg was used with a lower resin content.
Pinarello has confirmed it to be the same resin as used in the make-up of the Pinarello F8 X-Light, Team Sky's bike of choice at last year's Tour de France.
Pinarello is keen to stress, though, that the F10's other features remain the same.
That means the same asymmetric frame and Italian threaded bottom bracket, as well as the frame Flatback profiles, concave down tube and flared Onda fork to help minimise drag.
Just like the Pinarello Dogma F10 Disc, the new X-Light frame is UCI approved, with Chris Froome already spotted on one on certain stages of the Tour de France..
The new Pinarello Dogma F10 X-Light will come in 12 sizes and be supplied as a frameset in three colours – Team Sky, Red Lines and Matt Black.
Thank you for reading 10 articles this month* Join now for unlimited access
Enjoy your first month for just £1 / $1 / €1
*Read 5 free articles per month without a subscription
Join now for unlimited access
Try first month for just £1 / $1 / €1