Pinarello Dogma F10 Disk – What you need to know about Pinarello's disc brake upgrade
Here's what you need to know about the Pinarello Dogma F10 Disk, the surprising update from the Italian company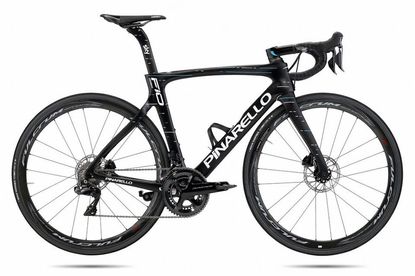 In a surprising move, Italian brand Pinarello has announced that it'll supply a new Pinarello Dogma F10 Disk Disc brake bike.
The bike first appeared on the UCI approved bike list, before being confirmed by Pinarello itself in a press release.
The core design of the bike looks to remain the same, keeping that same Pinarello shape but the company has made some minor changes to adopt the new standards.
>>> 2018 Trek Émonda: Wide tyres, disc brakes and a featherweight on the scales
Fausto Pinarello has previously announced that the company isn't interested in disc brakes, believing that a high-end performance bike shouldn't need them. Such an abrupt U-turn, then, is a little surprising, but it's for good reasons.
Of course, the most notable being that the market "is becoming mature", and the time is right for Pinarello to enter it.
Despite the increased aerodynamic drag, aesthetically, it's very appealing for Pinarello, as discs allow the designers to clean up the front and rear ends, getting rid of the cables.
Watch: Pinarello Dogma F10 review
Elsewhere, the Onda fork has been adapted for the more powerful stoppers and the addition of a 12mm thru-axle, as well as some little "fork flaps" (Pinarello's words, not ours) which should help increase airflow.
As has become standard on disc brake bikes, the rear end is tied together by a 12x142mm thru-axle.
>>> Tour de France bikes: Chris Froome's Pinarello Dogma F10 (video)
Everywhere else, the frame appears to be business as usual. It has the same concave down tube, as well as the asymmetric bottom bracket, and flat back seat stays of the original F10. The bottom bracket is also still threaded rather than press fit.
According to the company, the bike will be available from a 44cm through to a 62cm, and in five different colours: Mars Orange, Black on Black, Black Lava, Red Magma and Team Sky.
Thank you for reading 10 articles this month* Join now for unlimited access
Enjoy your first month for just £1 / $1 / €1
*Read 5 free articles per month without a subscription
Join now for unlimited access
Try first month for just £1 / $1 / €1