Pro bike: Chris Froome's Pinarello Dogma F10 (video)
Take a closer look at the Pinarello Dogma F10 of four-time Tour de France champion Chris Froome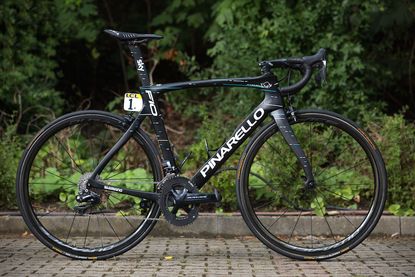 This is Chris Froome's Pinarello Dogma F10 race bike that he rode throughout the 2017 season, taking victories in the Tour de France and the Vuelta a España.
It has loads of neat and very deliberate details, suggesting that Chris Froome takes his bike set up very seriously indeed, including making some modifications to the Di2 satellite shifters.
Climbs are often the decisive moments in a race and weight is clearly a key consideration in Froome's set up, although he may also be making this modification simply because he prefers the feel of the stripped down buttons.
Previously, when riding the Pinarello Dogma F8, Froome had to use a special X-light model in order to get close to the UCI limit, however the new Pinarello Dogma F10 is lighter than its predecessor, meaning no special frame is required.
>>> Pro bike: Peter Sagan's Specialized S-Works Venge Vias (video)
As you'd expect, the bike is fully kitted out with the latest Shimano Dura-Ace groupset, with Froome opting for a fairly standard pro setup of 53/39t chainrings combined with a 11-28 cassette.
However what isn't standard is the choice of chainrings, with Froome defying sponsor Shimano's wishes by going for Osymetric chainrings in an attempt to improve pedalling efficiency.
The choice of wheels depends on the profile of the stage - with deeper wheels generally used for flatter stages - but here Froome's Pinarello Dogma F10 is kitted out with Shimano Dura-Ace C40 wheels, the shallowest carbon wheels available in the company's top-end range.
These wheels are topped with pro-only Continental Competition Pro Ltd tubular tyres, while the bars, stem, and bar tape come courtesy of Shimano's in-house brand Pro, out-front computer mount from K-Edge, and saddle from Fizik.
Thank you for reading 20 articles this month* Join now for unlimited access
Enjoy your first month for just £1 / $1 / €1
*Read 5 free articles per month without a subscription
Join now for unlimited access
Try first month for just £1 / $1 / €1