Why does Chris Froome use Osymetric chainrings and do they work?
Bradley Wiggins and Chris Froome both used non-round chainrings on their way to winning the Tour de France. But do they really help?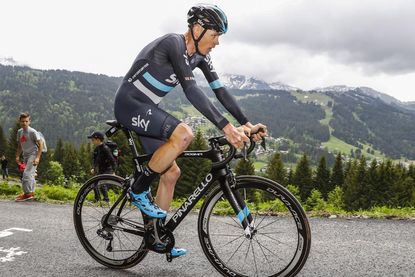 (Image credit: Watson)
Five years after Sir Bradley Wiggins became the first Briton to win the Tour de France riding oval rings, Chris Froome continues to use Osymetric chainrings on his Team Sky bike.
Wiggins reverted to round rings towards the end of his career and continued to win at the highest level, including the World Championship time trial. Froome has ridden them since 2011, and has since won three Tour titles using the Osymetric rings.
In addition to Osymetric, Rotor's Q-rings continue to be used by a considerable number of professional riders. But should you consider using a cam-shaped ring?
Jean-Louis Talo, a mechanical engineer from Menton, France, produced a prototype Osymetric ring and has spent 22 years trying to convince the cycling world that it works.
"You can alter the design so that you give the leg muscles work to do where they are at their strongest and less work to do where they are weak," says Talo.
"A round chainring gives you work to do where you are weak and takes power away from you where your legs are strongest. A bicycle chainring is round because at one time that's all factories knew how to produce."
Great in theory, but does the non-round ring actually work?
Marginal gains
Tim Kerrison is the performance director at Team Sky, the sports science chief who oversees the training of the team, with particular attention paid to the 'GC group'.
Kerrison has been instrumental in the successes of Froome, whos has used Osymetric rings on his time trial and road bikes.
Kerrison isn't a mechanic — bike or bio — but he obviously pays close attention to his riders' power outputs and equipment. What is his opinion of the rings?
"I'd say that, performance-wise, there is very little in it either way," said Kerrison. "A few riders have a preference for the Osymetric rings, but many of our riders have tried them. Only a few continue to use them.
"That said, both Wiggins and Froome used them in the 2012 Tour, so they are unlikely to be significantly detrimental to performance."
The credible tests and research that has been done is inconclusive, according to Kerrison: "Crank-based power measurement systems [e.g. SRM, Quarq] appear to over-report power when using Osymetric rings, which is probably due to the variable angular velocity of the crank throughout the pedal revolution.
"In other words, power reads higher, but this does not correspond with an increase in the power actually being generated by the rider."
>>> Build your cycling strength with big gear efforts
Professional cyclists tend to have very efficient pedal strokes, with minimal dead-spots. Perhaps these rings may be more beneficial to the amateur or beginner, helping to iron out a more pronounced dead-spot.
Potential benefits aside, the risk of dropping a chain appears considerably higher, as Sean Yates, the directeur sportif in the 2012 Team Sky car recalls.
"At the Tour, the Sky mechanics were told that dropping the chain was not an option. So they designed a chain guard to make sure that wasn't going to happen.
"You can drop a chain from round rings too and it's not really commented on, but with Osymetric it's a big deal."
Do they work?
Yes: Dr Mark Pharaoh, Founder of Peekrings, supplier of chainrings for Sarah Storey's Hour Record attempt bike
Oval chainrings can improve the feel and smoothness of your pedalling action, reduce dead-spots and improve the activation of your glutes and hamstrings.
Set up correctly, you shouldn't be able to feel the oval. At Peekrings, we use the force curve from a Wattbike test (or some power cranks) to tailor the position of the oval relative to the cranks, so that every oval ring we make is specific to the rider.
No: Paul Barratt, English Institute of Sport on the biomechanical elements for British Cycling
The studies looking into tangible measures of performance are mixed, to say the best.
The claims made for non-round rings is that they delay the onset of muscle fatigue in the quadriceps. The evidence isn't there to say that it preferentially alters the loading on different muscle groups.
It's not to say the notion of a non-circular chainring should be dismissed, it's just there isn't the evidence out there to support the claims made for them.
Our take
The jury is out regarding the mechanical basis for non-round rings. However, from a psychological point of view, the case in their favour is more compelling. A placebo has the potential to offer a significant performance gain.
That said, the disadvantages of lower-quality shifting and the potential chain drop are significant, especially in a race situation.
Thank you for reading 20 articles this month* Join now for unlimited access
Enjoy your first month for just £1 / $1 / €1
*Read 5 free articles per month without a subscription
Join now for unlimited access
Try first month for just £1 / $1 / €1