Build your cycling strength with big gear efforts
Break up a long ride with these efforts to help build your power and leg strength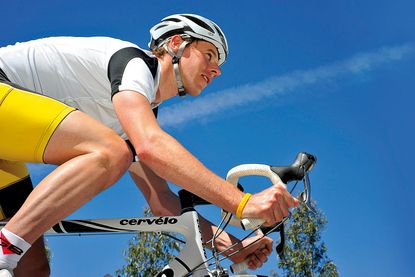 Power on the bike is determined by two things: how big a gear you can turn and how quickly you can turn it. This session is weightlifting for your legs. It helps your leg muscles create a big force to turn over a hard gear and get it up to speed.
If you are always spinning a gentle gear then you are missing out on the type of workouts that will help to build muscle and increase your power. It's easy to understand if you think about weight training.
>>> When's the best time to train? Let your body clock decide
If you want to lift a very heavy weight then you start with the heaviest you can already lift and gradually add more weight to it. You don't keep lifting the light weight a lot of times in the hope one day it will make you able to lift the heavier one!
Tip: Keep your head up and focus on a point some way down the road. Engage your core muscles and try to keep your upper body as still as possible so that all the power is coming from your glutes and legs
How?
If you have never done this type of exercise before we don't recommend you start in the hardest gear on your bike, as the strain of getting started may cause damage to your muscles and ligaments.
On a flat or slightly downhill stretch of road shift into an uncomfortably big gear and slow right down to not much more than walking pace. If you are straining to turn the pedals over at this speed, shift into a slightly easier gear.
Remaining seated, start to turn the pedals faster, focusing on pedalling in circles not stamping up and down. Once you have reached your normal pedalling speed, shift into an easier gear, slow down and relax. It should take you less than 30 seconds to get up to your usual cadence. If it takes longer then next time, pick a slightly easier gear.
>>> The importance of power-to-weight, and how to improve yours
While this will make you breathe hard by the end, its prime purpose is to train your leg muscles not your heart and lungs, so you shouldn't feel that you are gasping or struggling to catch your breath.
When?
These can be done during a long ride to break up the monotony or to warm you up on a chilly day!
How often?
For any ride of an hour or more in length, aim to do 4-8 reps, 2-3 times a week. As you get stronger, try starting in a slightly harder gear.
4-8 per ride
2-3 per week
Progression: increase your gear size
Here's our video of the best core exercises for cyclists
Thank you for reading 10 articles this month* Join now for unlimited access
Enjoy your first month for just £1 / $1 / €1
*Read 5 free articles per month without a subscription
Join now for unlimited access
Try first month for just £1 / $1 / €1
Hannah Reynolds interest in cycling started while studying for a degree in Sports Science at the University College Chichester. A number of students and lecturers were elite and even world class cyclists, many of whom went onto long-term careers in cycling. Despite being a complete novice she was taken under the wing of the experts and given a fast-track introduction to the world of road racing, cross-country mountain biking, time trials and cyclo-cross. A committed dabbler whose passion outweighed her talent Reynolds has competed across all disciplines of cycling bar BMX. In the very distant past she has been south-east road race champion, southern cyclo-cross champion and finished third in the European 24hr Solo mountain-bike champs in 2011. She was also the Fitness Editor of Cycling Weekly for 15 years.
In more recent times Reynolds has worked as a cycle guide in the UK and France. She is author of several cycling books, France-en-Velo (opens in new tab)a guide to the ultimate 1000 mile cycle route from the Channel to Med; Britain's Best Bike Ride. LEJOG1000 (opens in new tab); A 1000 mile journey from Land's End to John o' Groats and 1001 Cycling Tips (opens in new tab). Her cycling now is less competitive and more focussed on travel and helping her young son to experience the world by bike.