The Pinarello K10S Disk has electronic suspension you can control from your Garmin – full report
Pinarello reveals the Pinarello Dogma K10S Disk, equipped with a ground breaking electronic suspension platform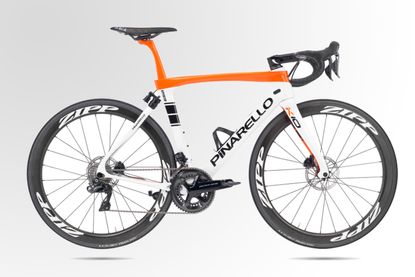 Pinarello has rather quietly revealed (another!) new bike, this time the Pinarello Dogma K10S Disk, equipped with disc brakes and electronic suspension.
The announcement follows a flurry of activity from the Italian brand, including a new Pinarello Dogma Endurance bike, a Pinarello Dogma F10 Disk as well as a Pinarello Dogma F10 X-Light.
But the real story here is the new electronic suspension system, which was first debuted at Paris-Roubaix in the spring, but looks to have been finessed.
Back then it was called eDSS 2.0 or 'Electronic Dogma Suspension System', and Pinarello has confirmed that the suspension seen here carries the same moniker.
The Electronic Dogma Suspension System is capable of reading the road and transmitting the feedback to the suspension at the back which then adapts in real time to the surface. That means it'll open and close the hydraulic damping system depending on what the riders are travelling over. It's all controlled by a battery that sits within the frame.
There's also a human override, and the control sits in the down tube, allowing the rider to open and close the system themselves. There is also an app that'll let riders review their data.
The eDSS also has ANT+ and Bluetooth capabilities meaning that you can monitor the suspension from your Garmin, just like you would your Di2 gearing.
Watch: Pinarello Dogma F10 review
It's a significant development on what came before, when the Pinarello Dogma K8-S had an elastomer between the seat stay and seat tube.
Elsewhere, the Pinarello Dogma K10S still retains the same frame design as the K10 Endurance bike. That means a longer fork rake and more open head tube angle as well as longer, 'flatback' seat stays.
Also present is Pinarello's 3xAir technology that allows the bottle cage to be placed in three different positions on the down tube to reduce drag.
We currently have no news on the price of the bike, but it looks to be available in at least three different colour ways. The frame is also UCI approved.
Thank you for reading 10 articles this month* Join now for unlimited access
Enjoy your first month for just £1 / $1 / €1
*Read 5 free articles per month without a subscription
Join now for unlimited access
Try first month for just £1 / $1 / €1