Best touring bikes 2023: tourers for adventures on two wheels
Although there are many bikes capable of cycle trips, the best touring bikes remain the optimal tool for longer journeys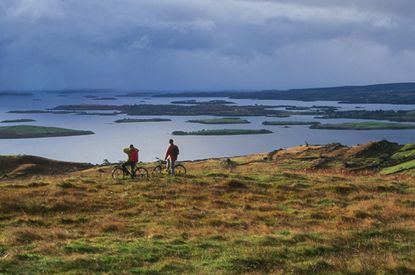 (Image credit: De Agostini via Getty Images)
Get The Leadout Newsletter
The latest race content, interviews, features, reviews and expert buying guides, direct to your inbox!
Thank you for signing up to The Pick. You will receive a verification email shortly.
There was a problem. Please refresh the page and try again.
The allure of the open road is one of cycling's enduring themes. Touring by bicycle allows for this on a grand scale, travelling for several days, often in far-flung places with all your kit strapped to the bike. Of course, micro-adventures closer to home can be just as much fun and still keep the spirit of adventure alive.
Whether you're planning an expedition abroad or fancy exploring more local roads in far greater detail, a touring bike is the ideal tool for the job. Designed for cycling long distances in comfort, the bikes should be both stable and reliable in their handling, as well as providing all the mounts you need for pannier racks and bags and mudguards. Self-sufficiency is one of the tenets of cycling touring, so the bikes are usually designed with ease of maintenance in mind, too.
The good news for touring cyclists is that the range of bikes available to cater for their needs has grown substantially in the last few years.
In this guide, we've rounded up the more traditional options. If you're thinking of going off-road, perhaps investigate gravel orientated options in our buying guide here, and if you plan to go quick and travel light, see endurance road bikes here.
There's more on what to look for in a touring bike below - but first, here are our top picks of the best touring bikes.
Our pick of the best touring bikes
Genesis Tour de Fer 30 touring bike
Best set up straight out of the box
Specifications
Gearing: 50/39/30 crankset, 11–32t 10-speed cassette
Tyres: 700x35c Schwalbe Marathon
Brakes: TRP Spyre mechanical disc
Accessories: Mudguards, front and rear pannier racks, front and rear dynamo lighting, bottle cages
Sizes: XS, S, M, L, XL
Weight: 14.73kg
Colours: Purple
Reasons to buy
+
Comes with all the accessories; dynamo lighting, mudguards, front and rear panniers, as well as bottle cages
+
TRP Spyre mechanical disc brakes are bombproof and easy to adjust
+
Long wheelbase for stability
Reasons to avoid
-
Gearing is a little on the high side
-
QR axles can make rotor/caliper alignment more difficult
This is a bike that's been created exclusively to provide a comfortable and practical ride for a touring cyclist. The Reynolds 725 Heat-Treated Chromoly frame promises a springy ride and an incredibly strong base.
The 160mm rotor mechanical disc brakes are a more modern introduction with a nod to practicality, especially in the wet. Although we've found mechanical TRP Spyre brake calipers aren't quite as powerful or as easy to modulate as a hydraulic brakeset, they are easy to adjust and highly reliable – perfect for a long-distance tour.
A 10-speed Shimano Tiagra drivetrain is about right for a bike at this price point, but in our experience, a 50/39/30 crankset provides gears that are just a bit too big for cycle touring – particularly over hilly terrain.
But you can always swap this out for a smaller ringed option down the line. We find that with a cassette of 11-34t, going for a granny ring of 26t is generally a good bet.
We've always found Schwalbe's Marathon tyres to be highly puncture resistant and with a good wear rate. In 35c, these are capable of traversing broken roads and tamer gravel, but if you're planning on spending a large amount of time off road you would want something a bit plumper.
Handily, this bike come with many of the accessories we think are a must. Firstly, mudguards, but also dynamo powered front and rear lights, bottle cages and the Tubus pannier racks front and rear.
Surly Disc Trucker
Best for bombproof reliability
Specifications
Gearing: 48/36/26 crankset, 11–34t 9-speed cassette
Tyres: 700x41c Surely ExtraTerrestrial
Brakes: TRP Spyre mechanical disc
Accessories: None
Sizes: 42, 46, 50, 52, 54 and 56cm (with 26" wheels); 56, 58, 60, 62, 64cm (with 700c wheels)
Weight: 13kg
Colours: Green
Reasons to buy
+
Plenty of gears at the low end
+
Thru-axles for better disc alignment
+
Bosses for mounting a whole range of things
Reasons to avoid
-
Doesn't come with mudguards, racks, dynamo etc.
-
Very relaxed riding position, even for a touring bike
A spin-off of Surly's much-revered Long Haul Trucker, the Disc Trucker keeps many of the much-loved versatility and can-do attitude, but this time with the addition of mechanical disc brakes and thru-axles – unlike the Genesis Tour de Fer 30 which has disc brakes and QR axles.
Opinion is a little split on thru-axles for touring – if you have any catastrophic issues with your hubs in more remote countries, you're unlikely to be able to find a replacement locally. That said, those kind of hub issues are quite rare and if it does happen you can always get a replacement sent out. For the improved alignment between the rotor and the caliper, we think the benefits outweigh the negatives.
A multitude of braze-on mount means the Disc Trucker is capable of running front and rear bags, full-coverage fenders, two water bottles, a spare spoke and even a pump peg. However, in not coming with these accessories, you will have to factor these into the cost, making the value for money a little less than the Genesis Tour de Fer 30 or the Kona Sutra.
With both 26" and 700c wheel build options available, the Disc Trucker can be as adventurous as you choose. The 26" (in sizes 42-58cm) is capable of taking up to 2.1" tires, while the 700c version (in sizes 56-64cm) has room for up to 42mm tires — both with fenders.
Although touring bikes generally do have a more relaxed position than a typical road bike, designed as they are for comfortably covering long distances, the Disc Trucker does have a particularly high front end. This isn't necessarily a problem, but if you are coming from a road cycling background, you may find just such an elevated position a little uncomfortable
Made from a CroMoly Steel, the Disc Trucker comes equipped with a Shimano Alivio/Sora drivetrain, with the 48/36/26 triple Alivio crankset and 11-34 9-speed Shimano cassette provides a gearing range we find to be a great balance between top-end speed and low-end winching – particularly if you're planning on maxing out the rider and kit weight limit of 161kg (355lb).
Kona Sutra All Road touring bike
Best for hard wearing components
Specifications
Gearing: 46/30t crankset, 11–36t 10-speed cassette
Tyres: 700x40c Schwalbe Marathon Mondial
Brakes: TRP HY Road mechanical/hydraulic disc
Accessories: Mudguards, rear rack
Sizes: 48, 50, 52, 54, 56 and 58cm
Weight: TBC
Colours: Black
Reasons to buy
+
Plenty of mounts
+
Comes with mudguards and front rack
+
Brooks saddle, Schwalbe Marathon Mondial tyres, and TRP brakes all time proven components
Reasons to avoid
-
Chainstays are a little short in the larger sizes for a dedicated touring bike
-
2x chainset may not appeal touring purists
The gloss black Sutra is made from Kona's Cromoly steel frame and is kitted out with smooth-rolling Schwalbe Marathon Mondial 700x40c tires on WTB STi23 rims, which are now tubeless-compatible.
The current model has replaced the previous Shimano Deore 3x10 drivetrain with 2x10 chainset from Shimano's GRX gravel range. It's a move that's unlikely to please the touring purists. The 46/30t chainrings are matched with a 11-36t cassette, which sees the bike's gearing range reduced. It should still see you up the steep climbs, just perhaps not in as much comfort as before.
Gone too are the bar-end shifters, replaced with Shimano 10-speed Tiagra road shifters. Again it's quite the change, moving the Sutra from a traditional tourer into a far more modern interpretation. It reduces some of the bike's previous mechanical simplicity, which is appealing if your tours are long and overseas. That said the move to STI levers will appeal if you're used to riding a regular bike.
Another nod to modernity are the TRP disc brakes, which are blend of mechanical and hydraulic, and the frame's thru-axles.
With a Brooks B17 leather saddle, mudguards and a front pannier rack finishing off this tourer, this good-looking bike oozes style.
The leather Brooks saddle does require a bit more care than what you might be used to – it need to be kept covered from heavy rain and needs a semi regular application of cream to keep the leather supple. But by functioning essentially as a hammock, it is exceptionally comfortable and only gets better over time as it moulds to your shape – it wears in, rather than out..
Ridgeback Voyage
Best classic style tourer
Specifications
Gearing: 48/36/26 crankset, 11–36t nine-speed cassette
Tyres: 700x32c Continental Contact
Brakes: Tektro Cantilever rim brakes
Accessories: Mudguards, rear rack
Sizes: XS, S, M, L, XL
Weight: 13.37kg
Colours: Green
Reasons to buy
+
Rim brakes are easily serviceable
+
Good range of gears
+
Fitted mudguards
Reasons to avoid
-
32c tyres are a little narrow
-
Rim brakes aren't so effective at stopping heavy loads in the wet
Classic styling never goes out of date - and the vintage-looking Voyage has got it by the bucket load, though a redesign means that modern tech has not been overlooked.
The Ridgeback Voyage uses Reynolds 520 tubing for the frame, with a CroMoly steel fork. A rack and full mudguards (fenders) come as standard.
The Shimano 48/36/26t triple chainset paired with an 11-34 cassette offers a good range of gearing although with relatively large jumps between the gears due to having just nine gears at the rear.
We don't find this to be too much of an issue when taking it steady on a cycle tour but would prefer something a little tighter if multiple very high mileage days are planned.
Shifting and braking is taken care of by Shimano's reliable Sora levers and Tektro cantilever rim brakes. The latter certainly help make the Voyage a maintenance-friendly machine - easy to maintain and find replaces for, even in remote locations - although disc brakes may be a preferred choice for all-weather tourers.
Alex rims with a high spoke count are pretty dependable, even if not the flashiest and fitted with 32c Continental Contact tyres, they can handle a little off road, but are best suited to the tarmac.
Trek 520 disc touring bike
Best for doubling up for town and commuting duties
Specifications
Gearing: 48/36/26 crankset, 11–36t nine-speed cassette
Tyres: 700x38c Bontrager H1 Hard-case Ultimate
Brakes: TRP Spyre mechanical disc
Accessories: Front and rear rack
Sizes: 48, 51, 54, 57, 60 and 63cm
Weight: 14.24 kg
Colours: Red
Reasons to buy
+
Comes with panniers and mudguards
+
Wide tyres
+
Good gearing range
Reasons to avoid
-
QR axle can be difficult to get the discs not to rub
-
Big jumps between gears
Constructed from Trek's CroMoly steel, the frame has been designed around disc brakes and fitted with a rack and fenders mounts.
The Bontrager Affinity rims are tubeless-ready, which might be worth setting up if you want a bit of a faster ride when commuting. But for long-term touring it's generally best to stick with inner tubes so as to avoid the added complication of sealant drying out. Bontrager's 38c H1 hard-case Ultimate tyres offer good puncture resistance themselves.
The drivetrain is a mixture of Shimano parts with Sora shifters. The crankset is a triple, with 48/36/26 tooth chainrings, and the cassette is an 11-36 so you'll have ample gears when the road goes up. TRP Spyre C 2.0 mechanical disc mechanical discs look after stopping.
However, with only nine sprockets on the cassette, the jumps between the gears are a little large, as with the Ridgeback Voyage. But if this does cause you an issue, and if you find yourself not using all of the gears, you could fit a tighter range cassette for smaller jumps.
Like the Genesis Tour de Fer 30, the wheel axles are QR, which can make getting the rotor and caliper aligned properly a little more difficult than with a thru-axle system
The overall weight comes in at 14.26 kg / 31.4 lbs in a size 57, which is lighter than some of the more traditional options.
Cube Travel Pro Trapeze touring bike
Best for low maintenance and comfort
Specifications
Gearing: Shimano Nexus, 8-Speed, 46x22
Tyres: 29x2.15in Schwalbe's Marathon Almotion
Brakes: Shimano BR-MT200, hydraulic disc brake
Accessories: Mudguards, rear rack, kickstand, dynamo lighting
Sizes: 46, 50 and 54cm
Weight: 15.3 kg
Colours: Black
Reasons to buy
+
Belt drive is super low maintenance
+
Helpful range of accessories
+
Step through frame easier to mount with panniers
+
Very wide tyres offer greater comfort
Reasons to avoid
-
Gearing range a little lower and with larger jumps than you can get with derailleurs
-
Flat handlebar, very upright position, very wide tyres, dynamo hub and the internally geared rear hub all combine to for slower riding speeds.
Cube offers its Travel Pro tourer in both a traditional crossbar and step-through frame design, with the latter making mounting and dismounting this robust, aluminum bike easy and convenient.
The convenience theme is carried through much of the bike. It's equipped with a Shimano Nexus internal hub gear system and a Gates CDN Belt Drive system which offers super low maintenance compared with a more traditional chain and derailleur system.
With this eight-speed hub, the jumps between the gears is a little larger and the overall range a little lower than you can get with a derailleur system, and it's not quite as efficient. But that said, if you're planning on taking it steady on your cycle tour, those points are pretty immaterial compared to the benefit of much lower maintenance.
There's plenty of clearance for extra-wide tires and the wheels are currently wrapped in Schwalbe's Marathon Almotion 29x2.15in rubber.
Finishing off this functional tourer are full-length fenders, an adjustable CUBE stand Pro kickstand, a Knog Oi bell, lights (front and rear), and a semi-integrated carrier for pannier bags; these features will have you covered for any adventure.
Salsa Marrakesh
Best for heading off road
Specifications
Gearing: 48/36/26 crankset, 11–34t nine-speed cassette
Tyres: 700x42c Maxxis Roamer
Brakes: TRP Spyre mechanical disc
Accessories: Front and rear rack
Reasons to buy
+
Many, many mounts
+
Generous tyre clearance
+
Comes with front and rear racks
Reasons to avoid
-
Stock tyres are too wide for mudguards to fit (although 40mm width will)
-
Bar-end shifters may not suits all
The Marrakesh is designed to take you touring wherever you wish — including a trip around the world if necessary. The frame is built from 4130 CroMoly tubing and has a serious array of mounts. There's room for up to five bottle cages thanks to extra fork mounts plus it comes fitted with front and rear racks. There's even a mount to carry a spare spoke.
Elsewhere there are bar-end shifters and a 3x9-speed Shimano Alivio groupset. The gearing range is designed to get you up the steep stuff even when fully loaded thanks to 48/36/36 triple chainring paired with an 11-36t cassette. The shifters also make roadside maintenance a little easier.
Its world-touring credentials are further aided by its generous tire clearance - 700 x 40mm even with mudguards (fenders), and comes stock with Maxxis Roamer 42mm tires. This means you should eat up the miles in comfort even when the road gets rough.
What to look for in a touring bike
It's difficult to lay out specific criteria when it comes to choosing a touring bike because the beauty of touring is that it can be whatever you want it to be – there is no single best touring bike for everyone, what is best for you depends on the type of tours you want to go on. However, there are key elements to consider when selecting your two-wheeled riding buddy, which will enable you to get the best touring bike for you.
Touring bike frame
If you're planning a longer trip, and intend the bike to be used primarily for such adventures, then the resilience and comfort of steel is a sensible choice. As such, most of the best touring bikes will feature this metal. The amount you're willing to invest will dictate the weight, strength and character of the steel you end up with.
When looking at steel touring bikes, expect to see the word 'Chromoly' a lot. This is a form of low alloy steel that is used when strength is particularly important. It takes its name from two of the primary alloying (mixing of metals) elements used: "chromium" and "molybdenum".
If you're planning on using the bike for touring and other duties: club runs, commutes, shorter rides where speed might be more in your interest, consider aluminum or carbon.
Bikes suitable for touring will have a relaxed geometry: a shorter top tube and taller stack to put the rider in a more relaxed position. The wheelbase will be longer, to create a feeling of stability. You'll also notice that the chainstays are longer - this means panniers can be mounted without a chance of clipping your heels and it allows for better distribution when panniers are full.
Touring bike wheels
Elsewhere in the cycling world, we talk about low weight and aerodynamics when it comes to bicycle wheels. And sure, if you're aiming to break a world record on your cycle tour then those are probably still very important areas to consider.
However, if you mainly want to get to somewhere rather far away, and you'd like to arrive there with a wheel that's still true and contains the same number of spokes you left with, then a strong wheel is what you desire. Look for a higher spoke count that you might opt for on a speedy road bike.
The best touring bikes will generally have at least 36 spokes per wheel, tandem touring bike can even go as high as 48.
Touring bike tyres
It's incredible how much difference a set of tyres can make to a bike. The frame can be designed with comfort top of the agenda, but put on some narrow rubber shoes and pump them up to the wrong tyre pressure and you'll be bumping about all over the road.
Most touring cyclists will want to go for wider tyres - 28mm+, when compared with their road racing cousins. The further off the beaten track you want to go, the wider they should be. If you plan on tackling some light trails, look for 32mm+.
Touring bike brakes
Traditionally, touring bikes had rim brakes and these will certainly do the job for most road-based tours. However, disc brakes do provide far superior stopping power, especially in the wet, and they are now more common than rim brake on the best touring bikes
Since disc brakes don't rely upon the rim to bring the bike to a halt, they also reduce the risk of the rims becoming worn through debris building up on the pads.
Add in that many touring cyclists are carrying luggage, therefore adding to the overall load, powerful brakes that work in all weathers do seem like a sensible addition. However, not everyone likes the appearance of disc brakes on a traditional steel machine and the pads are a tiny bit harder to replace and set up, which is worth considering if you're maintaining your bike on the road.
Luggage and Lights on a touring bike
A purpose-built touring bike will come with pannier racks fitted, as well as fenders and perhaps even built-in lights. These all add to the overall weight, but if the intended purpose requires them, it's no bother.
If you plan to use the bike for other purposes, like group rides, then you may want to look for a bike that comes with eyelets for guards and racks, so that you can remove and fit them as and when.
There's a lot of clever luggage solutions around these days, such as frame bags and oversized saddlebags, that allow you to do away with panniers if you'd rather distribute weight differently.
Get The Leadout Newsletter
The latest race content, interviews, features, reviews and expert buying guides, direct to your inbox!
Michelle Arthurs-Brennan is a traditional journalist by trade, having begun her career working for a local newspaper, where highlights included interviewing a very irate Freddie Star (and an even more irate theatre owner), as well as 'the one about the stolen chickens'.
Previous to joining the Cycling Weekly team, Michelle was Editor at Total Women's Cycling. She joined CW as an 'SEO Analyst', but couldn't keep her nose out of journalism and in the spreadsheets, eventually taking on the role of Tech Editor before her latest appointment as Digital Editor.
Michelle is a road racer who also enjoys track riding and the occasional time trial, though dabbles in off-road riding too (either on a mountain bike, or a 'gravel bike'). She is passionate about supporting grassroots women's racing and founded the women's road race team 1904rt.