Pinarello Dogma 65.1 Think 2 review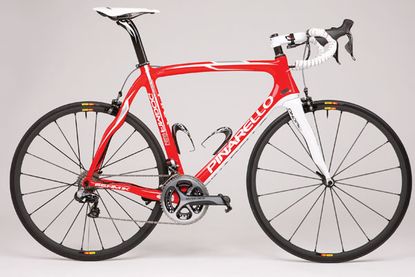 When it's all said and done it's hard to knock a bike that's won the Tour de France a couple times, but that wouldn't have stopped us from criticising it if we'd needed to, it's just that there really isn't much to say against the Dogma 65. It could be lighter but you know you'd be giving up on something if it was. And while the £3,699 frameset price isn't exactly cheap it has dropped £200 when compared to the previous model and is certainly plenty competitive against other similar frames.
Reasons to buy
+

Lighter than previous model

+

Better steering

+

Competitive pricing
If you're going to add weight to a bike by using tubes that aren't straight you'd jolly well better know what you're doing.



So when Pinarello came out with the original asymmetric frame we admired their cojones and secretly hoped they'd got it right.
As ?the generations have ticked by it's fair to say that Pinarello has more than proved it's not a fad or even just a marketing ploy to make its bikes stand out - the bikes just ride so well; plus, who can argue with back-to-back Tour wins?
So when details of the new Dogma 65.1 Think2 were released we jumped all over it and asked for one ASAP to bring you all the details as quickly as we could, but it seems we weren't the only ones as it took months to arrive. Luckily the Dogma remains the same for 2014 so it's still relevant.
If compliments won races then the Dogma 65.1 in colour option red 747 would be a flyaway success - just about every event I've used it in I've had at least a couple of positive passing comments about how good the paintwork is - it's certainly a real head-turner in the summer sun.
This is just how it was for Pinarellos of old too; the paintwork wasn't the only reason to buy one but it certainly made the choice that bit easier.
Anyone who's ever spent a bit of time on the Pinarello website will have found that there are more options available than you can shake a stick at and the latest
Dogma, the third iteration, takes the options to a silly level. With 22 colours and 13 sizes it's great news for the customer but for your local bike shop it's a simply massive range and must be nigh on impossible to know what to pre-order.
To save you doing the mental arithmetic, just one of every option would mean a stock of 286 frames - it's little wonder that if you want a specific colour and size you might have to wait a while for it to arrive. As an aside, that's what the whole Think2 name is all about. Pinarello has wisely modified the frame to allow either mechanical or electronic shifters (with a couple of adaptors) to be used, so that means half the number of frames have to be stocked - even so it's crazy big.
Upgrading the carbon
So how does the new frame differ from the old one? In short, Pinarello has used a higher grade of carbon in the frame so the headline-grabbing number is now Torayca high-modulus 65 as opposed to the 60 ton carbon of previous years' models.
It has also subtly tweaked the geometry, no doubt following a year of Mark Cavendish riding the bikes. To me the steering is a touch tighter than before, making it faster to react when riding it in tight corners.
Quite a surprise was that the change is sufficiently small that it's had no negative effects on the high-speed stability, at least none that I could discover.
As with the Dogma2, the 65 still handles sublimely when dropping down tarmac at full tilt - a perfect compromise between stability at speed and rapid direction change at low speed seems to have been achieved.
Pulling off this balancing act is no small feat in my book.
Along with the use of the higher grade carbon, Pinarello has also started to use nano alloys in the composite mix.
While it may seem crazy to add metal particles into the frame, however small they are, the principle is that they help absorb kinetic buzz and marginally increase the strength of the frame so less material has to be used. Pinarello in its own material suggests that the frame weight has been dropped from 950g to 920g and, as every supporter of Sky will already be tired of hearing, marginal gains are what it's all about.
These sort of claims of 'absorbing buzz' ring alarm bells with us but there were no noticeable disadvantages, in fact the frame still felt plenty lively and carried enough information on to the rider that you knew when you were pushing the limits of the tyre-tarmac interface.
With the bold colourway and the use of Shimano's 9000 series Dura-Ace the front of the bike looks markedly clean and uncluttered - this is even more so if you specify the Most Talon one-piece bar and stem that our test bike arrived with.
Sadly, the Pinarello Most team doesn't make the one-piece bar and stem combo in the length and width that I prefer so they were swapped to a set of Pros with the Vibe 7s making a nice and stiff all-alloy front end.
Also helping that clean look is the use of Shimano's internal seatpost-mounted battery pack. Pinarello obviously has a good relationship with Shimano as it was the first adopter of this system we'd heard of.
Perhaps the fast track was facilitated thanks to the fact that the frame comes with its own seatpost so its uptake could be implemented in-house.
Whatever the reason it's certainly cutting-edge and has allowed Pinarello to get the jump on Shimano's in-house component brand, Pro, which is impressive.
Thank you for reading 10 articles this month* Join now for unlimited access
Enjoy your first month for just £1 / $1 / €1
*Read 5 free articles per month without a subscription
Join now for unlimited access
Try first month for just £1 / $1 / €1