Liv Langma Advanced Pro 0 review
Is it possible to be good, I mean really good at everything and do away with the categorisations that us cyclists can't help but apply? Can you really be a sprinter and a hill climber? The Liv Langma Advanced Pro 0 seems to think so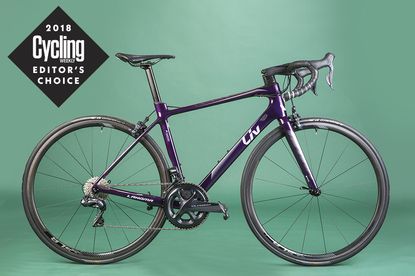 The women's-specific Liv Langma Advanced Pro 0 is easily a GC contender, and will more than hold its own on all but off-road terrain, meaning there is a great deal to really like about the bike, and it's close to being perfect.
Reasons to buy
+

Handling

+

Fit

+

Wheelset and tubeless set up

+

Lightweight

+

Power meter

+
You can trust Cycling Weekly. Our team of experts put in hard miles testing cycling tech and will always share honest, unbiased advice to help you choose. Find out more about how we test.
Technically it's classified as Liv's lightweight race bike, but we've put the women's specific Liv Langma Advanced Pro 0 on our 2018 Editor's Choice list, not just because of its featherweight credentials, which are exceptional at just 60g more than the UCI minimum weight limit at 6.86kg, but because it's easily a total GC contender that will more than hold its own on any given road terrain and respond to any given rider demand.
Climber, sprinter, areo – this bike has the lot and delivers it in all in spades.
If you ever want to know a bike's pedigree, a good starting point is to scan its results and who was riding it at the time. The Team Sunweb Women have given the Liv Langma platform plenty of 2018 season wins, including Ellen Van Dijk's win at Dwars door Vlaanderen, and Coryn Rivera at the American Nationals shows the Langma clearly has winning form - on just about any terrain, and by any rider.
I've been fortunate enough to ride both the Advanced Pro 0, Ultegra Di2 rim brake and the Advanced Pro Disc models, here's the low down:
>>> The best women's road bikes for 2019: geometry explained and best reviewed models.
Geometry and construction
Putting the Liv Langma Advanced Pro 0 in any sort of category is hard, In terms of geometry it's very similar to the Liv Envie Advanced, or the Cannondale Supersix Evo women's, or with its 525mm stack (the bigger the number the more relaxed and upright a bike will feel) and 378 reach (how stretched out you are), it seems to equate to the lovechild of the Canyon Aeroad WMN CF SLX Disc (509 stack and 376 reach) and the Specialized S-Works Venge (536 stack and 386 reach).
>>> Handlebar reach: how to get it right
It's an odd geometry in some ways, as just measuring top tube length alone will get you nowhere near your usual measurements. As a test writer I like to review the whole customer experience and went off the Liv size guide, which put me firmly in the size small camp. This meant my saddle to centre bar measurement was about two centimetres shorter than what I would usually ride. However geometry is something that Liv claims to specialise in with its 3F: Design philosophy, building the Langma Advanced Pro 0 or Disc from the ground up to not only create a platform that it says fits a women's body proportions better, with women-specific touch points (saddle and handlebars), but its lightweight Advanced Composite frame is also optimally tuned for stiffness and compliance for female riders.
Less gender specific is the full Shimano Ultegra disc set-up, either Di2 or hydraulic, which quite frankly we all adore, and the tubeless wheel system of the Giant SLR 1 wheels and Giant Gavia AC 1 tubeless tyre combo, which coming set up and ready to roll out the box is an excellent touch.
The ride
When a bike claims to be a do-it-all, it's hard not to immediately seek out its weaknesses – it's totally a natural human reaction to do the exact opposite that the marketing blurb draws your attention to and I've got to be honest, I was surprised to find myself really liking the Liv Langma Advanced Pro 0 and Disc.
I've been lucky enough to put the bikes somewhat through its, mostly hilly, paces firstly in my local Peak District hills, and then took the Advance Pro Disc up to Cumbria to ride Great Dun Fell, which I might add, at 848 metres of mostly stupidly steep riding, should be on every cyclist's hit list.
Weighing a very respectable 7.13kg, the Liv Langma Advanced Pro Disc feels pretty lightweight, weighing over half a kilo lighter than the Canyon Aeroad WMN CF SLX Disc. I suspect much of that is down to the compact small frame but who cares where the weight savings come from, the point is there isn't much excess.
If you're wanting to make even more weight saving than the Liv Langma Advance Pro 0 is even lighter coming in at just 6.86kg, an impressive 60g more than the UCI legal minimum weight. On the hills around the Breacon Beacons in south Wales it was sublime. The Shimano Ultegra Di2 performs with dream like quality, and is, in my opinion the only rim brake option worth considering in terms of value and performance.
What's super impressive is that for the £4,299 you also get the dual sided Power Pro power met, we first saw it at the Giant Defy launch this year and it's been incredibly well received by the industry as a whole, so much so that Giant, Liv's sibling company, are planning to bring it as an after market product item, which will certainly ruffle a few power meter feathers.
At present it's only spec'ed on Ultgra Di2 models, and there's no wonder there's demand for it to be given a wider release with it's fully intergrated, right/ left split power measuring. The Power Pro is ANT+ BLE compatible, so there's not a head unit it won't connect too, (it can even connect to two units at once if needs be).
Measuring between 30 – 180rmp, and up to 2400watts of power, all but Spartacus will be in range. Then there's the oh so practical elements that I loved - the battery life has 150hr per charge, it uses a usb charge with a super long cable. And the best yet - it using a magnetic charge point. So it's totally water proof with no removable battery. What a feat of practical engineering.
Back to the bike.....
Where weight distribution does matter is in the wheelset and the Giant SLR 1 wheels and Giant Gavia AC 1 tubeless tyre combo seem to balance it well. I can honestly say I wasn't aware of heavy rims when hauling myself up the 7.5km of the second highest mountain in England.
While I didn't put the Liv Langma Advanced Pro 0 on a race start line, I feel pretty confident that it would more than hold its own in the peloton, as Sunweb have assured me. On the Disc option I might be tempted to tweak the 34/50 compact chainrings for a more race-appropriate selection, but it was tantamount to a hidden motor on the 25 per cent gradients of mountain climbing compared to my riding buddy's 53/39.
My initial concerns on sizing were also put to bed after ride one. I thought I'd feel squished up and uncomfortable, but to my surprise the Liv Langma Advanced Pro 0 felt like it had such a good position, which in hindsight is no surprise giving its geometry similarities to the Cannondale SuperSix Evo, a bike I loved so much it won our 2016 bike of the year and featured in 2017 Editor's Choice.
Descending on the Liv Langma Advanced Pro 0 and Disc is sublime. both options always deliver that extra confidence, especially as someone with small hands who can often struggle to feel like I've totally got the brakes covered, the Ulregra hoods make it easier for me to ensure I've got them covered. I even put them to the test thanks to some well camouflaged sheep who decided to ambush me at close quarters, which also made me realise how well the bike handles. Although a sinuous descent prevents all out speed, it does require agile handling of the left/right hairpins, which the Langma took in its stride.
I really liked the Giant SLR 1 Disc WheelSystem and 25mm Giant Gavia AC 1 tubeless tyres, which is a big deal for me with my tyre obsession. They come a tubeless ready from the factory, just add the sealant and your ready to rock.
I'm yet to ride them in wet conditions, but in the dry the bite point of the tyres was never in question – a very valuable element when throwing yourself down a mountain. Liv say it's good for up to 28mm tyres too, so if you want even more comfort/rubber-to-road contact, the option's there. The wheels themselves also are remarkably good: the wheel and tyre combo has that pulling-you-along sensation, and what feels like a fair amount of free speed. You won't be wanting to upgrade any time soon.
Snagging points
I did find one snagging point on the Liv Langma Advanced Pro 0 or Disc though: that nest of front-end cables. Liv has informed me that all bikes are allocated standard 'standard' hosing lengths, which should then be cut down to size. Sadly ours missed the personal touch and arrived with overly long ones, which put to waste all the efforts of the aero tubing, including the chainstay-integrated wireless data transmitter 'RideSense' (that sends wheel speed and cadence information directly to any ANT+ compatible computer) and even going to the lengths of designing a realigning thru-axle lever. Assuming your friendly local bike shop will also take it upon themselves to tidy up the front end, the end result will be considerably neater than our test ride.
Value
Priced at £4,299 for the iv Langma Advanced Pro 0 and £2,999 for the Advanced Pro Disc is going to require more than just pocket change to purchase, but I can honestly say it will be well worth the investment of your hard-earned cash whatever option you choose. It would be perfect for so many riders and styles of riding that the only time it would be left at home is in winter or to go off road.
Thank you for reading 20 articles this month* Join now for unlimited access
Enjoy your first month for just £1 / $1 / €1
*Read 5 free articles per month without a subscription
Join now for unlimited access
Try first month for just £1 / $1 / €1