The top 10 road bike innovations
We look at the ten most fundamental road bike innovations and technological advancements, from shape to function.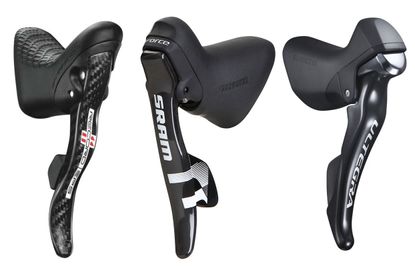 Get The Leadout Newsletter
The latest race content, interviews, features, reviews and expert buying guides, direct to your inbox!
Thank you for signing up to The Pick. You will receive a verification email shortly.
There was a problem. Please refresh the page and try again.
To this day the road bike continues to evolve and improve. Presented below are what we consider the be the top 10 technological advancements in the history of road bike innovations.
1. John Kemp Starley - Safety bike 1885
John Kemp Starley is probably the most influential cycling innovator that you've never heard of. He is widely regarded as the inventor of the modern bicycle. In the 1880s Starley and others had been looking into designing a bike that was both safer and more efficient (both comparatively) to the penny-farthing and existing tricycles.
As a result Starley developed the "safety bicycle" which had the rider's feet within reach of the ground (unlike the giant penny-farthing), used a diamond frame, two similar sized wheels, and was chain driven with rear wheel drive.
>>> The top 10 game changing road bikes
2. Pneumatic tyres. John Dunlop 1887
The idea of riding on wooden wheels covered in iron bands makes our eyes water just thinking about it. It is fair to say that before the invention of pneumatic tyres a ride on a bicycle was far from comfortable. Watching his son ride a tricycle with solid rubber tyres over cobbled ground inspired John Dunlop to develop the first practical pneumatic tyre in 1887.
Racers quickly adopted the Dunlop tyre due to its increased comfort and speed. Further, this development was a catalyst for cycling participation which lead to the founding of Cycling (Weekly) in 1891.
>>> Buyer's guide to tyres
3. Derailleurs
Before the invention of the modern derailleur, to change gear was quite an effort for a rider. Riders had to stop, remove the wheel from the frame and flip the wheel round to change gear. This also meant that they only had a grand total of two gears. Although derailleur systems were being developed in the late 1800s and early 1900s, derailleurs were first introduced to the Tour de France in 1937.
It wasn't until Simplex produced a cable shifting derailleur that they became more widely used in road racing. Despite the above, there is a misconception that Tulio Campagnolo invented the derailleur, in part due to the iconic Campagnolo Gran Sport parallelogram rear derailleur which was released in 1949.
>>> Complete guide to road bike groupsets
4. Quick release skewers
Before the invention of quick release skewers a rider could only remove/replace a wheel (for example when changing gear) by undoing/redoing the locking nuts on each side of the wheel. A rather time consuming operation and very difficult in cold weather.
In 1927 Tulio Campagnolo, in response to the frustration of having to undertake the above laborious task during a race, invented the quick release skewer. Quick release skewers are now commonplace on most road bikes and facilitate the easy and rapid (most of the time) wheel changes we see in the pro peloton.
5. Clipless pedals
In 1984 Look released the first commercially successful clipless pedals. They used the same principles as used in ski boot bindings allowing the rider to easily clip in and out of the pedal (particularly beneficial if you "touch down" compared to toe straps which would invariably keep you attached to your bike). In addition to the practical safety benefits, clipless pedals increased pedaling efficiency by allowing cyclists to utilize a full circular pedal stroke.
Despite the above benefits, it wasn't until 1985 when Bernard Hinault rode to his fifth and final Tour de France victory using clipless pedals that the rest of the peloton took notice.
6. Carbon frames
What do racing cyclists look for in a frame? Weight, stiffness, aerodynamics and comfort. At the moment, carbon fibre is unquestionably the bike material of choice. Carbon fibre has been on bike manufacturers' minds longer than you may think. As far back as the 1970s manufacturers were considering how to best use it.
In the mid 1980s Look (working with the French company TVT) were the first to produce a reliable road racing carbon frame. Since then huge strides have been made in the manufacturing of carbon frames. However, despite all of the developments, for us the most iconic carbon frame remains Chris Boardman's Hour Record dominating Lotus.
>>> Are aluminium frames making a comeback?
7. STI Shifters
Remember having to reach down to the down tube to change gear whilst still trying to looking up the road? The introduction of the Shimano Total Integration ("STI") shifters in the early 1990s removed that problem.
Fully integrating the brake lever and gear shifter allowed riders to seamlessly change gear without having to take their hands off the handlebars. This greatly increased safety when riding in group, however other more subtle advantages included increased aerodynamics (due to not having to drastically change position on the bike) and increased acceleration due to being able to change gear quickly whilst continuing to pedal.
>>> A complete guide to road bike groupsets
8. Electronic Gears
People say that once you use electronic gears you'll never go back to mechanical gears. Now that initial bugs such as short battery life and where to fit the battery on the frame seem to have been ironed out, there do seem far less reasons to avoid electronic gears.
Both Shimano and Campagnolo started experimenting with electronic gears in the mid 2000s. Shimano released their first generation Di2 electronic gears in 2009 and Campagnolo released its first electronic group set in 2011. We have come to expect flawless shifting from Di2 and we're looking forward to SRAM's electronic offering becoming commercially available.
9. The freewheel
Track riders still embrace fixed wheels, but they do not have to deal with going up and down large hills. Prior to the advent of the freewheel the only option was to ride a fixed wheel which meant a rider had to pedal continuously, which could cause serious issues when riding down a steep hill!
>>> Fixie rider rides and descends 300km through the alps
The first freewheel was invented as far back as 1869 by William Van Anden. However, this was not particularly popular and it took until late the 1890s and early 1900s for real developments to be made. Things have moved on greatly from the initial freewheel, most notably with the Shimano freehub in 1978.
>>> Buyer's guide to road bike wheels
10. Power meters
Just riding by feel no longer applies for many cyclists. Riders have embraced power meters as they allow you to quantify your effort, allowing greater structure and feedback for more effective training. They are also particularly useful for pacing in time trials and up long climbs. In response, the industry is producing more affordable power meters.
Cycling power meters were first available in the late 1980s and early 1990s, with the first commercially available portable power meters being the SRM (Schoberer Rad Messtechnik) system designed by German Ulrich Schoberer. As technology has developed power meters now take power ratings from various parts of the bike (BB axle, crank, hub, pedal axle etc) and the little red box is not the only power meter around.
>>> Powertap P1 pedals first ride
Is there anything you think we have missed, or should be included in the list? What do you think the next major road bike innovation will be? Let us know your thoughts...
Just landed: The Cervelo S5
Thank you for reading 20 articles this month* Join now for unlimited access
Enjoy your first month for just £1 / $1 / €1
*Read 5 free articles per month without a subscription
Join now for unlimited access
Try first month for just £1 / $1 / €1
Get The Leadout Newsletter
The latest race content, interviews, features, reviews and expert buying guides, direct to your inbox!
Oliver Bridgewood - no, Doctor Oliver Bridgewood - is a PhD Chemist who discovered a love of cycling. He enjoys racing time trials, hill climbs, road races and criteriums. During his time at Cycling Weekly, he worked predominantly within the tech team, also utilising his science background to produce insightful fitness articles, before moving to an entirely video-focused role heading up the Cycling Weekly YouTube channel, where his feature-length documentary 'Project 49' was his crowning glory.