Team GB's Cervélo switch creates bike fit headaches
Riders get measured up following new Cervélo deal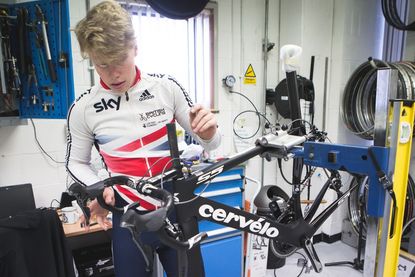 (Image credit: Alex Whitehead/SWpix.com)
When British Cycling unveiled its new sponsorship deal with Cervélo at the beginning of May, switching from Pinarello in the middle of the season, there could very easily have been some unhappy and uncomfortable riders.
"All bike companies measure bikes differently, so you can't just go from a 52cm Pinarello to a 52cm Cervélo," explained GB physiotherapist Phil Burt. "Often they have different sizes, and the geometry is different too."
Professionals know instinctively when their bike isn't right, and when their machines are constantly being built, repaired, modified and transported, getting the fit exactly right can be a time-consuming task.
"You spend that much time sat on the thing that a couple of millimetres here or there, sometimes it just doesn't feel right," said GB team pursuiter Ed Clancy.
Indeed, what feels good for training might not work for racing, and a Great Britain team would be racing on them at the Tour de Yorkshire in May almost straight away.
"You know instantly if it's not right," added Academy rider Chris Latham. "If you start a race and [the bike feels] wrong, then it will just play with your head the whole time."
Fittingly digital
The GB team used bike-fitting system Retül, which digitally measures a rider's position and joint angles using 3D motion capture. In this way, it ascertained which size Cervélo each rider would need. This information was sent to the Canadian company, which cross-referenced the measurements with its bike database and accordingly sent over the frames with the right sizing, stack height and reach.
>>> GB team to switch from Pinarello to Cervélo bikes from May
"We were basically aiming for bike replication rather than bike fit," added Burt. "We know we've had bikes that are OK but it's a case of just moving them across, and it's much harder than you think."
With over 60 riders across sprint and endurance programmes, it was a big job for the mechanics at British Cycling. Of course, you can never please everybody, even with the most advanced technology, and Burt estimates it will take around six weeks of adjustments for everyone to be totally content with their set-up.
Finicky customers
"Germain Burton is up there with Ben Swift, guys who really notice any change in their bike position and are constantly changing it and fiddling with it," added Burt. "Then you get macro-absorbers, like Geraint Thomas, who can ride half a stage of the Tour de France on the wrong bike because he isn't bothered by that kind of thing."
Some riders are just never content at all. Eddy Merckx famously tinkered with his position, even occasionally stopping mid-race to pull a spanner from his pocket and adjust his saddle height. Today, Team Sky's Lars Petter Nordhaug regularly moves his saddle up and down from day to day.
"I'm probably that type of rider," admitted Academy rider Scott Davies. "I change my position quite a bit. I'm one of those pests that the mechanics hate."
>>> Dowsett helper questions British Cycling involvement in Wiggins's Hour Record
Of course, the final piece in the puzzle is very subjective: the 'feel' of a bike. GB Academy riders said they noticed the difference when they swapped from the Pinarello Paris to the Cervélo S5, but not all the riders agreed that the frames are substantially different.
"I often read bike reviews and they talk about handling and how one bike turns better or gives you confidence. To me, 90 per cent of it is down to what tyres you've got on," added Clancy.
"If you've got a knackered set on, you'll never have confidence, especially in certain conditions. But if you get a sticky set of Continentals on, you feel pretty indestructible."
Behind the scenes with Team Sky's mechanic, Gary Blem
Thank you for reading 10 articles this month* Join now for unlimited access
Enjoy your first month for just £1 / $1 / €1
*Read 5 free articles per month without a subscription
Join now for unlimited access
Try first month for just £1 / $1 / €1
Richard Abraham is an award-winning writer, based in New Zealand. He has reported from major sporting events including the Tour de France and Olympic Games, and is also a part-time travel guide who has delivered luxury cycle tours and events across Europe. In 2019 he was awarded Writer of the Year at the PPA Awards.