Cervélo R5 Disc SRAM e-Tap AXS review
The classic road bike from Cervélo, now with SRAM e-tap AXS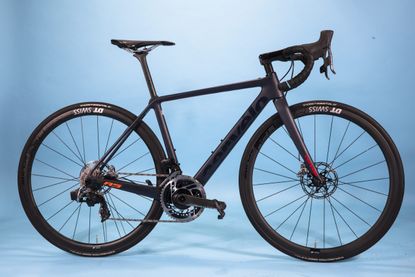 The Cervelo R5 isn't perfect: its lack of big aero credentials sees it fall behind other bikes in its class, and personally I would need to invest in a few tweaks to get the fit spot on. However, it's easy to forget about these gripes when out on the road. The Canadian brand has created a stunning blend of stiffness with compliance which makes it a very capable race bike for those who want a true all rounder.
Reasons to avoid
-

Lacking aero credentials

-

Light front end

-

Adjustments needed could be costly

-
You can trust Cycling Weekly. Our team of experts put in hard miles testing cycling tech and will always share honest, unbiased advice to help you choose. Find out more about how we test.
Get The Leadout Newsletter
The latest race content, interviews, features, reviews and expert buying guides, direct to your inbox!
Thank you for signing up to The Pick. You will receive a verification email shortly.
There was a problem. Please refresh the page and try again.
I'll always spend at the very least a few weeks putting a test bike through its paces - but the reality is that most opinions are formed in the opening miles. In the case of the Cervélo R5, I made up my mind on the first 15 per cent hairpin bend out of my home town: stiff, direct, but without sacrificing comfort.
My opinion hasn't changed after a few hundred miles of testing - though I have found a couple of bugbears along the way.
The 'R' denotes Cervélo's 'Classic Road' series designed, in the case of Team Sunweb riders, as an all-rounder on stages where the aero credentials of the S5 would be overridden by the featheriness of the R5. And it is the kind of bike that elicits surprise when lifted - my size 51 came in at a slimline 6.91kg.
The most recent redesign of the Cervélo R5 was all about increasing stiffness, without tipping the balance into discomfort, and tweaking the geometry to provide a more agressive - but still stable - ride.
Beginning with the stiffness/comfort balance: the brand claims its new layup has resulted in a 13 per cent uplift at the bottom bracket, alongside a 21 per cent boost at the head tube.
It was this upscale in bottom bracket stiffness which blew me away on a winter's day in January. Climbing out of Caterham Valley en route to the hills of Kent, getting out of the saddle resulted in an immediate injection of pace, providing the kind of instantaneous feedback that I'm always looking for in a bike.
Cervélo has long touted its 'BBright system', where the seat tube, down tube and left hand chainstay are all beefed up to offer increased efficiency, and this certainly shone through for me.
Stiffness without compromise makes for an unyielding ride that will skit over road imperfections and beat a rider into submission rather than raise them up to success. The Cervélo R5 was not guilty of this offence at all. Despite delivering a punchy acceleration when asked, the pockmarked lanes of winter club runs were smoothed out by this expert blend of carbon layup and skinny seatstays.
My test model came specced out with Continental GP GP 4000 II S tyres in 25mm - but there is clearance for 28mm should you wish to add a little more cushioning.
Handling is another area where the Canadian manufacturer boasts expertise. The wheelbase, at 974mm, is in line with similar GC style bikes; coupled with a 72º head angle, increased trail in this iteration and the lowered bottom bracket the features combine to create a bike which flicks into the corners willingly - and resulted in a PR on White Hill Lane, a descent I've attacked many a time and in much better conditions.
One area which baffled me a little about the R5 was that whilst the back end felt responsive and the steering was bang on, I felt like my centre of gravity was further back than usual creating a feeling if lightness at the front end, detracting slightly from the otherwise spot on handling.
Checking the geo charts, the numbers backed up experience: a 73º seat tube angle has been applied across all sizes from 48-61. In a bike of this size, most brands will go steeper - around 74º - in the smaller models. One degree will make a difference of about 1cm at a 70cm saddle height, which rang true with my experience.
When I asked bike fitter Tim Allen, he confirmed my thoughts, commenting "it's often that I can't get the saddle positioned far enough forward [on the R5], which either leads to light handling or riders shifting way too far forward on the saddle to accommodate getting over the top of the pedal stroke."
Cervélo is far from the only brand to standardise seat angle, and it does offer the SP18 seat post (£153) with a 25mm layback as well as a zero offset and I'd expect swapping for the latter to eliminate this issue, but potentially at a cost.
An engineer from its Canadian HQ told me: "Cervélo has always stuck to to the 73º seat tube angle, because there is no compelling reason not to. By providing both 0mm and 25mm offset seat posts combined with the adjustability range of current saddles, athletes pedalling in a position that allows for appropriate muscle recruitment, a majority of athletes can easily find the 'right' position for their needs without banging up against the edges of the range."
In days gone by, the Cervélo R5 has had a bit of a reputation for being a race bike with a restrictively upright geometry, hence adjustments were made to the latest incarnation. The 51 I had on test came with a stack/reach combo of 524/371 - which puts it in the region of others in its class, such as the Specialized Tarmac (527/380 in a 52).
Interestingly, I had to pretty much slam the front end to get the R5 to give back the ride I wanted, where usually I'll go middle of the road on a lot of race bikes; those after a really bum up/heads down position could still need to go for a negative stem.
My test model came fitted with Cervélo's AB06 aero carbon handlebar, which features ovalised tops that offer a flat surface to grasp on the climbs, plus the brand's incredibly chunky carbon stem.
The bars on my model measure in at 40cm. I'd typically opt for a 36cm or 38cm bar, and whilst I've come to accept that most test bikes will require me to adapt, in this case the wider bar did negatively impact the ride for me when I wanted to get down low and feel aero. Of course, a consumer could ask for an exchange - but the bars do come in at £267 so it's worth checking if your dealer will make a swap free of charge if required.
The stem features an ovalised aero top cap. If making adjustments, you'll have to swap this for a standard round version until you've chopped the steerer. The aesthetic isn't quite so attractive and the oval version also covers a small hole in the stem which fills with water when you're using a round top in the rain. You also do need to use Cervélo's integrated computer mount as a standard model won't sit straight on the bars.
The R5 has never had a particular focus on aerodynamics - that's with the S series is for. You do get "Squoval Max" tubing, which provides a square meets oval hybrid with a claimed more aerodynamic leading edge, but the seatstays remain traditionally high which sets this bike aside from the general trend where lightweight GC all-rounders are beginning to encroach on the ground of the aero machines (see the Specialzied Tarmac/Venge battle for evidence).
Personally, I spent my 2019 race season allowing an aero machine to gather dust because I just "felt right" on my traditionally round tubed old faithful. So a lack of aero optimisation really doesn't bother me - but it's fair to say that it's an area where the R5 is falling behind the competition.
This model boasts a SRAM Red eTap groupset, with 48-35 chainset plus a DT Swiss 35 disc carbon wheelset. Experts suggest that the upgrade from a box section to a 30-40mm rim provides the greatest aerodynamic boost, so this happy medium is an excellent choice when it comes to balancing low weight and responsiveness with savings in drag coefficient.
The R5 uses Cervélo's RAT thru-axle system - RAT standing for 'Rapid Axle Technology'. This is effective enough, but I'd not call myself a fan - and though it might be rapid in the hands of mechanics using the system daily, personally I found the deviation from the norm much slower.
Coming in at £8399, quite obviously the Cervélo R5 is a very considered purchase. However, Specialzied Tarmac with SRAM Red AXS will set you back £9500 and the Trek Domane SLR 9 SRAM Red AXS eTap is £9650 - so though you might be able to save if you look at direct only brands, the R5 sits in a similar bracket to comparable offerings.
Thank you for reading 20 articles this month* Join now for unlimited access
Enjoy your first month for just £1 / $1 / €1
*Read 5 free articles per month without a subscription
Join now for unlimited access
Try first month for just £1 / $1 / €1