Bianchi Bikes: range overview and reviews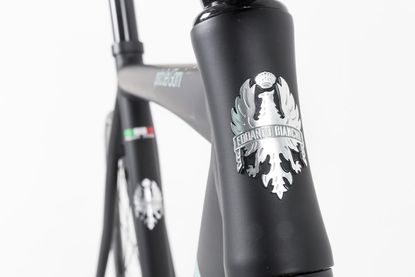 Bianchi bikes is a brand that dates back to 1885. Founded in Italy, its headquarters and culture has remained rooted in its homeland.
The bikes are designed and pieced together in itsTreviglio factory, thoughthe majority of production now takes place in Taiwan.
Synonymous with Bianchi is Celeste. Also called 'Bianchi Green', almost all frames come available in the customary hue. Surprisingly, it has changed slightly over the years – but it's always recognisable and the brand has its own flock of fans who wouldn't think to ride a bike in any other colour.
In its early days, Bianchi produced motorbikes as well as bicycles – tying up with Fiat and Pirelli to create Autobianchi – but this arm was eventually sold to Fiat, leaving the bike makers free to focus on people-powered machines.
The Bianchi range is far reaching, consisting of aero race bikes as well as those with an emphasis on endurance. In most cases, performance remains a hefty part of the remit; a Bianchi is not typically the first port of call for a commuter looking for a value option.
More bike guides for shoppers
Swipe to scroll horizontally
| | |
| --- | --- |
| Brands/topics | Model overviews and reviews |
| Bianchi Bikes | Bianchi bike reviews |
| BMC bikes | BMC bike reviews |
| Boardman | Boardman bike reviews |
| B'Twin bikes | B'Twin bike reviews |
| Cannondale | Bike reviews,SuperSix Evo,CAAD12,Synapse |
| Canyon bikes | Canyon bike reviews |
| Carrera bikes | Carerra bike reviews |
| Cervelo bikes | Cervelo bike reviews |
| Cube bikes | Cube bike reviews |
| Focus bikes | Focus bike reviews |
| Genesis bikes | Genesis bike reviews |
| Giant bikes | Giant bike reviews,Giant Defy,Giant Propel,Giant TCR |
| Pinarello | Pinarello bike reviews |
| Raleigh bikes | Raleigh bike reviews |
| Ribble bikes | Ribble bike reviews |
| Scott bikes | Scott bike reviews |
| Specialized | Bike reviews,Allez,Tarmac,Diverge |
| Trek bikes | Bike reviews,Domane,Emonda,Madone |
| Price points | Bikes under £500,under £1000,under £1500,under £2000 |
| Road bike styles | Aero road bikes,Endurance road bikes,Women's road bikes,Commuting bikes,Touring bikes,Singlespeed bikes,Track bikes,Time trial bikes,Aluminium road bikes |
| Other bike styles | Adventure and gravel bikes,Cyclocross bikes,Electric bikes,Hybrid bikes |
Bianchi DamaBianca bikes
Bianchi doesn't alter its geometry for female riders. Instead, it produces 'DamaBianca' bikes – named in reference to Italian Tour de France and Giro d'Italia winner Fausto Coppi's lover Giulia Occhini.
https://www.youtube.com/watch?v=cnABGOk4vnw
These come with female specific touch points – narrower handlebars, women's saddles, shorter stems and in some cases shorter cranks. Only the endurance focused models are available in a DamaBianca build, but since the geometry is unchanged, all of them could be made so with a few component adjustments.
Bianchi bike sizing
Bianchi has always been proud of its sizing range – with some models available in up to nine sizes, from 44 to 61 – meaning it's easy for most people to find a comfortable fit.
All bike brands measure their sizes slightly differently, but it's fair to say that Bianchi bikes come up fairly big when compared to the American giants.
Countervail technology
Bianchi first introduced Countervail technology embedded into its Infinito frames. The material was patented by the Materials Sciences Corporation, and has elsewhere been used in military helicopters to reduce vibration. Its use for bicycles was developed by Bianchi and tested in NASA aerospace operations. Sounds high tech right?
In short, Countervail technology is a process of manufacturing that sees a viscolelastic resin used in conjunction with structural carbon.
The result is a dampening effect that Bianchi says cancels out 80 per cent of vibration whilst increasing stiffness and strength.
The Bianchi range
You can trust Cycling Weekly. Our team of experts put in hard miles testing cycling tech and will always share honest, unbiased advice to help you choose. Find out more about how we test.
Reasons to buy
+
Lightweight frame
+
Excellent power transfer
+
Looks great
The Bianchi Specialissima is the brand's lightweight race bike. The geometry is designed for pros, and though an oversized head tube and bottom bracket offer ample stiffness, the claimed frame weight is as low as 780g (in a size 55 with black paint) and our last review model came in at 6.6kg.
Comfort isn't forgotten – Bianchi has woven its Countervail tech into the frame, with the aim of reducing fatigue and helping riders to go harder and faster for longer.
The Specialissima bucks current trends, by being disc brake only - but of course this does suit its lightweight credentials.
Testing the £8,750 Campagnolo SuperRecord build, our reviewer gave the bike a 9 our of 10, commenting: "The Bianchi Specialissima is a truly special bike, where beautiful good looks are balanced with a raw, stiff frame."
A Shimano Dura-Ace build with Fulcrum Racing Nite wheels will cost you £8500.
The Oltre is Bianchi's aero race pedigree, but it's available in two different frame options. The XR4 is the top of the range choice, raced by pro cyclists on teamJumbo-Visma.
Where many aero race machines provide a harsh ride, Bianchi bucks the trend, adding Countervail technology to create a smooth passage, whilst aero tubing and an integratedVision Metron 5D aero bar/stem combo slice through the air. The head tube takes notes from Bianchi's Aquila time trial bike, and you get all the aero nods you'd expect such as a hidden integrated seatpost clamp.
A size 55 frame comes in at 980g, and the geometry is race inspired and places the rider in a long and low position.
Reasons to buy
+
Road smoothing tech gives comfortable ride for an aero bike
+
Aero design
+
Low ride position
+
Quality Campagnolo groupset
+
Prestige marque
For those keen to enjoy the majority of the XR4's performance features, but at a slightly more friendly price that, there's the XR3.
The XR3 does use different tubing to its bigger sibling, but the down tube and chainstays are identical and it still carries pronounced aero shapes, just minus the integrated bar/stem combo. You still get the buzz-reducing Countervail, too.
Our last Oltre XR3 review model achieved 8/10, with the comments: "[The Oltre XR3 is] an attractive option if you're looking for an aero bike, as it does make riding more comfortable on typical UK road surfaces... The XR3's handling characteristics are excellent. How you regard the value proposition of the Oltre XR3 depends on the store you put in the Bianchi marque. Many other brands will offer you a higher spec package at this price."
Both the Oltre XR3 and XR4 bikes come with rim or disc brakes to suit your preferences.
The XR3 models start at £2800, with Shimano 105, whilst an XR4 frame alone costs £3400.
If the Oltre range is out of reach, then the Aria is the alternative. Design cues from theAquila time trial bike are still present, including an aero fork plus integrated seatpost clamp.
The key loss is that of Countervail technology, so the ride will be a little harsher, and of course the carbon is of lower spec so a little heavier. This said, the claimed frame weight is 1,100g for a size 55 so it's hardly a heavy machine.
Like the Oltre, the Aria can be purchased with rim or disc brakes. It's also available in a 'Triathlon' build, with short reachVision Team Mini TT Clip-On TT bars in 170mm length.
Models start from £2300 with Shimano 105 and Vision Team 35 hoops.
For those seeking Bianchi performance with agressive geometry, at a more wallet-friendly price point, the Sempre Pro rounds off the race range.
The carbon frame boasts plenty of stiffness, with an oversized bottom bracket, though there's no real aero claims and Countervail tech isn't on offer.
The price tag is pretty friendly, by comparison, though - at £1800 fora Shimano 105 build.
Reasons to buy
+
Versatility
+
Vibration dampening
Reasons to avoid
-
A little on the heavy side
The Infinito CV – available with rim or disc brakes – moves into endurance territory. However, it's 'endurance race' – meaning that although you'll find a higher head tube, longer chainstays and longer wheelbase for greater comfort and stability when compared with models like the Oltre XR4, it's still designed to make the rider feel fast and agile.
We awarded our last test model and 8/10, concluding: "A versatile and comfortable bike you could ride all day but one that's still raceable with a bit of stem slamming. Plenty of comfort thanks to the Countervail tech, but it's no lightweight and the price tag carries the Biachi premium." A Campagnolo Chorus disc build weighed in at 7.8kg.
Prices start at £3600 for a rim brake model with Campagnolo Potenza or Shimano Ultegra, and disc brake models start at £3800.
Reasons to buy
+
Comfortable, compliant frame
+
Great handling
Reasons to avoid
-
Tiagra groupset is a bit below par at this price
-
Budget wheels
The Intenso is an 'endurance race' model, with the same geometry as the Infinito, but a slightly lower price point due to the lack of Countervail tech.
Models start at £1650 with Shimano Tiagra, and there's rim and disc brake options.
Reasons to buy
+
Great looking
+
Really comfortable – Bianchi's technology works
+
Shimano Sora is a reliable performer
Reasons to avoid
-
Heavy
-
Lack of confidence-inspiring tyres
-
Lacklustre brakes
The Bianchi Via Nirone might be the entry-level choice in the stable, butnamed after the address of Edoardo Bianchi's first workshop in Milan, it's a model with a lot of heritage and thus it's received some very careful design attention.
There's five Via Nirone options, plus one 'All Road' version for venturing off the beaten track.
The frame now uses 6061 aluminium that is hydroformed and triple butted, meaning there's three tube wall thicknesses to allow it to be as light but stiff as possible.
Whilst you can't have Countervail tech, you do get kevlar inserts (K-Vid) inside the carbon fork, dampening out some of the buzz.
In our last review, we were impressed by the frame but less so the finishing kit, commenting: "The ride quality of the exceptional frame is ace, but the slightly lacklustre components like the wheels, tyres and brakes not only bring the weight up but hurt its handling a little bit."
You can pick a model up from £850, with a Shimano Sora groupset.
Bianch's Aquila CV time trial bike is an agressive beast. Available in sizes Extra Small to Large, the Small enjoys a stack and reach of 492/403. Though we've yet to put one to the test at CWwe reckon you can expect a decent drop.
The Aquila's tube shapes provided the inspiration for frames like the Oltre – so of course you get aero shapes including an hourglass shaped head tube, bowed forks, plus an integrated bar and stem set up using Bianchi's own custom handlebar design.
A Shimano Ultegra build retails at £5500.
Reasons to buy
+
Bombproof feeling
+
Could make a good commuter or fixed gear crit bike
Bianchi Pista SteelThe Pista models are both singlespeeds, but with very different objectives.
The Pista Steel uses butted steel and comes with a flip-flop hub, so it can be ridden as a singlespeed as opposed to fixed. The Sei Giorni comes with an aluminium frame, and is designed to be used as a track bike – though both models come initially specced with 48T chairings and 16T rear cogs, which creates a rather small 82in gear that would need to be swapped for the boards.
With the 2018 RRPs of £850 for the Steel and £950 for the Sei Giorni, the models received 7 and 6 out of 10 respectively when we put them to the test – both losing marks for being a bit heavy and underspecced for the price.
Bianchi makes some thrilling geared road bikes which have dwelled more in the 9/10 arena when reviewed. Those looking to invest in a Bianchi might be better off shopping within the brand's specialism; we're not sure its focus is quite so well placed in the singlespeed arena.