The best skinsuits for cycling: reviewed and rated
We put six top models through their paces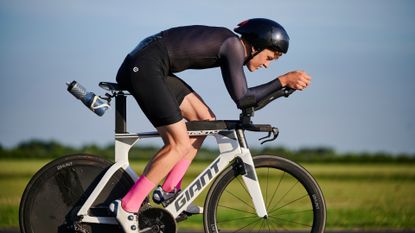 (Image credit: Future)
Skinsuits are a very personal item - and the fit of any one particular suit can play a huge role in how fast it is. What's fast on you won't necessarily be fast on me, and what's fastest at 40kph may not be fastest at 50kph. With all of this in mind, you should take any data presented with a pinch of salt when it comes to skinsuits - from manufacturers and independent tests.
The reality is, the results probably aren't super relevant to you. If you're really concerned about which suit is fastest to the final watt - you need to test them on you. Probably in an indoor velodrome or wind tunnel too, as the differences between suits can be small.
With all of that said, comparing suits isn't pointless thanks to one general fact. All skinsuits are basically faster than even the best bib shorts and best jerseys simply because there's less material flapping around in the wind. This difference is often small but usually upward of 5W.
And there's a variety of reasons one might want a skinsuit, racing, time trials or taking Strava KOMs very seriously and most of these options have custom club kit options as well - so if you're reading this you'll have that in mind. As well as speed, skinsuits need to be comfortable and robust. This is usually a big investment and most riders want something they can wear for longer races as well as something that'll last at least a couple of seasons.
The best skinsuits for cycling
1. Castelli Sanremo 4.1
A really solid all rounder
Specifications
Arm texturing : None, smooth armed skin suit made with Rev 2 fabric
Number pocket: Mesh over the pockets for easy pinning
Temperature management : 3D mesh back for breathability
Reasons to buy
+
Very breathable skin suit
+
Excellent all rounder
On longer rides, the chamois was comfortable and the pockets were big enough for 'normal' ride storage (you could fit a well rolled up raincoat in one). The sleeves have a micro-texturing to them, presumably for aerodynamic reasons while remaining within the UCI rules around skinsuit aerodynamic external attachments. This suit was well made, withstanding washing well.
In order to test this suit's comfort and thermoregulation properties, I jumped on the turbo with it fully zipped up to do my intervals. Popped the fan on its lowest setting and cracked on. I was expecting to unzip the suit within minutes but I had absolutely no issues with overheating throughout the hour-long session.
---
---
2. dhb Aeron Lab Speedsuit
A good all rounder for a lower budget
Specifications
Arm texturing: Hexagonal air tripping texture on the arms
Number pockets: None
Temperature management : Breathable side panels for cooling
Reasons to buy
+
Comfortable chamois
+
Three well sized pockets for food storage
Reasons to avoid
-
No number attachment mechanism meaning you have to poke holes in your suit
The first of the lower priced suits tested here, coming in at £200, and it's safe to say the suit stacks up well against the others. The comfort and storage options made this my go to suit for the evening Goodwood ride. For 130km with a race in the middle, this was the best option hands down. The seams are comfortable and the arms are complete with aerodynamic texturing on the sleeves.
The only quibble is that there is a seam placed right in the wind on the sleeve. I don't know how much moving this seam to behind the arm, or removing it completely, changes the aerodynamics or the price of this suit but once you know it's there it plays on your mind.
It seemed an odd design choice to have the hexagonal texturing on the sleeves with a great seam right in the wind, otherwise the suit was pretty faultless. It was well made too, showing no visible signs of wear over multiple weeks of usage and plenty of washes.
---
---
3. Van Rysel Aerosuit Racer
The cheapest option on the list punches above its weight in terms of quality and comfort.
Specifications
Arm texturing : Lightly textured arm sleeves
Number pockets: None, but a zipped 'car key' pocket
Cooling: Made from lightweight, breathable material
Reasons to buy
+
Extremely good value and well made
+
Stylish design that's not plain black
+
Good pockets suitable for all but the largest items of on-bike food
Reasons to avoid
-
No number pockets mean you're poking holes in your skin suit
When did the Decathlon kit get so cool? This latest offering from Van Rysel is a stylish gold and navy blue design with a lion of Flanders emblazoned across the fabric. The suit is comfortable but the pockets are a touch on the small side (fine for gels, less fine for other bits, such as bars, which ended up slipping out).
The chamois is excellent and the suit was comfortable for up to four hours with no problems whatsoever. This is another suit with a seam placed on the outside of the arm. I am not an expert in putting garments together but if a seam must be there, tucking this behind the arm would provide less boundary layer disruption around the arm and in theory make the suit a little faster. A well made suit and a nice design.
---
---
4. NoPinz Pro-1 Road Skinsuit
The original number pocket pioneers have created a fast, good value suit.
Specifications
Sleeve texturing: Lightly textured squares on the arms
Number pocket: NoPinz number pockets are optional extra
Temperature management: Breathable mesh on the back of the suit
Reasons to buy
+
Very good in the heat
+
Large storage pockets for food
+
Chamois comfortable deep into long rides
The original number pocket designers have excelled themselves here. This is designed as a road racing suit and it comes in at a low £159.99. The pockets are excellent and NoPinz' own "Chrono" fabric, designed to be breathable, does seem to actually work. The suit is also comfortable off the bike which is a real rarity for a skinsuit.
The arms are textured and the sleeves are seamless, cut low to the elbow. This suit wouldn't be out of place on a time trial bike either - especially if you opt for the pocket-less option. This is a good suit for use across disciplines, it's versatile, good value and comes in a number of colour-ways. The chamois was comfortable on long rides and the pockets provided more than enough space for four hours worth of food - a solid option if you're a road racer.
---
---
5. Rule 28 Neo suit and aero base layer
Long sleeve skinsuit with some novel tech
Specifications
Arm texturing : Smooth armed skin suit with aerodynamic baselayer
Number pocket : Mesh number pocket sewn to the back of the suit
Temperature management : Breathable material suitable in all but the hottest temperatures
Reasons to buy
+
Comfortable and cool for a long sleeve skin suit
+
Excellent specific time trial suit
The most interesting feature about this suit is the baselayer you can (and in my opinion, should) purchase alongside.
I used this for a couple of ten mile time trials. For me, I managed a road bike ten mile personal best in this suit (with the base layer) despite being 50W down on my normal 20-ish minute power (this was not all going to be due to the suit, but it will have played a role).
The skinsuit has smooth sleeves, but that baselayer adds a texture to the arms of the suit (and any other smooth sleeved skinsuit you choose to pair it with). The black, long sleeved suit was comfortable, even in the heat, both with and without the baselayer.
This is a pure time trialling suit and comes in at £349.99 with the base layer included. The set up is fully UCI legal and Pogacar was spotted donning the base layer (£149.99 alone) in the first time trial at this year's men's Tour de France race.
For me, the only thing that let this suit down slightly was the number pocket. It has an open bottom, which means getting the number in and out is easy however it requires pins or the number slips out. I am sure the aero cost of two pins through mesh is negligible but something feels wrong about putting pins through a £349.99 suit with a number pocket. The pocket was also fairly delicate, ripping slightly during what I would describe as 'normal' use after only a few weeks.
---
---
6. Kalas-Vorteq speedsuit
A fast product designed for the fastest of fast finishers
Specifications
Arm texturing: Textured sleeves on the arm
Number pockets: Mesh number pockets
Temperature management: Made with new, breathable aero material
Reasons to buy
+
Extremely comfortable suit
+
Number pockets ensure you're not pinning your suit
+
Collaboration with Vorteq
+
Good food storage options
Reasons to avoid
-
Not available to buy yet
This is one of the most impressive road suits I've ever seen. The suit was made in conjunction with Vorteq and, when on, is very similar in feel and texture to the Rule 28 suit with baselayer, but without the baselayer. The chamois is thick and remains comfortable for long rides. I didn't get a chance to race in this suit, but did wear it on the turbo and found the heat dissipation was quite effective.
The storage is neat too, with three smaller pockets large enough for 3 gels each along with netting behind which you can pop your race number. The netted area on the pockets is big enough such that if you're doing a time trial, you'll be able to put the number pin through that instead of the actual suit - this suit could be used for both road and time trial! It was designed with pros in mind - worn to two stage wins by Jasper Phillipsen in the Tour de France.
How we test?
We tested these skinsuits by racing in them, riding hard in them for long rides (chain gangs, road races and just long hard rides) as well as putting them through their paces on the turbo - as a means of exposing a small capacity for dissipating heat. On top of that, each suit was washed a multiple times as a means of analysing the potential longevity of the suit, keeping an eye out for damaged seams and other general signs of wear and tear.
Skinsuits are quite personal, and finding the right one can be a bit of trial and error. It's a big investment so finding one you can wear in a wide variety of racing disciplines can help! From this list, the best pure road racer was the NoPinz Pro-1 suit, best all rounder was the Kalas option and the best pure time trial suit was Rule 28 long sleeve suit (though it's a little delicate) and base layer combo - which has the advantage of being able to be worn under any jersey to save a few watts if needed!
What to know about skin suits for cycling
What is a cycling skinsuit?
A skinsuit is designed to be the most aerodynamic clothing you can wear. Premium skinsuits feature special fabrics designed to reduce drag and manipulate airflow.
Fabrics are strategically placed and seams are also carefully considered and premium suits are often developed in the wind tunnel.
Why are skinsuits so expensive?
Premium skinsuits claim to offer a significant aerodynamic advantage over more basic, more affordable Lycra suits.
Though £200, ever £300 or more might seem a big investment, when we asked Head of product development and R&D for Rapha, Simon Huntsman, he explained: "The price of the suit is often a reflection of the R&D investment that has gone into ensuring efficient aerodynamic performance. Entry-level suits are generally off-the-peg and top-end suits are invariably custom-fitted.
"Top-end suits are also the result of serious R&D that involves wind tunnel testing to ensure the gains are proven. This is an expensive business."
How important is a skinsuit for cycling
The human body accounts for around about 80% of the drag caused by you and your bicycle. Aerodynamic drag itself accounts for around about 80% of the resistive forces that slow you down when you're out riding and racing. From that, it doesn't take a physicist – or a mathematician – to tell you that what you proceed to cover your body with is worth considering.
Particularly because, as an object picks up speed, air resistance increases with that speed. This means in scenarios where you're moving quickly, air resistance has an outsized effect. When you try your hardest, so does the air. Naturally, we look for ways to overcome this issue and one trick we have is by wrapping ourselves in what is essentially a tightly fitting onesie – although there's a lot of tech that goes into choosing the particular materials and construction.
Tom Epton is a freelance writer and data scientist. Originally training as a scientist after completing his studies in physics he realised that cycling was what he wanted to spend his life thinking about. Now he works with manufacturers, athletes and teams using cutting edge data science methods to find performance gains. Tom writes primarily about sport-science and tech!