The best skinsuits for cycling: Aero tested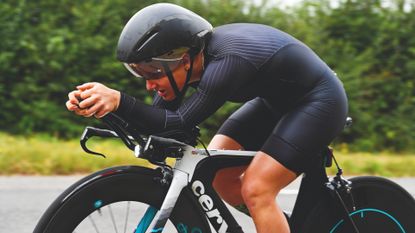 (Image credit: Future)
What is a cycling skinsuit?
A skinsuit is designed to be the most aerodynamic clothing you can wear. Premium skinsuits feature special fabrics designed to reduce drag and manipulate airflow.
Fabrics are strategically placed and seams are also carefully considered and premium suits are often developed in the wind tunnel.
How much faster is wearing a skinsuit for cycling?
Aerodynamic drag is the biggest force a cyclist needs to overcome when riding on the flat and typically 80 per cent of said drag is created by the rider. What you wear is therefore hugely significant.
When compared to a jersey and bib shorts, our testing has shown that a skinsuit is 21 to 28 seconds faster on a 25-mile-time trial when travelling at around 25mph.
We tested this at a velodrome, using aCdA (coefficient of drag * area) measuring system. This is calculated by taking a rider's power output and speed, and also taking into account air density, lean angle, rolling resistance and the rider's position on the track.
The lower the CdA the more aerodynamic the position; you'd expect a position on a time trial bike to have a lower CdA than that on a road bike.
The same rider undertook four test rides each of six 250m laps. The rider rode both the road bike and the time trial bike wearing standard bib shorts and jersey followed by a wearing a skinsuit. For the avoidance of doubt, the same helmet and shoes etc were used on all test runs.
| | | | |
| --- | --- | --- | --- |
| | Coefficient of drag (CdA) m | Watts for 60min 25 TT | Result in time difference |
| Road bike, shorts & jersey | 0.2799 | 293.5W | |
| Road bike, skinsuit | 0.2746 | 289.0W | 21 seconds |
| TT bike, shorts & jersey | 0.2347 | 255.6W | |
| TT bike, skinsuit | 0.2286 | 250.5W | 28 seconds |
As you'd expect, the skinsuit was faster than the bib shorts and jersey set-up. On both the road bike and time trial bike the skinsuit had a saving of around five watts, which over a 25-mile time trial ridden at 25 mph equates to 21 seconds and 28 seconds respectively.
We were slightly surprised by the results and had expected greater wattage savings. For example, if an average rider wore their normal jersey you would expect a wattage difference of between 10-15 watts compared to a skinsuit. The reason for the reduced wattage saving in our testing wasdue to the the jersey being a particularly good fit.
Are expensive skinsuits faster than entry-level versions?
Premium skinsuits claim to offer a significant aerodynamic advantage over more basic, more affordable Lycra suits.
Though £200, ever £300 or more might seem a big investment, when we askedHead of product development and R&D for Rapha,Simon Huntsman, he explained: "The price of the suit is often a reflection of the R&D investment that has gone into ensuring efficient aerodynamic performance. Entry-level suits are generally off-the-peg and top-end suits are invariably custom-fitted.
"Top-end suits are also the result of serious R&D that involves wind tunnel testing to ensure the gains are proven. This is an expensive business."
We have assembled five leading skinsuits and tested them in a bid to see which is the fastest. As the control we tested a Lycra Santini suit, similar to that used by the leader of the Giro d'Italia. This suit doesn't make use of the special fabrics and optimised placement of those fabrics.
How we tested the skinsuits
To test the skinsuits we teamed up with WattShop to perform comparative aero testing at Derby velodrome in a controlled environment. This was done in a bid to quantitatively find out which of these suits is the fastest and was completely independent and impartial.
The protocol for the testing was as follows: three different elite riders wore each suit and did controlled runs at 40kph, 45kph, 50kph and 55kph. This was done in a bid to determine a drag/velocity profile for each suit, as suits can be optimised to perform better at certain speeds.
Each rider rode their own personal time trial bike, maintaining a consistent position. The riders were national team pursuit champions Dan Bigham, Jacob Tipper and Jonny Wale. Their ability to ride the pursuit line with precision and ride laps at a metronomic pace helped improve the consistency and accuracy of the data obtained.
The WattShop software is able to interpret the power and speed data for a given run to determine a drag coefficient for each skinsuit at a given speed.
The data presented is the average of the three riders at each respective speed. The CdA is the system drag coefficient for the rider and bike; a lower number equates to lower drag. By subtracting the watts required to overcome drivetrain friction and rolling resistance we are left with the watts required to overcome air resistance – ie aero watts. The aero watts and CdA for each respective suit are presented as an average of the test riders' results.
All the riders who wore the suits were asked to rank them for fit and comfort too.
In addition to the aero testing we wore the suits in a number of rides and time trials to see how they feel and perform in real world conditions. Many thanks to WattShop and Brother NRG cycling team for their assistance.
The results in numbers
| | | | | | | |
| --- | --- | --- | --- | --- | --- | --- |
| | Endura | Bioracer | Assos | Velotec | Castelli | Santini |
| CdA @ 55kph | 0.2020 | 0.1998 | 0.2153 | 0.2020 | 0.2094 | 0.2139 |
| CdA @ 50kph | 0.2029 | 0.1985 | 0.2149 | 0.2009 | 0.2061 | 0.2148 |
| CdA @ 45kph | 0.2041 | 0.2017 | 0.2165 | 0.2013 | 0.2068 | 0.2168 |
| CdA @ 40kph | 0.2063 | 0.2036 | 0.2202 | 0.2006 | 0.2099 | 0.2212 |
| Watts @ 55kph | 432W | 427W | 460W | 433W | 448W | 457W |
| Watts @ 50kph | 326W | 319W | 345W | 323W | 331W | 345W |
| Watts @ 45kph | 239W | 236W | 253W | 235W | 242W | 254W |
| Watts @ 40kph | 170W | 167W | 181W | 165W | 172W | 182W |
Bioracer Speedwear Concept TT with Nopinz pocket
Reasons to buy
+
Good fit
+
Convenient number pocket
+
Fastest on test
Bioracer has a huge pedigree in time trial suits and claims to have won more time trial medals than any other brand since 2012. Tony Martin and Tom Dumoulin have worn Bioracer suits, as have Team Sky in the days before Rapha developed its own.
The Bioracer suit has had extensive R&D and features special 'stripe' fabric on the sleeves and shoulders. The fabrics employed have been chosen for their low drag qualities.
The fit is good and all our testers felt it was comfortable enough for longer time trials. Another nice detail is the inclusion of a Nopinz number pocket. The main advantage of this is not aerodynamic, but one of convenience and not damaging the suit with pinholes over time.
The Speedwear Concept lives up to expectation too, with our testing suggesting it was on average the fastest on test. Interestingly the suit also appeared to have a sweet spot, exhibiting the lowest CdA at 50kph. Something which is ideal if you're targeting a 19-minute 10-mile time trial.
The black we have is a standard colour available through Nopinz, but there are custom options available too.
Velotec Pro Aero Speedsuit
Reasons to buy
+
High quality
+
Effective for certain shapes and sizes
This is the skinsuit that the Brother NRG cycling team have used since the beginning of 2017. Dan Bigham, Charlie Tanfield and Si Wilson were wearing the Velotec skinsuit when they broke the national 10-mile team competition record in June with a combined time of 53.15, which equates to a speed of 33.8mph (54.4kph) – the speed where the Velotec suit emerges as the fastest for two out of three riders in our test.
The Velotec uses a similar pattern to the Endura and Bioracer suits, but the placing of the various fabric textures on the body is particularly fast for certain shapes and positions on the bike – possibly more by luck than by design.
Something to note is that testing was conducted with the long-sleeved Velotec suit.
In the eight months they've been using it the Brother NRG team report that they've had no durability issues with the Velotec suit – no broken zips or other on-bike malfunctions. Velotec's top range is made in Italy and the quality is high. The chamois is also Italian-made and is more than fit for purpose.
For sizing, small means small. If you're 175-180cm and about 70kg the medium will be wrinkle-free.
Endura D2Z Encapsulator TT skinsuit
Reasons to buy
+
Good fit around arms and shoulders
+
Performed well in tests
Reasons to avoid
-
Chamois not very comfortable
Developed in conjunction with Drag2Zero in the Mercedes AMG Petronas F1 wind tunnel the Endura Encapsulator is a popular choice amongst top testers in the UK.
A pro-level skinsuit the Encapsulator was tested and developed in conjunction with the Movistar and Cervélo-Bigla teams – a partnership that literally has a proven track record when Alex Dowsett broke the hour record using an Endura suit.
The Encapsulator has all the features of a top skinsuit including an integrated number pocket.
The Italian PowerLycra fabric Endura uses is of course placed so that the ribbed fabric is at the upper arm and side flank to turbulate the airflow in those crucial areas in order to keep it attached for longer.
The Encapsulator is made to order; however, our suit was a standard medium size. It is important to point this out, because we suspect customisation would most likely result in an improved fit and a faster suit.
We found the fit to be very good around the arms and shoulders, but the chamois was not the most comfortable and I experienced excess fabric around the edge of the pad. Something I found distracting in longer events.
With regard to aero testing the Encapsulator performed well and although third, was very close to the Velotec and Bioracer suits.
Since this test Endura has launched the 2018 D2Z Encapsulator, which is says is a completely different suit that is significantly faster thanks to Silicone Surface Topography (SST). The new suit, which won a Eurobike award, is optimised for a time trial position at speeds between 46kph and 58kph, and boasts an aero version of Endura's 1,000-series pad, specifically shaped for an aggressive riding position.
We plan to test the new suit and will report back.
Reasons to buy
+
Performed well in some tests
Reasons to avoid
-
Some doubts about long-term durability
The Body Paint 3.3 uses a ribbed fabric on the shoulders and arms and perforated leg textile. On the rear there is a flap to cover the leading edge of your number, but there is no dedicated pocket, such as that on the Endura and Bioracer.
The Castelli is very light and features a perforated mesh on the legs and parts of the back. For racing in very hot conditions, I would probably reach for the Castelli first, but for this reason I also question its long-term durability.
Comfort is decent and was ranked mid pack.
The results for the Castelli Body Paint 3.3 were perhaps the most intriguing of the suits we tested. On two of our riders it was on a par with the Bioracer, Endura and Velotec. However on one of the riders, the suit was markedly slower. So slow that it came below the Santini baseline suit, well and truly in last place. It is unlikely this result was an anomaly, as for the rider in question, the Body Paint was consistently slow across all the test speeds. What this suggests, is that different riders shapes, may not suit certain suits well. This one low result consequently had a bearing on the data, dragging the aero ranking of the suit down to fourth place.
Assos CS.speedfireChronosuit S7 £290
Reasons to buy
+
Comfortable
+
Built to last
Reasons to avoid
-
No number pocket
-
Can create the illusion of a high waist
The Assos suit has reportedly been developed with the use of a wind tunnel and is notable for being worn by the USA and Swiss teams in the Olympics. It is also worn by the BMC team and perhaps most famously, was worn by Fabian Cancellara in Rio where he won the gold medal.
There is radio pocket (in case you're a pro) and a small zipped valuables pocket on the rear, which is ideal for a car key so you don't have to ask the timekeeper to look after it. Overall the quality is excellent and it stands out against the others on test. Consistent with other Assos products, this is a suit that is built to last. We would like to see the inclusion of a number pocket though, as this helps to stop the suit getting damaged.
The Assos logo pattern received a Marmite reaction when I wore it at a local time trial. I like it, but the pattern can create the illusion of a high waist, which isn't the most flattering.
Our testing suggested the Assos suit was consistently slower than the other four suits on test, which came as a surprise. Despite not being the fastest, the consensus among all of our test riders was that the Assos suit was without doubt the most comfortable on test.
Which skinsuit was the best?
Firstly we should point out that although we have made every effort to control variables and obtain consistent and reliable data, aerodynamic testing is difficult to do and anomalies are possible.
A skinsuit can be system dependent. While our data suggested certain suits were universally fast on all our riders (Velotec and Bioracer), other suits were faster or slower depending on who was riding it. A notable result was the Castelli 3.3, which was within 1-2 watts of the Endura and Bioracer on two of our riders, but over 10 watts slower on the other.
Another observation is that the differences between the premium skinsuits is on the whole small, within the region of 1-3 watts. However the difference between the best-performing suits and a basic Lycra suit appears to be very significant. At 50kph, the Bioracer and Endura suits were 25 and 19 watts faster than the Santini respectively.
With respect to drag, the performance of suits at different velocities was rarely linear. In most cases a trend was observed where the lowest CdA was around the 50kph mark. Intended for use by pro riders, this is a sweet spot typically averaged in most time trials. Perhaps there's a gap in a market for suits for mere mortals that are engineered to be optimal at around 40-45kph.
Comfort should also be factored in. If you are doing a long event, then chafing in the wrong place or an uncomfortable chamois could severely impact your ride, probably more than the 5-10 watt saving you maybe getting over a comfier suit.
Overall the premium suits are expensive, but if looked at it from a cost per watt saving they make far more economical sense than a £5,000 top-end time trial frame frame. The Velotec is our winner because it combines excellent aerodynamics with a more affordable.
Oliver Bridgewood - no, Doctor Oliver Bridgewood - is a PhD Chemist who discovered a love of cycling. He enjoys racing time trials, hill climbs, road races and criteriums. During his time at Cycling Weekly, he worked predominantly within the tech team, also utilising his science background to produce insightful fitness articles, before moving to an entirely video-focused role heading up the Cycling Weekly YouTube channel, where his feature-length documentary 'Project 49' was his crowning glory.