Dan Evans's super-slimmed down Cannondale hill-climb bike
2014 British hill-climb champion Dan Evans shows off the Cannondale Super Six Evo bike that has propelled him to numerous victories already this season - All photos by Andy Jones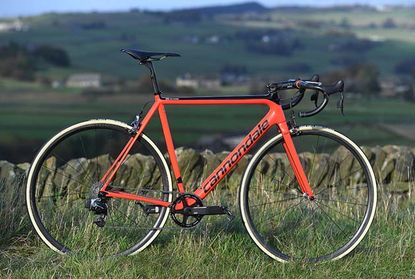 (Image credit: Andy Jones)
Hill-climb specialist Dan Evans has been amassing an impressive set of results over the past few weeks as he heads towards the 2017 Hill-Climb National Championships.
Evans showed us his latest hill-climb machine at the Holme Valley Wheelers hill-climb event at Holme Moss on Saturday afternoon. The 2014 national champion had previously won the Huddersfield Star Wheelers at Jackson Bridge in the morning and went on to win the Manchester Bicycle Club event the following day.
>>> Compare these super-lightweight hill-climbers' bikes
Long-term Cannondale rider Evans's latest bike is a SuperSix Evo model, modified to suit riding uphill at speed. Naturally, it has several gravity-defying, weight-saving features.
The British Hill-Climb National Championhips take place on Sunday, October 29 at Hedley Hill, Hedley on the Hill, Northumberland.
Thank you for reading 5 articles this month* Join now for unlimited access
Enjoy your first month for just £1 / $1 / €1
*Read 5 free articles per month without a subscription
Join now for unlimited access
Try first month for just £1 / $1 / €1