Compare these super-lightweight hill-climbers' bikes
We take a look at a selection of bikes used during the British hill-climb season - all built for one thing - Photos by Andy Jones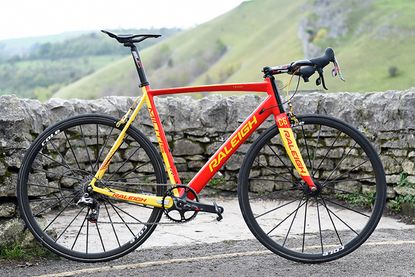 (Image credit: Andy Jones)
The British hill-climb race season is unique. Within just a handful of weeks in October, riders congregate on some of the country's most challenging hills to see who can ride up them the quickest.
Some of the events have been going for a century or more, and in that time the machines used by riders have evolved into the super-lightweight bikes that we see today.
Not content with using the latest lightweight carbon-fibre frames, wheels and gears, individual riders often make further weight-saving modifications.
>>> Six of the best British hill-climb events this autumn
Removing un-needed brakes, saddle padding, chopping off handlebars, getting rid of bar tape... every gram counts when you're going up hill. However, sometimes the modifications are for a mental advantage as much as physical.
Cycling Weekly photographer Andy Jones has a catalogue of hill-climb bike photos taken over the past couple of seasons to compare and contrast some of the machines' modifications.
Thank you for reading 5 articles this month* Join now for unlimited access
Enjoy your first month for just £1 / $1 / €1
*Read 5 free articles per month without a subscription
Join now for unlimited access
Try first month for just £1 / $1 / €1