Shimano 105 R7100 Di2 review - a brilliant groupset albeit expensive
105 Di2 makes Shimano's electronic shifting more accessible - but this isn't a 'groupset for the people' in the way the mechanical version always was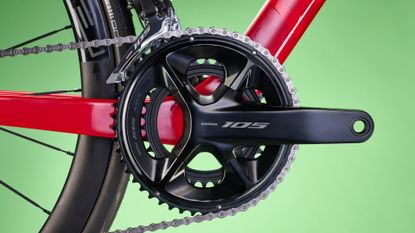 (Image credit: Future)
It's undeniably a good thing that Shimano released this groupset; more people will be able to enjoy the benefits of Di2 shifting, which continues to be a triumph. However, as a third tier groupset, cuts did have to be made and I believe they were made in the right place. The biggest problem which this groupset faces is the price, performance and practicality of its nearest rival: SRAM Rival.
Reasons to buy
+

Shifting is what you'd expect from Di2

+

Great ergonomics

+

Brilliant aesthetics
Reasons to avoid
-

Have to bring the whole bike to a power source to charge

-

No similar brake servo to Ultegra/Dura-Ace

-

Expensive compared to SRAM Rival
You can trust Cycling Weekly. Our team of experts put in hard miles testing cycling tech and will always share honest, unbiased advice to help you choose. Find out more about how we test.
Following the release of Dura-Ace and Ultegra at the back end of 2021, it maybe shouldn't have been a surprise as to what was in store for 105. Shimano seemed to have waited a while to get this release out, especially since SRAM has been running their top three road groupsets in with both 12 speed and wireless for what feels like some time now.
Not one to be rushed or be dictated to by SRAM, Shimano did the inevitable and gave 105 the digital treatment. It does share a lot of the same DNA as its bigger brothers as well as an inflated price over the mechanical counterpart - which is still readily available.
Shimano 105 has always been one of the best road bike groupsets for any amateur rider, with most only dropping to Tiagra as a cost cutting exercise or by simply not caring as much about what adorns their steed. Since this new groupset shares so much with Ultegra and Dura-Ace, I had a fairly good idea of what I was going to be faced with.
I've been riding 105 for over a few months and have shown it some typical three hour days in the saddle and some hour long lunch time smashes. Having been lucky enough to own a Dura-Ace equipped bike and have also ridden R8100 Ultegra for a number of months I have quite a lot of experience with Shimano's first forays into 12-speed road gearing. However, while the new 105 shares a lot with the other groupsets, there are still some key differences which are worth knowing about.
Shimano 105 R7100 Di2: aesthetics
As with any bike that comes into Cycling Weekly HQ, the first thing I can judge is the way it looks and the 105 Di2 equipped Ribble Endurance (there are plenty of other bikes now available with the new groupset, too) certainly looks the part. With only the brake hoses needing a home, it makes set up a lot easier and adds an arrow to the quiver of reasons to utilise an integrated cockpit.
The satin black chainset looks smart and does resemble the gloss black Dura-Ace to an extent. In reality, this should mean that bikes wearing this groupset should be punching above their weight aesthetically, increasing their allure over bikes equipped with the mechanical version. But the mechanical 105 groupset isn't the only victim of 105 Di2's attractiveness: to me, 105 Di2 also looks much better than its closest rival - SRAM Rival - but as we all know, this is purely subjective.
Compared to the other more expensive 12-speed Shimano groupsets, it does look part of the set. If you were to strip the names off you wouldn't even necessarily assume it's the cheapest either.
Shimano 105 R7100 Di2: ergonomics
One feature I highlighted as being a particular favourite in my Ultegra review was how the shifters felt. As the new 105 Di2 shifters have followed the same design language, I'm happy to report that you can expect to experience all the same benefits.
For me, this meant having more space between the handlebars and the back of the brake lever for my hands, especially helpful when wearing gloves. I also like the elongated shift levers, again something which came in useful when wearing gloves and when manically trying to shift down the block so I didn't miss out on a town sign sprint.
The engraving on the hood rubbers also just adds that extra percentile in feel, heightening the experience of your interaction with the shifter. The tops of the hoods also maintain the larger, more pronounced brake reservoirs, similar to the mechanical 105 hydraulic hoods but they've now been sculpted further still, meaning that should you wish to adopt a more aero position for a stretch of road, you can grab them by the tops, cup your hands over them and be confident you're still in control.
Shimano 105 R7100 Di2: derailleurs
One triumph of the new Ultegra and Dura-Ace groupsets has been the shifting. This was achieved with super fast derailleurs and the adoption of the Hyperglide+ technology, something originally found on the MTB groupsets. The close ratios also meant changes in cadence were smoother and allowed you to find that sweet spot gear with more success.
However, not all of these features made it down to 105 Di2. Rather than Hyperglide+, 105 Di2 just has Hyperglide. This is no bad thing, and while out pinging up and down the gears, I didn't experience any bad shifting per se, but it was noticeable that it wasn't quite as crisp or silent as it was on Ultegra.
Notably, there was slightly more drivetrain noise in the form of metallic 'tinging' as the chain ran through the jockey wheels and over the cassette. The derailleurs felt as fast as you could want them to be and any rider of this groupset would enjoy the long known benefits of Di2. We have however lost the ability to plug in satellite shifters and the shift buttons on top of the hoods have also been lost. This loss is only amplified when you consider that the satellite shifting functionality is available to SRAM Rival users.
Shimano 105 R7100 Di2: brakes
As Shimano's entry level Di2 groupset, there had to be some compromises and cost cutting. This groupset was never going to be a heavier carbon copy of Ultegra and it's at the brakes we see one of the most obvious downgrades from its big brother. Whilst Ultegra and Dura-Ace were fitted with a new braking servo to provide better modulation and power through the lever stroke, this has been lost on 105 Di2.
While the brakes are still very good, you do have to tug on them a little harder to achieve the same level of power as you don't have that servo helping you out. The rotors are also nothing to write home about, they're exactly the same as what can be found on mechanical 105 and really look quite basic and clunky, especially when put next to the rotors found on SRAM Rival. This means that cooling will likely not be as good and the lever will feel the same as it already does on the hydraulic mechanical groupset.
Shimano 105 R7100 Di2: value and conclusion
105 Di2 has entered an interesting place in the market and does have quite a few competitors out there which it can be compared to. Not only can it be compared to Ultegra from which it borrows so much technology but of course, SRAM Rival. There's plenty of metrics you can compare these two groupsets against but I think there's one which stands out more than most and that's the stone cold cash. 105 Di2 in a like for like set up costs a few hundred dollars (or pounds) more.
It's a big difference for two groupsets which are so closely matched. In terms of performance, the braking is very closely matched and to try and extrapolate a difference would be tough if you can't guarantee the exact same bedding-in process was undertaken. The same goes for the aesthetics, this will always be a subjective matter and one which you can make your own judgement on but if you prefer the look of Shimano the question you may end up asking yourself is, does it look a few hundred dollars better?
The high price for a third tier groupset makes the relative value a tricky one to pin down. The weight of Shimano 105 is high, but not as high as Rival, coming in at around 100 grams lighter for similar builds. The high weight at nearly 3kg is almost to be expected from a third tier offering - and one which includes both hydraulic brakes and electronic shifting. This is where it's hard to pull Rival and 105 Di2 apart, as the former is cheaper but the latter is lighter.
Forgetting all else and focussing purely on what this groupset was like to have attached to my bike, it was a largely positive experience. All the things I loved about the shifting on Ultegra and Dura-ace have been successfully replicated, the hoods felt good in my hands and I'm still enjoying the new ratios found on Shimano 12-speed groupsets.
The area where I was left disappointed was with the braking, while the power was the same, you did have to pull that bit harder on the levers than with Shimano's current top tier groupsets. Arguably this comparison is a little unfair, as you can't expect a lower tier model to exactly match the performance of those higher in the range - but really, I see it as a compliment that Shimano has made a groupset so closely matched to models which cost much, much more.
Thank you for reading 20 articles this month* Join now for unlimited access
Enjoy your first month for just £1 / $1 / €1
*Read 5 free articles per month without a subscription
Join now for unlimited access
Try first month for just £1 / $1 / €1