Beat the rising fuel prices and commute by bike: our top tips for cycling to work
Cycle commuting is good for your wallet, waist, and the world's environment. Here's our guide to everything you need to know about cycling to work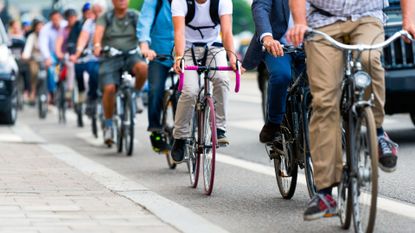 (Image credit: Getty Images: Tobias Ackeborn)
The health and environmental benefits of commuting by bike have been extensively documented for decades, but now, with fuel prices shooting through the roof, the economic argument is perhaps stronger now than it has ever been.
If you're considering swapping four wheels for two – or if you're a season commuter looking for an upgrade – here are the best deals we've found on the kit you need for cycling to work.
Bikes
The best bike for cycle commuting really depends on what your route is like. If you're breaking the journey up with a train, a folding bike would be most convenient. If you have a lot of carry, then a hybrid bike with mounts for a pannier rack would probably suit best. Or, if you're looking to get some training in on the way to work and don't have much to bring, an endurance road bike would make a great fit.
USA deals
UK deals
Bags
The best bag for cycle commuting will again depend on the form your commute takes. If it's a shorter distance or broken up by stints on public transport, a rucksack is generally most convenient. But for longer commutes, taken solely on the bike, taking the weight off your shoulders and into a set of panniers can be a much more enjoyable experience.
USA deals
UK deals
Locks
For everything you need to know about bike locks, we've got a whole page dedicated to the subject. But to summarise, D-Locks are perfect for commuting, with certain models hitting the very top security ratings while also being a reasonable weight for carrying round with you.
Going for a cheap bike lock is very much a false economy – but going for a heavily discounted quality one hits the best of both worlds.
USA deals
UK deals
Lights
UK deals
Our top cycle commuting tips
There's been a revolution in the number of people cycling to work in Britain over the past decade. The benefits of riding into work rather than driving or using public transport are numerous, the most obvious being the cost-saving and health benefits.
However, commuting to work also presents questions and minor problems of its own: Will you get tired? What happens if it rains? What's the best route in? What about the traffic?
We've put together some tips to help out new commuters, and we also asked our readers to send their advice in, too...
Find a bike you can rely upon
Commuting in rain is better if you can depend upon your bike. If you're commuting to work every day, then you need a bike you can ride through all weathers, and depend upon to be road worthy with minimal maintenance.
Mudguards are a great addition, with this in mind, as they'll keep the muck from your drivetrain, and from your backside on a wet day.
Wide tyres will spread the load and offer better grip in the wet as well as improved comfort. Full on commuter machines might have hub gears and dynamo lights - we've rounded up some of the best bike styles for commuting here.
Lock it up safe
No bike lock is infallible, but having a quality version is a start. Use one lock on the frame, and make sure you use a cable lock for your wheels, if they're attached by quick release skewers.
Where you leave your bike is important too: if your work has secure bike locking, that's ideal. If not, aim for somewhere with CCTV nearby.
Choose your luggage wisely