Specialized/Fjällräven Handlebar Bag and Rack review - capacious and stylish but not so practical
Rigid and stylish bar rack combo that has excellent easy access to bulkier items, but is pricey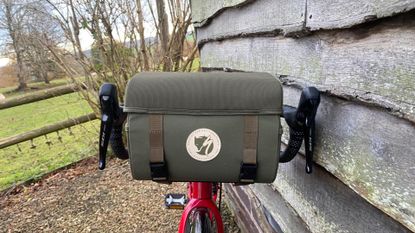 (Image credit: Andy Turner)
The Specialized/Fjällräven Handlebar Bag is a rigid and sturdy option with a spacious nine litres of capacity. However, that room can prove an issue, as your kit will rattle around unless it's packed in tight. The bag is easy to fit and remove, but with no mounting points for any substantial front lights leaves something to be desired for bikepacking rides. The high price for the bag and rack combo is another limiting factor.
Reasons to buy
+

Huge capacity for food and clothes

+

Easy removal from fitment

+

Stylish

+

Shoulder strap for off bike usage
Reasons to avoid
-

Needs to be full to stop items rattling and moving

-

It is absolutely massive and can be obtrusive

-

No mounting point for fitting a light on the front of the bag

-

Closing mechanism not the most secure
You can trust Cycling Weekly. Our team of experts put in hard miles testing cycling tech and will always share honest, unbiased advice to help you choose. Find out more about how we test.
The Specialized/Fjällräven Handlebar Bag works in conjunction with the brand's Handlebar Rack to provide a sturdy platform for carrying nine litres worth of gear.
The main compartment is rigid and open, and so is an excellent space for stashing bulkier layers or items, and access is via the top of the bag and so it's easy to see and grab what you want. We take a look at how Specialized/Fjällräven's system compares to the best handlebar bags for urban and gravel riders.
Specialized/Fjällräven Handlebar Bag and Rack: construction
The Specialized/Fjällräven Handlebar Bag is designed for urban rides, ultra-endurance outings, and gravel riding, keeping nine litres worth of clothing, equipment and clothing within easy reach. It has an easy-to-open lid - which faces towards you - and is held in place with a press stud button.
The bag itself is made of a semi-rigid Vinylon F, which is weather resistant without sealed seams. The interior is made of recycled nylon, though, and is waterproof to protect the contents of the bag.
Webbing pockets on the sides and top offer extra storage spaces for equipment. There are also several interior pockets.
Specialized/Fjällräven's Handlebar Bag also requires the brand's aluminium Rack, which attaches onto the handlebars and requires a 4mm hex key to adjust.
The bag itself can then easily clip around the rack and the lid cover can be secured without the button onto the rack itself.
The ride
Fitting the rack onto the bike was very easy - as was fitting the bag itself. A simple case of sliding the bag on and then doing up the buckles underneath nice and tight. The build quality of the bag is also great.
Because of the size of the nine litre capacity bag, you can't have an out front mount for your bike computer, so it'll have to be stem mounted. A bigger issue, however, was that there was no way of fitting a sizable front light onto the handlebars or the bag.
There are holes under the rack that you can screw attachments onto, or you could try and get the light to loop around a few of the metal struts across the underside of the rack, but there does not appear to be any easy way to fit a sizable light to the front of the bike with the bag attached.
The fact that it is easy to fit on and remove is very useful, though, for if you are going inside somewhere for an extended period you can remove the bag and bring contents in with you. It even has a shoulder strap to make life easier.
The bag itself can fit an absolute ton of stuff. I managed a few cans of fizzy drinks (for shake testing), a mini pump and some bike tools, inner tubes and energy bars. And there was still plenty of room for a larger non-packable jacket, as well as leg and arm warmers. None of the side pockets were even used at this point.
The rigidity of the bag makes stacking items inside an easy process and the open top provides easy access when you need something particular.
However, I found that you need to pack the bag full, because otherwise the items rattle around quite a lot inside the expansive main compartment. The fizzy drinks didn't explode, but did require caution to open them after the ride.
The bag could also do with some optional dividers for you to Velcro into place when you have lots of little bits of equipment you want to keep separate. I could hear the cans, tools and pump knocking off each other constantly throughout the ride.
The bag also claims to be easily opened one handed. This was definitely not the case and with gloves it was near impossible. It's neat that the lid attaches to the rack and this is easier than the button - but it's still not easy to work when moving or with gloves on. When you lift the lid up, you don't need to be going very fast for the air resistance to shut it closed again either.
Value and conclusion
There's no other way around this, the Specialized/Fjällräven Handlebar Bag and Rack are expensive - it's $100.00 / £100.00 for the bag and $100.00 / £90.00 for the rack, that's a total price of $200.00 / £190.00.
Admittedly there are other expensive bar bags out there such as the Restrap Bar Bag Small ($163.99 / £109.99). However, this is 14 litres, 385g, and doesn't require a fitting rack to be purchased in addition, and so it is in fact cheaper. Ortlieb's 11 litre capacity Handlebar-Pack QR ($165 / £125) is also cheaper and doesn't require a rack.
Overall, the Specialized/Fjällräven Handlebar Bag and Rack is a stylish bar bag rack system and, with its rigid construction and open top, it provides easy access to a lot of essential gear.
However, having that large open space does mean that if it isn't packed tight, then items can really rattle about on pot-holed roads - let alone gravel trails.
The inability to fit a good front light is also quite an oversight for an adventure cycling accessory. The bag is easy to fit and remove, which is a good thing, but no sizeable front light mounting point is a safety issue for me personally.
Value wise, it's simply not very good. If you're set on a rigid bar bag with a large main compartment for carrying bulkier items and an open top access for ease then this model may well be for you. But if carrying capacity is all you want - and if you don't fancy paying $200 / £190 for the bag and essential rack - then there are other options out there for significantly less money that will do the job just as well if not better in many circumstances.
Thank you for reading 20 articles this month* Join now for unlimited access
Enjoy your first month for just £1 / $1 / €1
*Read 5 free articles per month without a subscription
Join now for unlimited access
Try first month for just £1 / $1 / €1