Ortlieb Handlebar Pack QR
Boasting huge capacity and with an innovative bar mounting system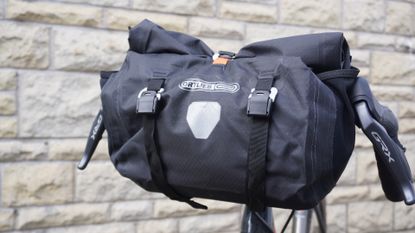 (Image credit: Future)
The attachment system of Ortlieb's Handlebar Pack QR has a bit of a learning curve, but it blends the best of strap-on systems and bolt-on brackets – it's quick attach and remove, is super sturdy, and is much less prone to damaging rubbing. You'll need to leave time for getting to grips with it, though. The capacity is huge and the range of straps is great for managing the bulk and keeping everything locked securely in place. It is quite wide, however, so not a bag to use with narrower road handlebars. Gravel bars of 44cm wide and larger make for a much more comfortable pairing.
Reasons to buy
+

Secure and durable attachment

+

Large pack volume

+

Easy access roll-top entry

+

Fully waterproof
Reasons to avoid
-

Bit of a learning curve for installing

-

Quite wide for road bike handlebars

-

Can't be used with carbon handlebars
You can trust Cycling Weekly. Our team of experts put in hard miles testing cycling tech and will always share honest, unbiased advice to help you choose. Find out more about how we test.
Ortlieb is a bike bag manufacturer which built up its reputation producing durable and well-thought panniers, beloved by commuters and round-the-world cycle tourers alike.
It's fair to say that Ortlieb was playing catch-up for a bit, when the bikepacking boom first started. But now, the German brand has fully established its own distinctive offering, with the Handlebar Pack QR utilising quite a different design to most bar bags on the market.
The construction: Ortlieb Handlebar Pack QR
There are so many elements to Ortlieb's Handlebar Pack QR, but let's start with the mounting mechanism because that is quite distinctive. Most brands go one of two routes: either attaching directly to the handlebars through some combination of straps, or having a solid, bolted-on bracket which the bar bag then can clip on to and off.
With straps it's quicker to go from completely clear bars to attaching the bag, but these systems are more prone to rubbing and wear on both the bag/cradle and the bike. With a bracket, it's faster to take the bag on and off and generally there's less chance of rubbing, but it does mean you're stuck with a bulky bracket on your bars when not using the bag.
The Handlebar Pack QR tries to offer the best of both worlds. The attachment system employs a hard plastic bracket to mitigate problems with rubbing, but this fixes to the bike using just a couple of cords, making it toolless and quite quick to do – once you've learnt how the system works.
I'll get on to how well this design performs – and what the user experience is like setting it all up – further down the page. For now, suffice to say that's what the design is.
Regarding the actual 'bag' part of the Handlebar Pack QR, the volume is quoted by Ortlieb as being 11 litres and it really can pack a lot in. To help manage the loads, there's a bright orange strap for keeping it shut and two compression straps at the bottom – both with cam locks to stop the tension from slipping when riding over rough terrain.
The material is fully waterproof and the seams are taped, but it's always good practise to keep valuables in a separate drybag inside. There are two mesh pockets on each side, which could hold water bottles on a flat bar bike, but with drop bars realistically these are only suitable for wrappers or other low bulk items. Inside the bag there's another couple of straps for keeping everything organised.
The ride
Starting with the set up, it's fair to say that there is a very steep learning curve to attaching the bag to your handlebars. I'm normally quite happy just figuring things out, but I did have to consult the instructions (and Ortlieb's how-to video).
But once I got my head around the system and pulled the cords through to the right length, the Handlebar Pack QR became just as quick and easy to mount and dismount as a typical strap-based system – and much more solid.
Riding over rocky bridleways and fireroads, the bag was rock solid and didn't cause any rubbing on the cables, frame, or on the bag itself – which are often issues with systems that strap directly to the handlebars.
With the generous 11-litre volume, I found it a brilliant alternative to a giant saddle bag on longer single-day rides, with stops at viewpoints and village cafes. It would easily accommodate both my partner's and my own jackets and extra layers, along with all the other bits and pieces – like food, wallets and phones – that normally clutter up jersey pockets.
I really appreciated having everything easily accessible and all in just one place – also doing without the sway and multitude of straps that some saddle bags are guilty of.
In the same way, The Handlebar Pack QR fits in really nicely with my preferred overnighter set up too – layers and quick access items in the bar bag and sleeping kit all kept together in the saddle bag.
With other bar bags, I generally end up having to use a top tube bag for smaller items – which is okay, but I do find the rubbing on my knees a little annoying, so if I can keep everything in saddle and handlebar bags I'll very much take it.
Part of what gives the Handlebar Pack QR its volume is its width, which is a little large for use with road width handlebars. Paired with 40cm bars, although it was still possible to ride, it was too cramped to be comfortable. 42cm bars were about the limit of what I was happy using, but really 44cm would give you the best from the bag.
Value
At £135 / $160, Ortlieb's Handlebar Pack QR is expensive compared to other handlebar bags on the market. It's not a massive outlier, Restrap's Bar Pack is £104.99 / $157.99 and packs a similar size at 10 litres, as well as having a number of neat features – although the attachment system is of the 'strap on' variety.
There are cheaper handlebar bags, at £49.99 / £69.99, Alpkit's Gravel Bag is significantly less. The volume is about half that of the Ortlieb bag, though, and it does have fewer features, so you can see where the difference in price is coming from.
Specs
Weight: 551 grams
Volume: 11 litres
Price: £135 / $160
Contact: ortlieb.com
Thank you for reading 20 articles this month* Join now for unlimited access
Enjoy your first month for just £1 / $1 / €1
*Read 5 free articles per month without a subscription
Join now for unlimited access
Try first month for just £1 / $1 / €1