Lezyne Super GPS review
The Lezyne Super GPS is a excellent-value-for-money cycling computer, offering top-end functionality for a fraction of the expected price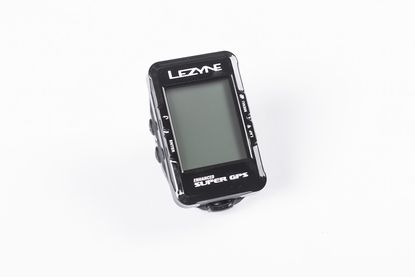 (Image credit: Cycling Studio)
The design isn't as smart as its competitors', and the navigation system is a little easy to get lost in. However, it has full connectivity and costs a fraction of the price of other GPS units.
Reasons to buy
+

Value for money

+

Use of app to setup the device

+

Full connectivity

+

Easy to read screen
Reasons to avoid
-

Outdated design

-

The navigation system is tough to, er, navigate

-

No out front mount in the box
You can trust Cycling Weekly. Our team of experts put in hard miles testing cycling tech and will always share honest, unbiased advice to help you choose. Find out more about how we test.
The Lezyne Super GPS tops the brand's extensive range of GPS cycling computers. It flies under the radar in the world of GPS, but beneath the slightly unremarkable screen is a feature-packed computer that costs just £129, a fraction of the price of its competitors.
Lezyne Super GPS: What's in the box?
There are two different options when you buy the Lezyne Super GPS – the standard version, which comes with just a standard mount, or a bundled version. The latter comes with sensors and is packaged in a tough storage box.
This is in stark comparison with the Wahoo Elemnt where you get three different mounts; the Lezyne package would be improved with an out-front mount as standard in both boxes.
Hardware and design
We'll start with the design, which is less sophisticated than its direct competitors, but that doesn't mean it doesn't work. There's a plastic body with a large bezel around the screen and four buttons, two on either side of the case. The buttons are small, and they'd be improved by being made a little larger because in winter, when you're wearing gloves, they can be a bit tough to find. Aside from that, they have good feedback when pressed.
The X-mount on the bottom is unique to Lezyne and doesn't sit nearly as flush as the mounts on Garmin and Wahoo do. When it's on the stem it sits very tall and obvious. The micro-USB charging port is concealed behind a protective rubber bung to help protect it from water ingress.
Battery life is a claimed 22 hours, and while it's always difficult to get the maximum out of a device, the Lezyne lasts a long time. I imagine that's due to the black and white, non-touchscreen screen.
The screen is also really easy to read because there's very little to read or be distracted by. You can also increase or reduce the contrast depending on what you fancy.
Setting the device up
Hold the power button and you're met by a Tamagochi-eqsue noise, and the device quickly fires up. Unlike the Garmin 1030 which has a busy home screen, the Lezyne has three sections to it – one dedicated to connected devices, which shows your phone's battery when connected. The other shows any power, speed or cadence sensors you might be using.
On the device you enter the main menu by holding the menu button. Here is a simple page from which you can set up and control all of the device. But, even more handily, and similar to Wahoo, Lezyne also allows you to use the GPS Ally application (we'll talk more about the app in a bit) to set up up your data screens.
You pair your phone and navigate in the GPS Ally app to the settings section, then GPS Settings and then Bike and Screen set-up. From here you can add new bike profiles, which is particularly useful if you ride a different discipline, or have one that's left on the turbo at home.
It's a shame they don't make this feature more obvious as its far easier than trying to set up your data screens through the device. In total you can have five data screens on the device, with a maximum of four fields on each.
Watch: Power meter buyer's guide
http://www.youtube.com/watch?v=1KRFsDEtl_s
Performance pushing, without the performance price tag
What's so impressive about the Lezyne Super GPS is it has the same connected functionality as far more expensive computers. It connected to my Favero Assioma Duo power meter pedals without a hitch, and is capable of displaying metrics like average power, three-second average, 10-second average as well as left and right balance and torque effectiveness.
It's compatible with ANT+ sensors, including Garmin's, or you can buy Lezyne ones separately. If you're connected with TrainingPeaks or Today's Plan you can also load training programmes to the device for indoor training sessions – it's impressively powerful for such a tiny unit.
Application, website and navigation – it's easy to get lost
The device is supported by both the Lezyne Ally companion app and the Lezyne GPS Root website. It is to Lezyne what the Garmin Connect is Garmin – slightly confusing and befuddling to navigate. However, it is very important if you want to use any of the GPS's navigational features.
We've seen it on other devices like the Wahoo Elemnt, but the Lezyne won't give turn-by-turn directions if you simply upload a route from Strava. It will allow you a breadcrumb line to follow, but won't prompt you when you need to turn.
If you want this feature – and it's one of the main reasons I use a GPS – you have build the route in Lezyne's GPS Root website, which will then fire it across to the app on the phone, which in turn will load it on the device when you connect it. Once the route is loaded on the device, you don't need have your phone connected to receive directions.
If you simply want an A-B direction, you can search the destination in the app, and then your device will give your turn-by-turn directions as long as you keep your phone connected.
Thank you for reading 20 articles this month* Join now for unlimited access
Enjoy your first month for just £1 / $1 / €1
*Read 5 free articles per month without a subscription
Join now for unlimited access
Try first month for just £1 / $1 / €1