Favero Assioma Duo power meter pedals review
The Favero Assioma Duo are lightweight power meter pedals whose price tag undercuts the market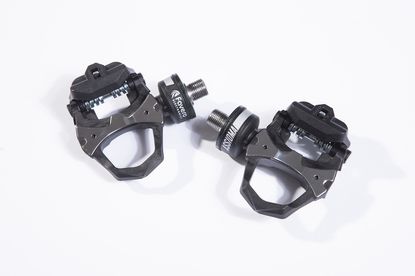 (Image credit: Cycling Studio)
Having got off to a rocky start with the Favero Assioma Duos, I'm happy with how things have turned around. Once connected to the correct pedal, the power readings were sensible, and let's not forget you're getting dual sided measurement for a seriously good price. The pedal's design isn't flawless: it's weighted frustratingly and the tension screw isn't as accurate as on Shimano models. But the pedals are seriously lightweight, come with rechargeable batteries and the pod design helps keep the stack height normal. As long as you tread carefully when you first get them, there's a lot to like about the Favero Assioma Duos.
Reasons to buy
+

The 299g weight

+

Price of £719

+

Rechargeable batteries

+

Standard stack height
Reasons to avoid
-

Pain to connect

-

Pedal is weighted poorly

-

Tensioning screw isn't accurate
You can trust Cycling Weekly. Our team of experts put in hard miles testing cycling tech and will always share honest, unbiased advice to help you choose. Find out more about how we test.
The Favero Assioma Duo are Italian brand Favero's dual-sided power meter pedals that caught our eyes because of its performance-pushing promises on a budget of just £719, significantly less than competitor models like the Garmin Vector 3 and the Powertap P1.
Favero Assioma Duo: Design
As with most power meter pedals, the design is based on the Look cleat system, and the Faveros are even compatible with the original Look Keo cleats. If you don't have any, don't worry as the red version of the cleats are supplied in the box, but you'll have to buy different float versions separately.
The Look design is a much smaller platform than Shimano's SPD-SL system. If you're used to clipping into Shimano's system then the Look-based one will take a bit of getting used to.
The sensors and all the other important parts sit in a housing next to the pedal body. It's a design that Garmin struggled with on its own Vector 2 pedals but Favero doesn't fall into the same trap of specifying a required torque to provide accurate data. Instead, simply put them on with an 8mm Allen key the same as any other pedal.
Having all the electronics housed in one place on each pedal also has the added benefit of keeping the pedal looking like a normal pedal. Unlike the enormous Powertap P1, the Faveros are not too bulky. The stack height is 10.5mm, the same as a standard road pedal.
The rechargeable batteries are a particularly nice touch, and should hopefully prevent you being caught short if you're on holiday (although you must remember the charger!), where it can be difficult to find the correct replaceable battery.
In terms of longevity, we've been impressed so far. The pedals had about 50 per cent charge after three big turbo rides, two five-hour epics and a handful of morning commutes. Favero also claims that its battery indicator is far more accurate than any other non-rechargeable battery powered unit – so you should see 50 per cent battery life and actually have 50 per cent battery life.
Watch: Power meter buyer's guide
http://www.youtube.com/watch?v=1KRFsDEtl_s
Like all pedal bodies, there is a tensioning screw at the back of the pedal that adjusts how easy or difficult it is to clip in and out of the pedal. I found it far less accurate than a Shimano counterpart, with the screw winding out of the pedal rather than releasing much tension. We found we couldn't max it out in either direction, making it less finessed than other options on the market.
Favero also hasn't quite weighted the pedal correctly, so if you accidentally miss clipping in, it spins round and round, forcing you to look down to kick it the right way, a real pain if you're in town or constant stop-start traffic.
Connection
The pedals communicate with devices, whether that's your phone or cycling computer via a series of blinking LEDs on the pods. So far they've been flashing constantly and I'm none the wiser as to what it's telling me, other than if you back pedal it blinks three times, telling you its in pairing mode.
It was initially confusing to set up. The Wahoo Elemnt head unit was receiving mixed messages about which Favero Assioma Duo pedal to pair to. I paired with the first "power" option that came up, which turned out to be a mistake. I had, in fact, paired with the right hand side pedal, which is a slave to the left. The result was illegible power readings out on the road, with my numbers spiking between 45 watts and 175 watts.
Pairing and re-pairing and some desperate recalibration attempts solved nothing, and I reached out to Favero who quickly revealed I had actually paired to the wrong pedal, and that if I entered the "power" sensor settings on the Wahoo and waited a bit longer a "power" option with a serial number appears – this is the master pedal.
From here on, things became much better for the Favero Assioma Duo. I began getting far more realistic numbers and the watts no longer dart up and down like before.
It does, however, beg the question: why does Favero leave the right pedal as an option in the pairing process. There'd have been a lot less hassle if the two were hardwired in the same way the Powertap p1s or the Garmin Vector 3s are.
That said, calibration is swift and easy to do, and I've paired these pedals with both my Wahoo Elemnt and my Garmin Edge 820 (on the latter you can rename the pedals so you don't keep pairing with the wrong one).
Once set up and connected you can find a whole wealth of data fields available depending on what you want measured or where you want to improve. For my time with the pedals I opted for 3 second average power, average power and left and right balance. In terms of accuracy, Favero give a stat of +/- 2% for accuracy, which is less than either the Powertap P1s or the Garmin Vector 3s. When compared to my Elite smart turbo, they were plus or minus 10-15 watts which, when considering drive chain wastage, isn't too dramatic.
Thank you for reading 20 articles this month* Join now for unlimited access
Enjoy your first month for just £1 / $1 / €1
*Read 5 free articles per month without a subscription
Join now for unlimited access
Try first month for just £1 / $1 / €1