Garmin Edge 520 review
The Garmin Edge 520 follows on from the classic 500, but with a few extra features - we kept one on long term test to see how it performed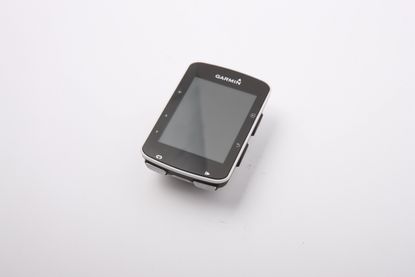 (Image credit: mike prior)
A handlebar friendly sized bike computer that provides all the data and information you need. Fulfils all basic requirements, as well as providing some very clever training tools - though not the best choice for the navigationally challenged.
Reasons to buy
+

Lots of data screen options

+

Rich choice of metrics

+

Smartphone connectivity

+

Good size screen

+
Reasons to avoid
-

Basemap not designed for full on navigation
You can trust Cycling Weekly. Our team of experts put in hard miles testing cycling tech and will always share honest, unbiased advice to help you choose. Find out more about how we test.
The Garmin Edge family is pretty established at the head of the cycling GPS computer table – and the Edge 500 took a position as the firm favourite for years. Come 2013, an update finally arrived - in the form of the 510. The touch screen functionality on both the 510 and 810 failed to impress, and the new creation was later replaced by its big brother: the Garmin Edge 520.
I've been riding with this model for just over a year - though the little critter is packed with so many features that I've probably not used every one.
Where the Garmin Edge 500 was revered for its simple presentation of the basic metrics: speed, distance, time, elevation – plus power and heart rate with appropriate monitors – the 520 does all these and so much more.
Garmin Edge 520 screen, buttons and mounts
At Edge 500 level, Garmin computers have always been known for offering a compact handlebar companion that's large enough for easy viewing, yet small enough that it doesn't look like an all singing, all dancing 'how to ride a bike' manual bouncing on your handlebars. The 520 iterations follows suit - measuring 4.9cm wide, 7.3cm tall and 2.1cm deep.
The buttons are simple enough to negotiate without spending any time reading the instructions - a general marker of success in my book. 'On/off' and 'scroll up/down' on the left, 'ok' and 'back' on the right. 'Lap' and 'stop/pause' are along the bottom of the unit. This can present occasional issues when trying to mount the Garmin to a shorter stem - say 90mm - since the 'pause' button can be nudged by the top cap, though only really when fidgeting with buttons elsewhere.
Speaking of mounts, the 520 comes with a selection of small plastic attachments that can be applied to the bike with two strong elastic bands, or you can purchase an out-front mount.
I've heard criticism of Garmin mounts not holding up well in crashes - and it's true that my own Garmin 520 screen is scuffed from a crash where it did become dislodged from the bike, skidding across the gravel (along with my lower body). However, Garmin do provide a tether that you can use to loop the mount and Garmin together.
Data display and transfer with the Garmin Edge 520
Progressing from the Garmin 20/25 or indeed any basic cycling GPS computer, and into the world of the Garmin 520, users enter an entirely new landscape when it comes to data display.
You can set up multiple profiles - and select the ride metrics that you'll display for each. You can even choose to apply a different colour scheme to each profile.
Garmin offers a huge choice of data readings. All the basics: distance, speed (in all its guises), heart rate, elevation (and even average grade), cadence, calories burned. Then there's all the training metrics - percentage of time spent in training zones, power meter metrics such as TSS, normalised power and so on.
If you've got Garmin Vector pedals, you can see a host of individual readings for both left and right leg, there are data screens for Garmin Varia lights, connectivity to Di2 gear systems means you can view battery level and gear ratio.
Speaking of connectivity, you can also hook your Garmin up to your Android or iPhone - allowing cable free transfer of rides (meaning easy analysis of Strava efforts come post-ride-coffee) and if you want you can view calls and texts - at least in summary form - from your handlebars. Handy if your lunch time ride has somehow extended into the afternoon.
In terms of battery life, Garmin states 15 hours - and I did find with the screen brightness at a sensible level, it would last a week of good riding with ease.
Strava segments on the Garmin Edge 520
I'll step away from the moral argument around Strava's dominance of the simple pleasure (or brutal self destruction) of cycling: if you want to, you can set your Garmin 520 up with your Strava profile.
You'll receive a warning when a Strava segment is approaching, and see your progress - as well as a further on screen notification if you've achieved a PB, claimed a KOM/QOM or topped the leader board in your cycling club.
Of course, there are a lot of Strava segments out there - so if you don't want to spend your entire ride assessing your results against the rest of the world, you can star key segments.
Despite resisting Strava's dominance initially (didn't we all?), Garmin and the orange giants are clearly batting for the same team now, and your unit comes with a two month trial period with Strava Premium.
Measuring V02 Max and FTP on the Garmin Edge 520
New for the Garmin 520 is the ability to automatically track for V02 max and FTP - provided you're using a heart rate monitor and power meter.
The V02 max (the maximum volume of oxygen you can consume per minute per kilogram of body weight) measurement is an estimate - and it's hard to assess its accuracy without carrying out a full on V02 test. However, the Garmin 520 did flash up with 'New V02 max!' after some harder sessions and I suppose though we can't confirm the accuracy of the actual number, Garmin is comparing apples with apples so it's a useful measure of fitness.
You can tell the Garmin 520 when you want to complete an FTP test - in fact, it will even provide on screen instructions for how to do this (warm up, ride for 5 minutes at zone 6, 10 minutes zone 2, 20 minutes test, cool down) - and it will track your FTP over time.
Once you've found your FTP and recorded your zones, you can download training sessions created on Garmin Connect and follow them on the screen. And if you don't have a power meter, you can set your zones using your max heart rate, and work from those.
These features were probably my most underutilised - perhaps due to the rather unstructured approach I've taken to training over the last 12 months. However, if you are following a structured plan, they provide an excellent tool - taking the middle-man out of you carrying out a test independently, then storing it on your own training platform elsewhere and mentally applying your zones to subsequent sessions.
Recovery notifications are a bit bitter sweet. Picture this: You're lined up at Cyclopark in Kent, with the preceding day's race efforts still heavy in your legs. As the commissaire barks instructions, your Garmin beeps from your handlebars. A large red circle and the message 'Recovery: Poor'. Yea, thanks mate.
Garmin's 520 is clever enough to analyse your efforts, and assess the recovery required for optimum performance - giving you a recovery time in hours as you hit 'stop'. When you next switch the unit on, it'll let you know if that recovery window is not fully complete.
Aside from occasions where you really didn't want to be reminded of your poor preparation, this is incredibly useful - providing a handy reminder of when it's time to back off.
Mapping and navigation using the Garmin Edge 520
The major difference between the Garmin 520 and its big brother, the Garmin 820, is that the smaller brother of the two does not included detailed maps and navigation. The 520 comes set up with a 'basemap' - which is pretty much the epitome of lacking detail.
However, you can download a route onto your Garmin, and receive 'turn left' / 'turn right' navigation alerts. The maps and navigation work - but they're not to the same standard as a Garmin 810 - so if that's important to you then it might be worth investing a little further.
Thank you for reading 20 articles this month* Join now for unlimited access
Enjoy your first month for just £1 / $1 / €1
*Read 5 free articles per month without a subscription
Join now for unlimited access
Try first month for just £1 / $1 / €1