Garmin Edge Explore 2 computer review - user friendly, well priced with a focus on the journey
A welcome antidote to the super expensive computers that do too much and cost too much for most people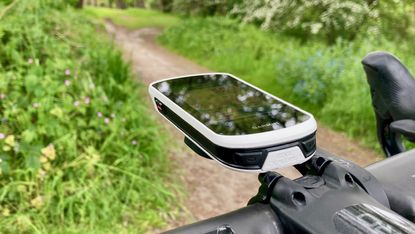 (Image credit: Simon Smythe)
The Garmin Edge Explore 2 is ideal for most cyclists. I've never bothered with Strava Live Segments and if I want a structured workout I do it on Zwift. For everything else, including riding with a power meter and heart rate monitor and syncing all the data with Strava, the Explore 2 does it. At $299.99 / £249.99 at the time of writing it costs the same as the training-orientated Wahoo Elemnt Bolt yet is aimed more at mapping than training, like the more expensive Elemnt Roam. For me Garmin has got it the right way round.
Reasons to buy
+

Big, clear display

+

Easy to set up and use

+

Excellent navigation

+

Data from peripheral sensors

+

Enough training metrics for most people
Reasons to avoid
-

Only three activity profiles

-

No outfront mount included
The Garmin Edge Explore 2 was launched last year, just a month after the new, solar-powered all-singing-all-dancing Edge 1040 was unveiled. It was almost as though Garmin worried that its flagship computer might now do a bit too much for the average cyclist as well as cost a bit too much, at a fairly eyewatering $749.99 / £629.99.
So the Edge Explore 2 is a kind of antidote. It costs less than half as much as the 1040 and it's aimed at the rider who doesn't need all the performance metrics or the outdoor structured workouts. There's also no Strava Live Segments. That said, it will pair with Bluetooth and ANT+ sensors just like any of the best cycling computers, syncs everything with Garmin Connect (via Bluetooth; it doesn't have WiFi), uploads to Strava and other training apps and gives you smart notifications, group ride messaging and incident detection - always handy.
If you've been using a heart rate monitor and power meter you'll get 'Highlights' after finishing your ride - a new V02max (if applicable) and recovery time - which feeds into Garmin Connect once synced and adds to your overall fitness data if you're tracking it.
So although navigation is the Edge Explore 2's primary function, training is by no means neglected.
Garmin Edge Explore 2: construction
The Edge Explore 2 has a crisp 3in touchscreen display that's not quite as big as the 3.5in 1040's, but bigger than the 2.6in displays of the 840 and 540. There's the on/off button on the side and the two classic Garmin buttons at the bottom to start/stop and lap.
Since 2018, when the original Edge Explore arrived, e-bikes have taken off, and the Explore 2 reflects this with new specific functionality. So although it isn't compatible with Di2, if you're using an e-bike with Shimano Steps it will take the bike's battery status and level of assist into account with its routing - though I didn't test this.
Its own battery life is up to a claimed 16 hours from its predecessor's 12 and I found this to be pretty accurate. It doesn't have its own pin connectors built into the back, unlike the more expensive Edges, so if you want to connect it to an external power pack - which you might do with an e-bike - you'll need the power bundle version at $399.99 / £339.99.
The standard version comes with two Garmin quarter-turn mounts, rubber bands, a lanyard and a charging cable now updated to USB-C. It's a shame there's no outfront mount - Wahoo includes them with both its Elemnt computers. But it has to be said Garmin's handlebar mounts with rubber bands are better than Wahoo's zip-tied versions.
Setup
The latest Garmins are simple to set up. You can now configure everything from Garmin Connect and if you want to do it from the device you still can, and the touchscreen makes it quick and easy.
Garmin has standardised its user interfaces not only across the cycling computers, but if you use a Garmin watch you'll recognise the layout and features.
There are the activity profiles and then the 'glances' widgets, which are shortcuts from the home screen into, for example, navigation, courses, location search and history. You can add more.
Compared to the higher end Garmin computers and watches, the Edge Explore 2's options are a little limited. There are only three activity profiles - road, indoor and off-road and no option to edit or add more. Perhaps Garmin should have included 'gravel' to keep fans of the small stones happy.
However, it's broadly in keeping with the Explore 2's back-to-basics remit.
The ride
To start, you simply select your activity profile out of the three, the Explore 2 acquires satellites very quickly and you're ready to go. Pairing with and calibrating Wahoo Powrlink Zero power meter pedals and a Garmin HRM (actually a Garmin Epix 2 watch set to 'broadcast heart rate') was straightforward.
I'd set up my data screens with seven on my main screen, navigation on the second and elevation on the third for regular, non-navigational riding. The touchscreen is responsive, not far off a smartphone's - and it was simple to swipe between them. Much better than buttons, and unaffected by sweaty fingers. I used it in Mallorca at the end of April, where it was very hot indeed.
Navigation
Navigation is the Edge Explore 2's strength, as you'd expect. The display is sharp, easy to read and routing is easy to follow with Garmin's purple line, familiar bleeps of encouragement or dismay if you take a wrong turn (and then it will reroute you).
You can create a course yourself on the device, upload one from Garmin Connect, steal one from someone else's Strava and import it into Garmin Connect then send it to the device, or take Garmin's magical mystery tour with a 'round-trip course' where you pick the distance and it creates a circuit for you based on popularity routing.
The Explore 2 includes Garmin's excellent ClimbPro feature. As you approach a climb on your uploaded route, it counts you down to the start, flicks onto the ClimbPro screen and lets you view the climb profile with the gradients colour coded, a little locator showing you where you are and data about distance and ascent to go.
For a climb such as the notorious and relentless Sa Calobra in Mallorca, ClimbPro is literally the most useful thing in the world (apart from plenty of liquid in your bidon). This year I went over a minute faster than I did in 2015 despite being held up near the bottom by a procession of German coaches - and I put that down to being able to pace my effort with ClimbPro.
I also loved that the Explore 2 will list all the climbs on your route with the amount of ascent left, helping you decide whether you need to make a final cafe con leche pitstop.
At the moment the Explore 2 doesn't support the new version of ClimbPro that detects climbs on any roads and not just in a pre-loaded route - that's just for the newest 1040, 840 and 540 units.
Overall I was impressed with the navigation. The GPS (GNSS) is accurate: zooming in on Strava the trace sticks determinedly to the left-hand side of the road, even on a wooded section where devices often lose the signal. It's really quick to find GPS too - hugely improved from earlier Garmins - and it has a barometric altimeter for the most accurate elevation data.
Finishing and saving the ride, you're given the highlights - new VO2max (if applicable) and recovery time. You can go in for a summary of all the data from the sensors - as you can with all the rides in 'history'.
It's not just rides with the Explore 2 that are in the device's rides history - in my case my runs and rides with the Epix 2 watch are all there too, and of course the VO2max and recovery time displayed on the Explore 2 will be taking all of those into account too.
I've never had a problem syncing it with Garmin Connect, though for some reason my Epix 2 watch does it slightly faster.
Value and conclusion
In summary, I'd say the Garmin Edge Explore 2 is ideal for most cyclists. I don't know anybody who is interested in Strava Live Segments any more, and if I want a structured workout I do it on Zwift in ERG mode.
For everything else, including riding with a power meter and heart rate monitor and syncing all the data with Strava, the Edge Explore 2 does it.
It costs the same as the training-orientated Wahoo Elemnt Bolt yet is aimed more at mapping than training, like the more expensive Elemnt Roam. For me Garmin has got that the right way round.
Specs
Size: 106.1x 55.7 x 20.6mm
Display: 3in
Resolution: 240x400 pixels
Weight: 105g
Waterproofing: IPX7
Battery life: 16 hours
Storage: 16GB
Connectivity: Bluetooth, ANT+
Thank you for reading 10 articles this month* Join now for unlimited access
Enjoy your first month for just £1 / $1 / €1
*Read 5 free articles per month without a subscription
Join now for unlimited access
Try first month for just £1 / $1 / €1
Simon Smythe is a hugely experienced cycling tech writer, who has been writing for Cycling Weekly since 2003. Until recently he was our senior tech writer. In his cycling career Simon has mostly focused on time trialling with a national medal, a few open wins and his club's 30-mile record in his palmares. These days he spends most of his time testing road bikes, or on a tandem doing the school run with his younger son.