Solar charging and adaptive coaching: Garmin unveils updated 540 and 840 Edge cycling computers
Beneficiaries of trickle-down tech, the popular 540 and 840 Edge computers now offer improved maps, coaching and solar charging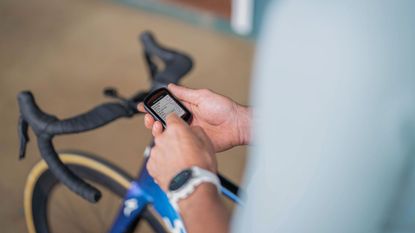 (Image credit: Garmin)
Beneficiaries of a host of trickle-down technology, Garmin today unveiled updated versions of its best-selling GPS cycling computers, the edge 540 and 840, with, most notably, solar charging options for both.
It's been four years since Garmin launched the previous Edge 530 and 830 models and with the brand's 1040 flagship model now a year old, the compact models were due for an update. The details of the new models come as little surprise as the Edge 540 and 840 were both leaked last month when US retailer Adorama briefly uploaded them to its website.
Updates seen in the new models include significantly longer battery life when used in direct sunlight, improved connectivity features, multi-band GNSS for enhanced positioning, stamina insights, on-screen workout prompts and a climbing assist tool.
The solar models get up to a claimed 32 hours of battery life and can reportedly go up to 60 hours when using the battery save mode. And with a retail price of $449.99/£349.99, the 540 Solar is the most affordable solar-charging equipped computer yet.
With a wide array of performance-based training metrics, comprehensive coaching catered, enhanced navigational support and connected features, the new models were designed to "dramatically elevate any cyclist's training," says Garmin. So let's dive in and see what these new computers can do.
Feature highlights
Solar Charging
As mentioned, the Power Glass technology we've seen in Garmin's 1040 flagship cycling computer and some of its smart watches, has now trickled down into these more compact packages.
The solar charging can add up to 25 minutes per hour of riding in daytime conditions, which according to Garmin gives the 540 and 840 a 32-hour battery life or up to 60 hours in battery save mode.
Improved positioning and navigation
The new models make use of multi-band global navigation satellite system (GNSS) technology for improved wayfinding in the most challenging environments — be it dense forest or urban jungles.
Garmin has also updated its mapping for improved ride type-specific maps, highlighting popular roads and trails and searchable points of interest. Further tools to help riders navigate new places include a pause option for off-course notifications and turn guidance. This allows you to go explore off your route and then resume navigation at any time.
For mountain bikers, the Trailforks app will be made available to all Edge 540 and 840 series users, giving them access to trail details and routes worldwide.
Targeted Adaptive Coaching a.k.a Personalized coaching
Riders have long used their cycling computers to track their training metrics and these units, too, will measure and track just about any metric you'd want. Well beyond the miles ridden, feet climbed and time spent in the saddle, both models will track personal metrics like VO2 max, training load, recovery time and more, so you can see exactly how your body is responding to the training efforts.
But what's more, these Garmin models will help you train by prescribing you daily workouts, giving you training prompts and coaching based on your current training load and goals ahead.
Garmin has also updated its Power Guide feature, which recommends power targets throughout a course.
Real-time Stamina
Can you keep this effort or are you going to blow up? Garmin takes the guessing out of the game with real time monitoring of exertion levels during your ride is meant to help you dial in training efforts or determine how long you can continue at your current pace.
Climb Pro Ascent Planner
Already a popular software upgrade on previous models, the updated climbing assist tool will allow you to see remaining ascent and grade for every climb regardless whether you are using navigation or not. You can also find specific climbs by using the Garmin Connect App on your smartphone before starting your ride.
Speaking of climbing, you see your own riding strengths and weaknesses to help you prepare for specific race courses or efforts with focused training.
Compact and rugged package
All new models feature a 2.6-inch color display and control buttons on the sides that will work in any riding environment, no matter how bumpy or muddy. The higher-end 840 model also includes a responsive touchscreen.
Pricing
The Edge 540 solar and 840 solar will retail for $449.99/£449.99 and $549.99/£519.99 respectively. The non-solar options drop the price to $349.99/£349.99 and $449.99/£449.99 for the Edge 540 and 840, respectively. Sensor bundles will be available for all models.
Thank you for reading 20 articles this month* Join now for unlimited access
Enjoy your first month for just £1 / $1 / €1
*Read 5 free articles per month without a subscription
Join now for unlimited access
Try first month for just £1 / $1 / €1