Garmin Edge 540 review - a step up in performance but also price
A compact head unit that packs in more training tools than one really needs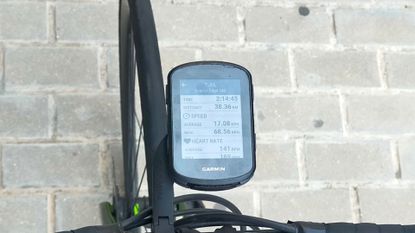 (Image credit: Future)
A brilliant button-only head unit that makes navigation a breeze and can help a rider become fitter and faster. As with all Garmin Edge head units, they are guaranteed to last a long time, too.
Reasons to buy
+

Phenomenal battery life

+

ClimbPro is a fantastic tool

+

Reliable and durable

+

Loads and loads of screen options

+

Excellent connectivity

+

Improves performance
Reasons to avoid
-

Problems with gradient stats

-

No touchscreen

-

More expensive than rivals
You can trust Cycling Weekly. Our team of experts put in hard miles testing cycling tech and will always share honest, unbiased advice to help you choose. Find out more about how we test.
Get The Leadout Newsletter
The latest race content, interviews, features, reviews and expert buying guides, direct to your inbox!
Thank you for signing up to The Pick. You will receive a verification email shortly.
There was a problem. Please refresh the page and try again.
Garmin's most popular cycling computer model, the Edge 500 series, has received its first update in more than four years - and the product is an upgrade on what's come before.
Launched concurrently with the Garmin Edge 840, both models have near-identical software, features and functionality; the only real difference is that the 840 is touchscreen enabled, while the 540 can only be operated by buttons.
That means that both the 540 and the 840 are the same size, they look and feel the same and they offer the same functions. There are a few other differences (not counting the 540 being $150 / £100 cheaper) which we'll get into later, but basically both models are a replica of each other, save for the touchscreen option.
Last year, Garmin brought out its Edge 1040, and many of the new features on that bigger and chunkier model have been rolled out onto the 540. Another addition is the option of buying the Solar version, an add-on that allows the head unit to charge when under direct sunlight.
So, how does the latest Edge 540 stack up against the best cycling computers of today? I had the Edge 540 on test for around three months and though I would opt for its sibling, the Edge 840, I was left with an overwhelmingly positive reaction to the model which has become a cyclist's best friend in the past decade because of its functionality, reliability and affordability.
Garmin Edge 540: construction
As aforementioned, the 540 looks like an exact copy of the 840 - a compact size weighing just 80 grams. It can be attached to the bike via a variety of included mounts, including rubber mounts that attach to the stem or handlebar, or a firmer mount that sits in front of the handlebars.
Operated by buttons only, there are seven that control the Edge 540, with various ones for scrolling, swiping, confirming, laps and starting and pausing. They are all very easy to become accustomed to.
Changes from previous models include adaptations on the hardware side: the charging port now uses a USB-C, and the mapping system is powered by the multiband Global Navigation Satellite System (GNSS) that improves position accuracy. Whereas the 840 packs in 32GB of memory, the 540 counts half of that - but it will require a lot of all-day riding for many a year to use up that amount of data.
Garmin Edge 540: set-up, features, connectivity
Setting up the device is a simple affair, with synchronisation to the Garmin Connect app doing all of the work in less than 15 minutes. Once all updates are installed and the head unit powers up, users can choose from various profiles to select and then start riding.
Unsurprisingly, the Edge 540 - just like the 840 - is packed with an almost overwhelming amount of training, planning and analytical features. These days, just knowing your distance, time, speed and elevation isn't enough, and the Edge 540 gives you more power, heart rate, cadence and other training data than is really necessary. You could get lost for hours on end just scrolling through the seemingly endless list of widgets and data pages.
The stand-out feature, however, is the ClimbPro. Introduced in 2018, it's a page that loads up a climb's data (gradients, distance left, etc.) and appears on screen while the user battles up the slopes. The improvement is that now ClimbPro appears even if there is no pre-loaded course on screen. So if you are just out pootling along without using any navigation and you stumble upon an ascent, ClimbPro will kick into action and guide you up.
Also included is the Real Time Stamina page, a fantastic tool that monitors a rider's stamina, potential and estimated distance remaining based on their current performance.
Once the stop button is pressed at the end of the ride, the data can be on Strava before you've even removed your cycling shoes, with the device coming equipped with Bluetooth, ANT+ and WiFi; the speed of the connectivity is truly impressive. As with other Garmin products, the Edge 540 can be paired with power meters, heart rate monitors, lights and cameras.
Garmin Edge 540: mapping and navigation
Head out the door and the satellites will already be located by the device, and throughout the ride the GPS accuracy will be near-flawless. Navigation signals are good, advise at just the right time, and I appreciated the warning markers on mountain descents when line of sight can be tricky.
A fantastic base map means that getting around is never really an issue on Garmin devices, but it was during navigation that I really felt the absence of touchscreen capability. By not being able to scroll around the map and zoom in and out with a pinch of my fingers, I found it difficult to search for places or find specific addresses (there is an option of doing this via a phone but it's time-consuming and faffy).
Similarly, when back on the home screen (not a user-friendly interface on the non-touchscreen Edge 540) it was often quite difficult to get back to my ride data. Comparatively, when using the Edge 840 with its touchscreen interface, this was a much less stressful affair.
As I discuss in my full Edge 840 review, I was impressed by the ClimbPro and Real Time Stamina pages, but felt a little disappointed overall by the climbing data. Many times my Garmin would tell me I had finished a climb while the summit was still several hundred metres away, and the gradients on screen didn't always correlate to what I was actually riding on. That said, the mapping in general is almost exemplary - and there's no excuse in reality for anyone getting lost.
Image 1 of 3
Garmin Edge 540: conclusion and value
Pitted against its sibling, the Edge 840, I'd opt for that, just because I felt more at ease and more in control with a touchscreen. Added to that, I felt like the device's potential and capabilities could be better utilised and explored without having to rely on buttons.
That is not, however, to allege that the Edge 540 is not a worthy purchase. It is pretty much the exact same as the 840, and packs in almost every single feature that the bigger 1040 does, but at a much cheaper price.
Battery life is terrific (and charging time is quick), and the option of buying the Solar model only further increases the Edge 540's screen time.
In comparison to other competitors, it is more expensive than the Wahoo Elmnt Bolt V2 and Hammerhead Karoo 2, and being a long-time Wahoo user I don't have any plans to cross the divide to Garmin.
It's not because the Edge 540 and 840 didn't impress me - they absolutely did! - but I find the Wahoos less daunting and more user-friendly. Personally, I don't need to have so many different types of training data shouting back at me mid-ride. That takes away the pleasure of riding my bike up and down mountains and along coastlines.
That is simply, though, a subjective take and should not cloud the fact that the Edge 540 is an excellent head unit.
Swipe to scroll horizontally
Garmin Edge 540: specs
Size: 5.8cm x 8.5cm and 1.97cm
Display size: 66mm
Display type: 246 x 322 pixels
Weight: 80 grams
Water rating: IPX7
Memory: 32GB
Battery life: Up to 26 hours
Connectivity: Bluetooth, ANT+, WiFi
Smartphone compatibility: Android, iPhone
Thank you for reading 20 articles this month* Join now for unlimited access
Enjoy your first month for just £1 / $1 / €1
*Read 5 free articles per month without a subscription
Join now for unlimited access
Try first month for just £1 / $1 / €1