Garmin Edge 1030 review
The latest model out of the Garmin factory is the chart topping Garmin Edge 1030. Packed full of features does it still remain the best GPS options available on the market?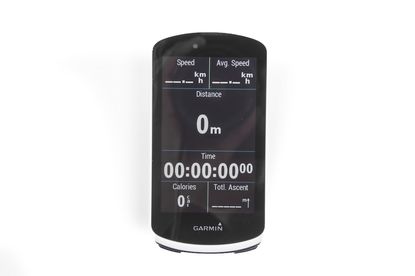 (Image credit: Cycling Studio)
Without a doubt, the Garmin 1030 is a significantly improved when compared to Garmin's previous touchscreen computer, the Edge 820. The screen is more reactive to touches and far stable in the rain. It's also less laggy, and the bigger screen coupled with the new dashboard layout gives a welcome level of clarity to the screen. The setting up process is also significantly improve, thanks to the new layout and software features. The software isn't perfect but this is fixable with updates. All in all, it's a well improved piece of kit, even if it is massive.
You can trust Cycling Weekly. Our team of experts put in hard miles testing cycling tech and will always share honest, unbiased advice to help you choose. Find out more about how we test.
The Garmin Edge 1030 was one of the hotly anticipated releases of 2017, and coming off the back of the Garmin Edge 820, it would be fair to say the company had some improvements to make.
>>> Buy now at Wiggle for £419
The 1030 replaces the Garmin Edge 1000 at the top of the tree, giving it flagship status alongside the Edge 820 and the Edge 520. On the whole, we've found it deserving of its place – here are our thoughts.
Garmin Edge 1030: A significant design change
It's out with the old and in with the new for the Garmin Edge 1030, and by new we mean in both form and function, because this device looks a lot like a car's sat nav.
It's a sizeable makeover that has actually done nothing really to reduce the Garmin's size, and it comes in almost bang on the same size as its predecessor, the Garmin 1000.
Unlike the Garmin 1000, where the bottom buttons sat next to the screen facing upwards, they now face the handlebar. This, coupled with the size of the Garmin 1030 and the fact it's a tight fit on a normal K-Edge mount, makes accessing the buttons a bit of a squeeze so we'd definitely recommend getting one of K-Edge's special extra large out front mounts.
Garmin also hasn't taken any design cues from modern smart phones and means the Garmin is a hefty piece of kit. It sits at 123g and is heavier than my iPhone 5 along with a bigger bezel around the screen.
The bigger screen is particularly useful for your performance data and the new layouts of all your information makes it much easier to digest the nitty-gritty details than before.
The design change extends to Garmin's own out front mount. It's now designed with aerodynamics in mind and has a mount on the underside to hold an external battery pack. It's a useful feature for those who are into touring or like an audax because you're unlikely to get the full 20 hours battery life from the computer.
Garmin Edge 1030: An improved touchscreen
It's not exactly cutting edge technology but we're pleased to see that the touchscreen is significantly improved following the Edge 820.
There's a lot less lag than on the Edge 820 and the screen rarely takes more than one press to register what you want it to do. Whereas the screen on the Edge 820 would register rain drops as finger presses, the 1030 is far more stable, and no longer whizzes through data screens or bins your data file in light drizzle.
One of the things many people said about the Edge 820 (including us) is that they want the screen to operate like their mobile phone does. While we are spoilt with our phone screens, we've been told that it's simply not possible on Garmin products. Apparently, the detrimental effect a powerful screen has on a device's battery life would render it all but useless.
We'd always still argue that physical buttons would be better than a touchscreen, as least Garmin has improved its substantially.
Garmin Edge 1030: It's easier to setup
The dashboard is also new, with some updated colours and a nice white background. There's a pleasing level of clarity to the 1030's screen thanks to a coupling of the new layout and the large screen. The re-worked internals have made setting up the device a bit easier than with models passed, and navigating the bewildering amount of data fields is easier than before.
So as the picture below shows, nearly everything is customised within activity profiles - in this case its named "road" - including data screens, auto features and much more. It makes your profiles completely unique, and with this being Garmin's flagship model you get all the data you could possibly want, so you can get it really dialled in. Whether that's for your winter bike, TT bike, racing machine or the one permanently stuck on the turbo trainer.
Getting the setup correct is particularly important considering the 1030 is capable of running all sorts of tests (including FTP), stress scores and when partnered with connectable devices it can give you a staggeringly detailed breakdown of your data.
Part of the improved setup process is a system where a data screen lets you tick multiple data fields which then appear when you choose that activity profile. Re-ordering the data field layout is done through tapping and double tapping (it's a good job the touchscreen has improved), and its a feature that makes it much easier to setup.
Despite this, it's not as intuitive as setting up the Wahoo Elemnt or Elemnt Bolt, which is all done on your mobile phone and transferred across instantaneously. We'd recommend giving yourself an hour and then a short ride, as only this way can you work out what you really need.
It'd be nice to see Garmin have a system where you can auto-download the features and setup from your other Garmin devices, like when you restore an iPhone from iTunes.
Also new on the 1030 is the pull down menu from the top, which has an updated layout and access to some additional screens, including notifications, controls, weather and Strava segment explore – a cool new feature if you're a KoM obsessive.
Garmin Edge 1030: New navigation features
A larger map is no doubt one of the benefits of the bigger screen on the 1030, and it adds a level of clarity to maps and navigation that has made it very difficult to go back to the Garmin Edge 820.
One new feature Garmin has introduced is Trendline, which benefits those that like their Garmin to organise their rides for them, rather than plot them in Strava. Basically, it crowd sources the best cycling roads in your location from Garmin Connect and plots the route accordingly.
However, in reality we found that Trendline was keen to send us into London and used roads we knew to be busy more often than we'd have liked. Right now it doesn't feel quite as finessed as it could but we expect its the type of technology that will improve with time.
Happily, the device is fast at picking up the GPS signal, faster than the Edge 820 at least, and so far it has been accurate and without sudden drops or losses.
On a more frustrating note, Garmin still hasn't introduced a pinch and zoom like you would use on Google Maps. It's this and the clunky QWERTY keyboard that still makes me more likely to reach for my phone should I get lost than the inbuilt navigation on my Garmin.
Garmin 1030: Buggy software (for now)
We've had consistent problems trying to get the device to connect to our mobiles via Bluetooth even when manually forgetting it in our Bluetooth preferences and trying to re-pair. This was a process tried at least five times with no luck, before it randomly worked again. It's typical teething problems that we're hoping future updates will iron out.
On a happier note, ANT+ connections were spot on and I had no problem syncing my SRAM eTap or heart rate monitor to the new device.
Thank you for reading 10 articles this month* Join now for unlimited access
Enjoy your first month for just £1 / $1 / €1
*Read 5 free articles per month without a subscription
Join now for unlimited access
Try first month for just £1 / $1 / €1