SRAM Rival eTap AXS significantly drops the price of wireless electronic shifting and power meter use
Hydraulic disc brake groupset brings electronic transmission to a lower price point with "massive" uptake from OEM manufactures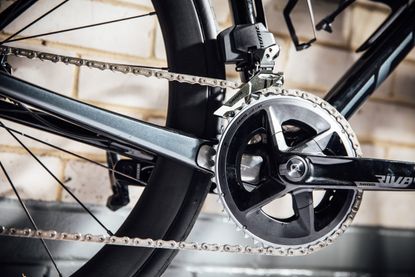 SRAM has brought wireless shifting to its Rival tier groupset, significantly dropping the cost of electronic shifting - with the option of adding crank-based power from £230.
The American brand introduced its wireless, electronic shifting to the market via Red eTap AXS (pronounced, as I still keep keep forgetting, "access") in February 2019, closely followed by SRAM Force in April of the same year. The new offering from SRAM sees the price of electronic shifting reduced dramatically with a full groupset from £1,102 for a 1x set up or £1,314 for 2x.
SRAM is expecting to see most of its SRAM Rival eTap AXS sales to come via OEM (original equipment manufacturer) builds - a representative told Cycling Weekly that the uptake had been "massive" already, with carbon bikes coming built with hydraulic discs and wireless shifting at "around £2,700." We've got a list of the bikes already available with SRAM Rival eTap AXS here. Up until now, wireless shifting has been reserved for those using SRAM Force, Shimano Ultegra or Campagnolo Chrous and above.
"Bikes are being ridden harder than they've ever been ridden before, and they are more capable of riding on mixed terrain. We're seeing very capable bikes, with super good frames, being let down by mechanical shifting," SRAM's Danie Lategan told us. "The innovations of Red eTap and SRAM Force eTap AXS really enlivened the top end of the market for SRAM, but they are still out of reach of many of the riders who would actually benefit the most out of it."
He added: "Riders starting cycling want power meters these days," putting this in part down to the fact that many new riders have got into the sport using indoor platforms, like Zwift. "They've got used to looking at power data when riding a bike," he said.
SRAM continues to offer the 'X-Range' gearing it introduced with AXS - offering 48/35 and 46/33 tooth chainsets with 12-speed cassettes at the rear - creating a greater range of gear options and reducing the need to 'trim' gears when moving between chainrings. It's also offering a 43/30T 'wide' crankset with boost spacing, mainly seen on mountain bikes until recently, which makes space for wider tyre clearance and 1x set ups of 38-46T chainsets.
A price hike of £322 (whole crankset) or £230 (crank arm only) gains entry into power training with the SRAM Rival Power Meter. This uses Quarq's crank based power meter, and offers single sided power readings.
A full groupset includes the shift-brake system, rotors, crankset, bottom bracket, chain, cassette, derailleur(s), batteries and charger, and will cost:
2x with power meter: $1,639 US / £1516 / € 1688
2x no power meter: $1,420 US / £1314 / € 1463
1x with power meter: $1,409 US /£1304 / € 1453
1x no power meter: $1,190 US / £1102 / € 1228
The weight will vary depending upon choices made on the spec, but adding together the standard 2x chainset with 48/35 chainrings and compatible cassettes (10/28 and 10/30) we got 2,979g for Force and 3,202g for Rival, coming in at 223g difference.
The move sees the cost of SRAM Rival come in significantly more than the mechanical only Shimano 105 (which we found retailing at around £800, weighing about 2,469g), and previous SRAM Rival (we last tested a 1x version at £979). However, it is a lot less than the current entry into electronic shifting, via the likes of Shimano Ultegra Di2 (retailing at £1,979, weighing 2,679g) and Force eTap AXS which we last tested at £2,274. The new Rival is undeniably heavier than the Shimano alternatives, but its not got a lot of added heft vs Force - and we've all been using that to great effect since its launch.
It'll be interesting to see if this new addition sees a price hike as OEM manufacturers opt for SRAM Rival eTap AXS over mechanical options, a decrease if they use this instead of more expensive electronic options - or, the emergence of a whole new price band.
Here's a look at the components:
Shifters and brake calipers
The brake hoods on the new SRAM Rival look a little different when compared with those on Red and Force. They're smaller, SRAM called this "more refined" and "comfortable", this change has been made possible because these shifters don't have the brake contact point adjustment which is available higher up in the range. This means you can't adjust your brake contact point - but you can still adjust lever reach, which is important for riders with smaller hands.
SRAM has also taken the decision not to offer additional auxiliary buttons or 'blip' buttons, these are often used as sprint shifters or in time trial set-ups and the expectation is that the groupset is more likely to be used in a leisure setting vs in a race.
The functionality is just the same, the shifter is made using aluminium and steel - with no addition of carbon - meaning it's heavier than the top-tier SRAM Red and not far off SRAM Force as a result of the reduction in overall size.
The caliper is "exactly the same" as seen on Red and Force in function, promising the same control and modulation as seen elsewhere. The difference is that the bleeding edge fixture offered on the higher tier options, allowing a syringe to be easily attached, is not included - instead, the bleed screw needs to be removed. Differing materials mean it's heavier, too. The designated rotor is the Paceline Rotor designed for Force, but these are interchangeable so it's possible to upgrade here.
Shifter/brake system price: £185/$200/€205
Shifter/brake system weight: 845g
SRAM Rival AXS eTap cranksets and power meters
The new Rival crankset is all aluminum, so doesn't benefit from the use of carbon as per the higher end versions - so a lot of the weight increase is nestled here. But the functionality and performance isn't too dissimilar, aside from the fact you can't turn a 1x into a 2x and vice versa.
SRAM's Rival eTap AXS chainring sets ups provide the brand's 'X-Range gearing', which provides a wider range of gear choices, allowing riders to reach the same "hard gear" when in the smallest sprocket in the cassette whilst accessing lower gears with a sub 1:1 ratio when using a 10-36 cassette. The wide-ranging cassette and smaller front chainrings mean it's possible to make fewer front mech shifts with the majority of terrain well catered for with the larger chainring.
The standard crankset comes in sizes 48/35T and 46/33T. For those riding wide tyres, the 'Rival 43/30T wide crankset' is designed to be paired with bikes running 700c wheels with tyres up to 45c, or 27.5 wheels with tyres up to 2.1". This comes with a longer DUB crank spindle that accommodates both Road and MTB width frame bottom bracket standards. This requires the use of the wide front mech, and has a marginally wider Q Factor of 150.5mm vs 145.5mm on the standard set up.
If one chainring is enough, there are 1x options with chainrings from 38-46T, this is compatible with 135, 142 and Boost rear spacing. This setup utilises X-SYNC chainrings and X-Sync pulleys in the rear mech, promising efficiency and durability.
If X-Range just isn't your style, SRAM has recently made the 'pro' options - with larger chainrings, available to the public, so it would be possible to swap these on if riders so wished.
Crank lengths are available from 160mm to 175mm across the range, the crank arm is aluminum which is represented in the price reduction and weight increase.
The 2x versions come with an integrated spider and the 1x options come with a single direct mount chainring - so it's not possible to swap between a 1x and 2x set up, as per SRAM Red and Force.
The SRAM Rival crankset uses the brand's DUB bottom bracket system as per its other offerings. This is compatible with most bottom bracket standards (SRAM provides a list so you can check), but not Trek's BB90. However, AXS cranksets are available with GXP spindles which can be used with the BB90 outlier.
In perhaps one of the most exciting developments, customers will be able to either purchase a single-sided SRAM Rival Powermeter crankset, or upgrade their existing crankset via a left hand crank and spindle upgrade. The upgrade kit costs £230.
The power meter is integrated into the spindle and uses similar tech to the well-reviewed Quarq options, seen on SRAM Red and Force groupsets. It is single sided, however. The power meter option weighs only an additional 40g on a standard crankset, with battery life at 400+ hours, feeding off AAA lithium batteries. Because it's spindle based, riders do need to complete a zero-offset before each ride, but this takes seconds.
All of the same chainring and BB standards apply.
Standard crankset (non-power) price: £120/$130/€135
Standard crankset (non-power) weight: 844g (48/35T and 46/33T), 822g (Rival 43/30T wide crankset), 703g (Rival 1x Wide crankset)
Power meter crankset price: £322/$349/€360
Left-arm crank and spindle price: £230/$249/€260
SRAM Rival AXS eTap front and rear derailleur
The front mech comes in two guises: one for the standard chainring sizes, and one for those opting for the 'wide' option.
They both use the same batteries as used elsewhere in SRAM Red and SRAM Force eTap AXS. These are easy to remove, can be carried inside to be plugged into a charger, and checking battery life can be done by holding down the shift buttons to reveal a green, red or flashing LED - or checking the accompanying app.
The rear mech comes with a spring clutch, to avoid chain clatter. This is a step down from the Orbit fluid damper on SRAM Red and SRAM Force, but is similar to the tech the brand uses on its mountain bike options and proves effective there.
The rear mech works with cassettes across 10-28, 10-30, 10-33 and 10-36T configurations. The 10-26 option was discontinued in SRAM's latest X-Range update to SRAM Force, with the brand saying that trends were moving away from this closely spaced racing configuration.
In the past, the cost of a rear mech has been a major detractor from upgrading to wireless shifting, but SRAM has pretty much done away with that worry here - the Rival rear mech coming in at £236.
Front mech price (battery not included) price: £162/$175/€180.00
Front mech weight: 180-182g
Rear mech (battery not included) price: £236/$255/€265
Rear mech weight: 366g
SRAM Rival AXS eTap cassette and chain
The cassette is made entirely from steel, meaning there is a weight increase on the steel/aluminum constructions in higher tiers. There is compatibility though so it would be possible to upgrade to a higher end, lighter option - and frankly, that's probably what we'd advise, cassettes are consumables and you'll always need a new block one day.
The cassettes are 12-speed, and come in sizes 10-28 through to 10-33. To run this, you will need a rear hub with an XDR driver body, it is possible to fit this to a previously 11-speed road rear hub.
Constructed from Nickel, the SRAM Rival AXS eTap chain still uses the flat top tech seen elsewhere in SRAM's groupsets, as well as looking cool this promises quiet transmission - it just doesn't have the same hard chrome finish on both the outer and inner as the more expensive options. SRAM Force and Red chains are cross-compatible.
Cassette price: £112/$125/€125
Cassette weight: 282g-338g
Chain price: £28/$30/€31
Chain weight: 266g
We say...
Brexit paperwork meant that my time on SRAM's new Rival eTap AXS groupset wasn't as extensive as I would have liked - the bike arrived with me a few days before launch. However, thankfully those days included a weekend with the opportunity for some 100km+ rides.
In terms of performance, Rival eTap AXS impressed me no end. The launch of this groupset is perhaps the most promising and exciting development I've seen in bike tech in about a year. It's reassuring to see some really excellent kit coming to the more accessible end of the market and, for me, its arrival marks a real line in the sand for competitors to meet.
The overall performance was aided, I'm sure, by the fact that the groupset was fitted to one of my favourite bikes (Scott Addict) with some very lovely Zip 303S wheels, but the shifting was precise and not discernably different when compared with SRAM Force or Red. On rough roads, there was no audible chain clatter.
I swapped on to the 46/33 chainring set up with 10-36 cassette with some trepidation. Most of my AXS time has been spent on the 48/35T iteration, and I was moving directly from a 52/36 and 11-28. That's a pretty significant jump into the quick-spinners club. However, living in a valley where almost every route out involves a 20 per cent climb I very quickly warmed to the set-up. Better still even on the (Covid guideline following) club run, with a group of six riders and a roaring tailwind on the outbound leg I really didn't run out of small cogs. The ride average speed was 30kph, max was 54kph, max cadence was 144rpm whilst the average was 85rpm; the previous weekend on a 52/86 my average cadence was also 85 with a max of 126rpm. A race to the top of a climb gave me the opportunity to test the sprint prowess, and whilst a flat sprint would clearly have needed a bigger chainring, I had all I needed in this configuration to do battle uphill.
At last review, a SRAM Force eTap AXS groupset came in at £2,274 - without a power meter. The new groupset massively slashes the price of entry into electronic shifting, at £1,314 with a weight penalty of barely over 200g. The option to add a power meter for £230 begins to bring into question my current reliance on power meter pedals: you could buy several one sided Rival specced Quarq power meters for the same price as most pairs of power meter pedals.
The built weight of the bike did come in at 8.2kg - that's not light, and remember it would be just under 8kg with a SRAM Force variant. But as an overall percentage of the bike's weight? It's not massive and the value saving is clear.
The availability of lower-priced components makes electric gears a more sensible choice for any tier of user, too. Up until now, the hefty investment of a new rear mech has put me off the draw of "lekky shifting". Now, with a rear mech down to £236 the price of loading your car poorly or, worse, having a competitor ride into your back wheel during a race is less of a bank breaker.
As SRAM notes, we're most likely to see sales of this groupset via OEM builds. I am extremely intrigued to see how the major retailers respond. It is possible that they may choose this as an option instead of speccing Shimano 105 - this would be unfortunate as it would likely elevate the price of bikes, which have already increased as a result of Brexit and the Covid induced supply/demand balance. However, it is also possible that they may opt for Rival eTap AXS as an entirely new tier, offering riders many of the benefits of higher end SRAM Force eTap AXS or Shimano Ultegra Di2 builds, for less. Which can only be a good thing.
Thank you for reading 10 articles this month* Join now for unlimited access
Enjoy your first month for just £1 / $1 / €1
*Read 5 free articles per month without a subscription
Join now for unlimited access
Try first month for just £1 / $1 / €1
Michelle Arthurs-Brennan is a traditional journalist by trade, having begun her career working for a local newspaper, where highlights included interviewing a very irate Freddie Star (and an even more irate theatre owner), as well as 'the one about the stolen chickens'.
Previous to joining the Cycling Weekly team, Michelle was Editor at Total Women's Cycling. She joined CW as an 'SEO Analyst', but couldn't keep her nose out of journalism and in the spreadsheets, eventually taking on the role of Tech Editor before her latest appointment as Digital Editor.
Michelle is a road racer who also enjoys track riding and the occasional time trial, though dabbles in off-road riding too (either on a mountain bike, or a 'gravel bike'). She is passionate about supporting grassroots women's racing and founded the women's road race team 1904rt.
Michelle is on maternity leave from July 8 2022, until April 2023.