SRAM Force eTap AXS launched just two months after new Red
SRAM Force eTap AXS is 12 speed and app-customisable like the US brand's flagship groupset Red, but it's over £1,000 cheaper and under 300g heavier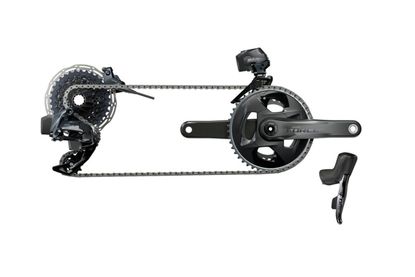 SRAM has unveiled Force eTap AXS - hot on the heels of its new 12-speed Red eTap AXS groupset, launched in February.
>>> Buy now: SRAM Force AXS 12 speed HRD at Chain Reaction Cycles for £1650
According to SRAM the new groupset, available in rim and disc-brake formats, offers the key features of Red eTap AXS – modern gearing, advanced chain management and easy personalisation – in a more affordable package.
This marks a significant step forward for SRAM: previously eTap wireless shifting technology had only been available with the flagship Red groupset since the launch of the original version four years ago.
SRAM Force AXS: all you need to know
The second tier groupset is not only wireless but also 12 speed, using SRAM's X-Range gearing that pairs smaller chainrings with a cassette that starts with a 10-tooth sprocket.
New Force also gets the Flattop chain that reinforces it as well as helps it run more smoothly, and is available in 1x and 2x with one derailleur serving both thanks to SRAM's Orbit fluid damping technology that works like a clutch.
The Force cassette, which has sprocket clusters pinned rather than machined from a single piece of steel like Red's, is available in three sizes with the same ratios as Red – 10-26, 10-28 and 10-33 – and is also compatible with SRAM's XDR driver body.
As the name indicates, the new groupset is also AXS enabled – SRAM's new component integration system which allows the user to see battery status, change component behaviour, personalise controls, get maintenance reminders, and update firmware via the AXS app.
Although they clearly directly benefit from the trickle-down of Red eTap AXS's technology, the new Force components have a different aesthetic: the distinctive spoked look of the new Red chainset with its direct-mount chainrings remains with that groupset: Force gets a more standard four-bolt black chainset that comes in 48/35 or 46/33 ratios – fewer than Red, which includes a 50/37 as well as the other two. The 1x version has chainrings ranging in size from 36-46t plus a 48t aero 1x chainring.
Upgrades to SRAM's DZero power meter are also possible via Force's DZero power meter spider, which is Bluetooth and ANT+ compatible. The same power meter spider can also be used to upgrade a Red 1x chainset, but not the Red 2x unit. SRAM had not supplied a price for the power meter upgrade at the time of going to press, but we'll update this with one when we get it.
The front and rear derailleurs have the same dark grey finish, as do the brake levers, and the disc brakes and rim brakes receive a minor makeover to match the look of the new groupset.
SRAM Force AXS prices and weights
Force is significantly cheaper than Red: the 2x hydraulic disc brake version of the flagship groupset has a UK SRP of £3,349 compared to Force's £2,274. Even better news is that it's not significantly heavier: the same Red groupset has a weight of 2,518g compared to Force's 2,812g. And the gap in price between disc and rim-brake groupsets appears finally to be closing, though with a rim-brake set-up you'll still end up with a lighter bike.
As it did with the launch of Red eTap AXS, SRAM is making the new Force groupset available at retail and online at the time of the launch, April 3 2019.
Prices
Force 2x hydraulic disc brake £2, 274
Force 2x rim brake £2,164
Force 1x hydraulic disc brake £1,924
Force 1x rim brake £1,814
Weights (for power meter variations add 100g for 2x and 36g for 1x)
Force 2x hydraulic disc brake 2,812g
Force 2x rim brake 2,453g
Force 1x hydraulic disc brake 2,572g
Force 1x rim brake 2,213g
Thank you for reading 20 articles this month* Join now for unlimited access
Enjoy your first month for just £1 / $1 / €1
*Read 5 free articles per month without a subscription
Join now for unlimited access
Try first month for just £1 / $1 / €1