Wilier Filante SLR Ultegra review - have I found my perfect bike?
The Italian lightweight road bike continues to have immense appeal three years on from its launch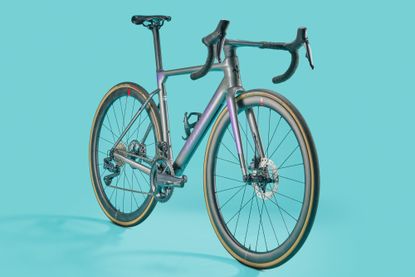 (Image credit: Future)
The beautiful Wilier Filante SLR Ultegra is an absolute dream machine. The brand has managed to redefine what an aero bike means, creating a rapid bike which outwits most bikes in all the other categories too. It has form and function, is lightweight and strong, but you'll just have to accept that you'll have to cough up in order to own one.
Reasons to buy
+

Incredibly agile, strong, lightweight and comfortable ride

+

Great wheelset and tire combination

+

Specification leaves nothing wanting

+

Vast fit options

+

Easy-fit spacers to make it easier to change stack height
Reasons to avoid
-

There's no getting away from the price tag for this complete wishlist of a bike
It's been three years since we last last rode the Wilier Filante SLR, and, as the age old adage goes, 'if it ain't broke, don't fix it', meaning little has come to pass in our time apart.
We have of course seen the Wilier, along with many more of the best road bikes and best aero bikes, in the 2023 pro peloton, with this particular bike breaking cover when Mark Cavendish was photographed showing it off in January.
The cycling community has, understandably, been drooling over the Filante SLR, with those Astana Qazaqstan team bikes outright contenders for the prettiest bikes in the 2023 pro-pack.
But does function follow form?
Wilier Filante SLR: construction
As already mentioned, there's nothing specifically 'new' other than paint jobs the 2023. Our review of the 2021 Wilier Filante SLR saw us wax lyrical about its seeming ability to defy physics with its lightweight aerodynamic categorisation.
When the Filante SLR was first launched, back in the Autumn of 2020, it was a replacement for the brand's exisiting, but dated aero bike, the Cento10, which at the time also scored top points for being the shiniest bike in the peloton when it came to Sylvain Chavanel's gorgeous Wilier Cento10PRO back in 2018.
Unfortunately the brand didn't quite hit the mark when trying to bring this kind of aero to the masses. We found Wilier's attempt of a more affordable version, the Wilier Cento10 SL, an underwhelming ride.
Thankfully the Wilier Filante SLR, was the hit the brand needed. It coincided with the launch of the Wilier Zero SLR, the UCI 6.8kg weight limit skimming lightweight steed, which is still one of, if not the, lightest race bike with disc brakes.
This lightweight knowhow had a clear influence on the development of the Filante SLR, with Wilier weaving significant lightweight characteristics into the aero bike.
This is in large parts due to the use of what Wilier say is its combination of Liquid-Crystal Polymer (LCP), the glue bit, and unique (HUS-MOD composite) fiber positioning construction technology.
Without trying to write text book science, the LCP material retains molecular order in both liquid and solid states, allowing you to change the performance of the material. In terms of a bike frame application it's the ability to allow directional strength to be added to the frame as the LCP doesn't change structure when injection molded or extruded.
This in turn has allowed the brand to be creative with its composite layering positioning without adding lots of reinforcing, which, according to the brand, has allowed it to reach a very low weight, without compromising on the stiffness.
Strong and light is the ultimate goal for any bike brand, and all will have a slightly different approach to achieving this. Stripped down Wilier says that the frame weighs in at 870 grams and the fork 360 grams. Add in the integrated handlebars at 365 grams and seatpost, 165 grams, and that a grand total of 1,760 grams (claimed). Fully built, I weighed it in at 7.38kg / 16.2lbs (for a size small). Comparing this to the recently redesigned Liv EnviLiv of an equivalent size and specification and it's over half a kilo lighter, 602 grams / 21 ounces to be precise.
While it was the range-topping version we last saw, this time around we're hopping on board the mid-range version. This keeps the same frameset, touch points and wheelset as the top end model, but comes dressed in the latest Shimano Ultegra Di2 R8100, the semi-wired 12-speed groupset (which accounts for the slight weight increase too of around 230 grams / 8 ounces).
Wilier Filante SLR: Geometry
In keeping an eye on the history of the Wilier range of bikes, it makes it more obvious as to the origins of the Filante SLR.
As we stated in the review of the range-topping version 'the Filante is an evolution rather than a revolution'. You can still see the Cento10 aero influence in the kammtail tubing shapes. It's similar to that utilised on the likes of the Specialized Tarmac SL7, Scott Foil, BMC Timemachine 01 Road... the list goes on.
What is still a stand out design however is the wide fork, 13.6mm wider than the Wilier Cento10Pro at the crown to be precise. The brand say this allows the channelling of air more effectively, with the front and rear aligning perfectly, a concept that is being carried out in the constantly evolving Lotus X Hope HB.T Team GB's track bike, as well as space for wide tire clearance. The 28mm tires on board leave significant space, and while Wilier propose up to a maximum width of up to 30mm, there would still be significant space either side, but then you do start messing with the aerodynamic concept if you continue to fill the space I guess. It's also worth noting that there is still a regular and standard 100mm at the front (and 140mm at the rear) if you're worried about drop-out spacing.
The other area of note at the front end is that forks are asymmetric. The left has been built up to withstand the disc braking forces, a similar theory to the Pinnarello Dogma.
In terms of geometry, looking across to the aero bike peers above, the Specialized Tarmac SL7 comes in closest when comparing numbers. The Wilier Filante SLR comes in with just 1mm longer reach at 384mm, and 4mm higher stack at 521mm, and only a 1mm shorter top tube at 530mm (all for a size small). However, that's not to say they are cut from the same mould.
There's still a vast difference between the two framesets, with a longer wheelbase, 975mm on the Filante SLR compared to 934mm on the Tarmac SL7. The Wilier also comes with a 0.5° slacker head angle compared to the Specialized, 72 versus 72.5, and a 0.5° steeper seat angle, 74.5 versus 74.
There's also 6mm more head tube on the Filante SLR when lined up next to the Specialized Tarmac SL7 - 113mm versus 119mm.
In theory this should make for a slightly upright, and stable bike, that allows the rider to get well tucked in, in fact it seems incredibly apt for Mark Cavendish and his style of riding.
It's probably worth flagging here that the geometry can be further dialled by using what Wilier call it's Accufit system. It's a process that thanks to a combination of six frame sizes - XS to XXL, five stem lengths, 88mm to 140mm and up to ten spacers (0 to 35mm of stack) along with the three different stem options means there are potentially up to 240 fit combinations (without any overlap).
As the brand points out this doubles with the two seat post options of either 15mm or 0mm set back. So it's probably well worth getting the detailed bike fit in advance.
Wilier Filante SLR: Finishing kit
However, don't let the talk of stem lengths confuse you, the Wilier Filante SLR does run with a monocoque handlebar, with the Accufit system allows you to vary stem length and degree angles of the monocoque cockpit. The brand say it's constructed using the same carbon as the Wilier 0 SLR, which also helps keep the other weight of the bike down.
As you'd expect of an aero bike, all cabling is internal, but thankfully Wilier has clearly heard the mechanics cursing when working with regular integrated cabling and have made it a lot easier. Easy-fit spacers come in two parts, making it a lot easier to assemble or dissemble without dealing with the Shimano Ultegra Di2 cabling lines.
Down below, the bike runs on Wilier Triestina SLR 42KC carbon wheels, which are are shod in Vittoria Corsa Graphene 2.0 28c tires and equipped with the Mavic Speed Release thru-axle system, which is said to reduce the time taken to replace the wheel as the full axle doesn't require removal to chance the wheel.
Wilier Filante SLR: the ride
The Wilier Filante SLR, along with the Liv EnvLiv, landed with me during a curious testing period.
I'd been riding around on the £300 Brand-X road bike for a few weeks, so to suddenly jump nearly thirtyfold in the price bracket is pretty wild. While I genuinely loved the Brand X, the juxtaposition between the two bikes is immense, as you would hope.
No disrespect to the excellent Brand X, but It's the equivalent of eating a Pot Noodle versus dining in Michelin starred restaurant. Both have their place, but one will always be significantly more refined, exquisitely presented and leave you with a taste of the highlife (not the Pot Noodle, sorry!)
Even riding it back to back with the Liv EnviLiv there was no comparison. The Wilier Filante SLR has redefined the term aero bike for me.
As a test bike, I wasn't privy to accessing the above mentioned Accufit system to tune the fit perfectly, but I have to admit that I didn't want for any adjustment other than saddle height, which is easy to do with the integrated seat clamp than perhaps first expected.
The Filante SLR has managed to blend comfort and speed, strength and lightweight impeccably. Living in the hills with the Peak District as my playground, there's no escaping either a lot of climbing or descending on any given ride, and both are made astronomically easy on the Filante SLR. It just wants to be ridden. You don't even have to try hard and it's immediately whisking you along, with every pedal revolution converted into forward propulsion.
The punchy position and Ultegra Di2 is a winning combination for me. I loved the ability to choose between hoods and drops as the road dictates, finding the soft rounded, almost malleable, feeling of the hoods sublime and the shape of the drops an optimal fit for my small hands.
Sensible gear ratios of the 12 speed 50/34 chain rings and 11-30 cassette meant there were no shifting gaps, making climbing on the Filante SLR super fluid. I was never short of a sprocket even on the steeper climbs, the low weight of the bike obviously assists with this, as does the overall stiffness of the frameset. How Wilier has done this without creating a bone rattling machine is some kind of carbon and geometry sorcery.
Descending on the Wilier Filante SLR is glorious, even with the Euro brake set up that my test bike came with. There was never a sense of being out of my depth. Of course a lot of this comes down to the wheels and tire combination, which are clearly a well considered pairing. Nimble and agile, yet surefooted and predictable.
Having been blown around like plastic bag on the EnviLiv's 50mm Giant SLR 1 50 Carbon Disc wheels on the same exposed roads, it's remarkable how much more stability is provided by the only slightly shallower Wilier Triestina SLR 42KC carbon wheels in gusty wind.
Wilier Filante SLR: Value and conclusion
I adore the Wilier Filante SLR. It's like someone asked me my dream bike wish list and delivered it all.
I'm still wondering exactly how to define the bike, as it's so capable that you can easily come at it from either a lightweight climber or aerodynamic search and find it not wanting in either domains. And then there's the fact that it's just oh so, so pretty.
I even like the fact that there's no inbuilt power meter, it doesn't commit me to a platform on purchase, and to be honest, it takes away being guilted in to riding with numbers. Yes, it does mean in order to partake in power measuring it will require an additional purchase on what is already a whopping price tag, but you can always just ride without one. You might even like it.
At $11,600 / £9,710 (€9,400) this will ultimately stay a dream bike for me, and unfortunately there's not a ready built Wilier Filante SLR option at a lower spec to help bring the price down a little. My only option would be to buy the frameset for €5000 and build it up with a lower-tiered groupset and wheels, but that's a risky business when an unknown end result could turn the dream into a nightmare.
On the flip side, if you do have ten big ones burning a hole in your pocket, then you will not be disappointed. There is even the option of up-speccing to either Shimano DuraAce, SRAM Red or Campagnolo Super Record EPS for few more thousand, but that would be crazy - you really don't need to when the Wilier Filante SLR Ultegra is already this good.
Swipe to scroll horizontally
Wilier Filante SLR Ultegra

| | |
| --- | --- |
| Frame | Filante 0 SLR Carbon Monocoque HUS Mod + Crystal Liquid Polymer |
| Fork | Filante 0 SLR Carbon Monocoque HUS Mod + Crystal Liquid Polymer |
| Groupset | Shimano Ultegra 12s 50/34 11-30 |
| Wheelset | Wilier Triestina SLR 42KC Carbon Thur Axle Mavic Speed release without leaver |
| Tyres | Vittoria Corsa Graphene 700x28 |
| Cockpit | Filante Bar Intergrated Carbon |
| Seatpost | Filante custom made - 15mm/0mm |
| Saddle | Selle Italia Flite Boost |
| Weight | 7.38kg / 16.2lbs |
Thank you for reading 10 articles this month* Join now for unlimited access
Enjoy your first month for just £1 / $1 / €1
*Read 5 free articles per month without a subscription
Join now for unlimited access
Try first month for just £1 / $1 / €1
Hannah is Cycling Weekly's longest-serving tech writer, having started with the magazine back in 2011. She has covered all things technical for both print and digital over multiple seasons representing CW at spring Classics, and Grand Tours and all races in between.
Hannah was a successful road and track racer herself, competing in UCI races all over Europe as well as in China, Pakistan and New Zealand.
For fun, she's ridden LEJOG unaided, a lap of Majorca in a day, won a 24-hour mountain bike race and tackled famous mountain passes in the French Alps, Pyrenees, Dolomites and Himalayas.
She lives just outside the Peak District National Park near Manchester UK with her partner, daughter and a small but beautifully formed bike collection.