Brand X Road Bike review - it left me wondering how can a bike this cheap be so good?
A bike that is aimed at road riding beginners - and which shows just how far trickle down tech has come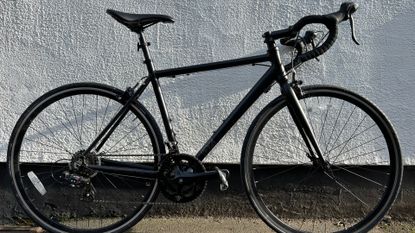 (Image credit: Hannah Bussey)
The Brand X Road Bike is an absolute gem of a bike and kicks any bike even near the price bracket out the park. It's proof that with a well thought out construction and build kit, you can get a brilliant entry level bike, that will leave you hungry for more riding and help you fall in love with the sport. Chapeau Brand X - top marks.
Reasons to buy
+

Impressive price point

+

Performance and comfort of ride

+

Shimano Tourney drivetrain is excellent at shifting under load

+

Surefooted, especially when braking

+

External caballing making DIY maintenance a breeze
Reasons to avoid
-

Jumps between gears quite large and the top-end is quite low

-

Heavy compared to more expensive models
You can trust Cycling Weekly. Our team of experts put in hard miles testing cycling tech and will always share honest, unbiased advice to help you choose. Find out more about how we test.
Get The Leadout Newsletter
The latest race content, interviews, features, reviews and expert buying guides, direct to your inbox!
Thank you for signing up to The Pick. You will receive a verification email shortly.
There was a problem. Please refresh the page and try again.
I'm not sure when it happened, but it has. I have officially become my parents. My Dad to be precise. I appear to have, unknowingly, crafted an exact impression of his cockney "'OW MUCH???".
The phrase is usually reserved for high prices. But in the case of the Brand X Road Bike it was because of its exceptionally low price tag, especially when compared to the cost of the best road bikes on the market.
As the house brand of Wiggle and Chain Reaction, Brand X has been building a strong reputation in the off-road scene as the producer of one of the best dropper posts on offer, the fact that it's also one of the cheapest is considered as a nice bonus.
Brand X Road Bike: frameset
Clearly as a brand capable of producing excellent bike gear on a budget, I'm expecting big things from the 6061 alloy frame, which has been teamed with a steel fork.
At first glances, there's no denying the uncanny similarities between the Brand X Road Bike and Decathlon's Triban 100 road bike, not to be confused with the Triban 120 gravel model, both of which are the same price.
While both rim brake velos do share some design aspects - both have alloy frames and steel forks at their heart - the geometry between the two does signify a difference.
Comparing the two size mediums side by side and the Brand X Road Bike has a shorter effective top tube - 545mm compared to 484mm of the Triban 100.
The main differences, which are still marginal, are however in the riding position, with the Brand X Road Bike constructed with a slightly shorter chainstay (410mm compared 425mm), shorter head tube (155mm compared to 165mm) with an ever so slightly steeper head and seat tube at 73 and 74 degrees accordingly (0.5degrees steeper).
What this means in real life terms is a bike that has a slightly racier geometry, which sits in-between the Triban and the Specialized Allez.
I use the 'racier' terminology very lightly here, as it's clearly not the focus of this entry level bike.
The low bottom bracket drop of the Brand X at 67mm, when compared to a typical race bike of around 74mm, is note worthy. As is a tall head tube of 155mm, which if comparing against the purely race focused Specialized Tarmac Disc (in a size 54) is 143mm.
Mounts for either fenders / mudguards or pannier racks are in situ ready for this bike to become your regular daily steed.
Brand X Road Bike: specification
One of the big stand out features for me is that the Brand X Road Bike comes dressed in Shimano Tourney 2x7 speed (14-28T), with Prowheel 34/50 chainrings and 170 cranks.
Ok, so these gear ratios are far off the current top end road bikes, which are equipped with up to 2x12 speed set ups, but it's still a impressive to see a highly respected brand used on a bike this cheap.
This also means that you'll have a block rather than cassette, which means a freewheel rather than a more conventional freehub.
This compromise does have limitations, specifically if you are looking to upgrade at a later date. You'll have to swap the bottom bracket out to accommodate a greater spread of gears at the back. It currently uses a square taper bottom bracket, and in order to be compatible with anything other than a seven speed block, you'll need to install a more modern two-piece Hollowtech, or similar, crankset.
You'll also either need to rebuild the existing wheels with a freehub, or purchase a new pair (the latter will probably be more cost effective in the long term).
But bear in mind that even with these trade-offs, it's a very decent drivetrain specification. At this price point the next best bike, the Decathlon Triban 100, comes with just a single chain ring and 7-speed Shimano A050 thumb shifter that's screwed on top of the handlebar.
The other big departures from higher end bikes are the external cables and the choice of rim over the almost exclusive use of disc brakes these days.
To control stopping Brand X has selected the Tektro 312 dual pivot brakes and levers, which also act as gear shifters - again another impressive detail when comparing bikes at the price point.
Wheel wise, it's not surprising to see an unbranded pair on the Brand X Road Bike. It's an area that many bike brands choose to compromise on to help hit specific price points .
Dressing the unnamed wheelset in Kenda tires is a pleasant surprise, although watch out for the claimed 25c versus the real tire measurements. My own digital calipers measured these at just over 23mm with around 80psi in the tubes.
There's plenty of after market tire options that should bring the width more in line with the suggested 25c, and I even wondered at the idea of going larger still. However, having checked back with Brand X to see if there was scope to increase tire size, I can report the strong discouragement by the brand of going any wider.
Other finishing kit on the bike are alloy bars, stem and seat post. This does help keep the weight down to 11.4kg, or around 25lbs, according to my scales for a size medium, which really isn't too shabby in the grand scheme of things.
The only other items of note are the touch points of the Velo unisex saddle, cork bar tape and the factory brand of plastic pedals. These are all perfectly fine to get you rolling out the box, but are relatively easy swaps, which can all make a huge improvement to your riding experience .
Brand X Road Bike: the ride
For anyone who's not been following my cycling antics of late - I live part way up a steep hill in a valley on the outskirts of Greater Manchester, on the edge of the Peak District. Hills, unfortunately, can no longer be avoided.
Within the first two minutes of any ride on this bike I was out of the saddle and climbing. Yes, it is often a rude wake up for the body, but it was also a great test for the strength of the bike.
I weigh around about 60kg /130lbs at the moment, and even with my not so spritely form these days, the bike was more than happy to respond to my efforts.
The 34/50t chainrings and 14-28t cassette does mean experiencing a few 'gaps' in the changing of gears. This usually presents itself in the form of suffering from 'too big' or 'too small' gear selections. However, with just seven to choose from, it was also a case of getting used to the reduction in actual gear numbers, especially at the top end.
With all this out the saddle climbing I was ready to experience rear end flex, but so far so good. While it's clearly not an aero race bike, it was a more than satisfactory agile ride, especially when climbing, with even the bike's weight not overly noticeable.
With minimal gears to choose from, riding the Brand X Road Bike requires quite a physically dynamic performance from the rider. It was pleasing to feel that all my efforts were converting into forward propulsion, although a few more gears to shift up into would have been appreciated.
However, the seven gears in the block and two chainrings that were in situ on the bike did work effortlessly. As there are some big gaps in the gearing ratios, you can find yourself suddenly requiring an unexpected, and at times quite brutal, quick shift, and not once did the drivetrain protest at this manhandling.
This would normally be a big no-no with mechanical groupsets, but the Shimano Tourney was more than happy to be banged into the right gear without me having to ease off the pedals.
The big jumps in gear size creates a seemingly constant position change from in to out of the saddle as the undulation of the terrain changes. I found myself leaning on a gear a while longer than a bike with a bigger cassette, knowing that if I shifted too soon, I'd loose my rhythm.
As Tyrone Davis once famously sung 'What goes up must come down' and it's the descending sections of riding the Brand x Road Bike where I had most trepidation.
Riding on the road in the rain has never been my most favorite of pastimes. Add to the mix, lengthy steep downhills, a set of cable pull Tektro rim brakes and my heart rate will continue to rise well after the change of hill direction.
This also wasn't helped by the tires.
I'm so used to fat tires now, that I even consider 25mm skinny, so my rainy road ride anxiety was made worse by the pre-ride tire measuring them at just 23mm.
With this knowledge going off like a Belisha beacon in my head, my first outing on the Brand X Road Bike saw me enter a near state of panic on the crest of the first big descent on the bike. It would have had me reaching for a paper bag to breath into, had it not have been raining quite so much.
Leaning on the pedals to get the wheels rolling and hands firmly on the hoods, the bike happily began picking up speed.
As I began to start speed modulation, slowing down the bike's pace for corners and junctions, I realised just how in control I was of the bike.
It was like an internal muscle memory had flicked in to action, remembering it wasn't that long ago that this style of bike was what I raced on, albeit with a pair of higher spec'd brakes, but cable pull rim ones, in the rain.
Looking back, I think I was probably still on 23c tires too.
Quickly my fear of sudden death by a combination of rim brakes and skinny tires on the Brand X Road Bike seemed merely a case of unnecessary catastrophizing.
Had I whipped up this fear from my own imagination, subconsciously fed by progressive cycling industry marketing that preaches disc brakes and wide tires for all?
I was even able to repeat these soggy test conditions time and time again - Manchester's not called the Rainy City for nothing - and each time I gained more confidence with the bike and its abilities.
My death grip on the bars relaxed, but I did find I still required some strong hand and forearm action when pulling on the anchors, especially if trying to slow down or stop from the hoods. Swapping my hand position to the drops gave me much better control and a smile on my face.
Brand X Road Bike: value and conclusion
To sum up this bike in one word and I have to go with 'outstanding'. I just can't wrap my head around how good the Brand X Road Bike is for the price.
I even started down the route of reading Wiggle / Chain Reaction's ethical trading policies, including it's most recent Modern Slavery Report to reassure myself that such a great bike isn't at the sacrifice of free labour.
I've concluded that the bike isn't 'cheap', it's just retro. I was often whisked back to memories of being on my bikes decades ago when a similar performing bike would have been considered pretty decent. I even started riding with my old trusty frame pump for full effect.
I love the fact that the Brand X Road Bike is transparently honest about what it is. There's no dressing up in shiny red lacquered wide tubing here pretending it's aero.
External cabling may require a little more maintenance being open to the elements, but my goodness it's a lot easier to re-cable it, either yourself or saving labor hours at the bike shop.
It's a window on the world of 'old', reminding me how physical bike riding was back then. There was a lightbulb moment when I realise that this is why riders are faster these days. They aren't necessarily fitter, they just have more time to rest on the bike.
When you have more gears to select from and better stopping power, you aren't required to constantly be leaning on the edge of uncomfortable for optimal performance.
That doesn't mean that the bike is an unenjoyable ride, far from it, it's excellent; surefooted, agile and all without rattling your teeth out. It's a demonstration that reverting back to seven speed doesn't make the bike slow, it just requires the rider to do more to make it go fast. Although I definitely would swap the tires to give me the edge when doing so.
Swipe to scroll horizontally
Brand X Road Bike

| | |
| --- | --- |
| Frame | 6061 Alloy (with mud guard/ fender and rack mounts) |
| Fork | Steel |
| Drivetrain | Shimano Tourney 2x7 Speed |
| Brake | Tektro 312 rim brakes |
| Crankset | Prowheel 50-34T 170 cranks |
| Cassette (Freewheel) | Shimano 14-28T 7 speed block |
| Wheels | 700c freewheel |
| Tyres | Kenda 25c |
| Bars | Alloy, cork grip, |
| Stem | Alloy 48cm - 90mm, 51/54cm - 100mm, 57-60cm - 100mm |
| Seat post | Alloy 27.2mm |
| Saddle | Velo |
| Weight | 11.5kg (size medium) |
Thank you for reading 20 articles this month* Join now for unlimited access
Enjoy your first month for just £1 / $1 / €1
*Read 5 free articles per month without a subscription
Join now for unlimited access
Try first month for just £1 / $1 / €1