Check out Sylvain Chavanel's gorgeous Wilier Cento10PRO
Sylvain Chavanel's Tour of Britain race bike turned some heads as he raced around the country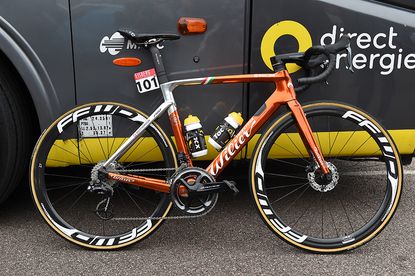 (Image credit: Andy Jones)
Former three-time Tour de France stage winner, Sylvain Chavanel, has a great style on the bike and that style continues with his race bike that he used for the 2018 Tour of Britain.
The Frenchman races for Direct Energie team who is supplied by Wilier and in particular for Sylvain Chavanel, the Cento10PRO, which is the brand's aero offering in the disc brake formula.
The colour scheme of the Wilier Cento10PRO is a lovely copper finish with a chrome rear end. The Italian firm calls this Ramata and means copper plated. The style is said to look back at Wilier's old aluminium frames harking back to the 40s and the Cento10PRO certainly looks a little retro.
Chavanel shows his twitter handle on his bike, first time I've seen that, and he also has a nice detail showing his 18 years riding the Tour de France. The bike of course hosts many of the team sponsors too.
We see Shimano Dura-Ace throughout, of course using Di2 for shifting but surprisingly Chavanel is using disc brakes, something not widely adopted by the pros on the World Tour scene.
Dura-Ace cranks 172.5 and house a power meter whilst at the back, Chavanel is looking to save some watts by using Ceramic Speed jockey wheels. Look Keo Blade carbon pedals are used and the French man seems to favour the Astute Sky 3.0 saddle.
The wheels are provided by FFWD which are shod with Hutchinson Pro Tour Tubs. Finishing off the bike we have a very clean set up at the front with the Wilier Stemma & Barra, interchangeable routing/plate on down tube to just in case he wants to run mechanical.
Thank you for reading 20 articles this month* Join now for unlimited access
Enjoy your first month for just £1 / $1 / €1
*Read 5 free articles per month without a subscription
Join now for unlimited access
Try first month for just £1 / $1 / €1