Liv EnviLiv Advanced Pro AXS review - a change of form also means a change of function
The women's specific aero race bike moves away from its previous platform to be reincarnated as an endurance aero race bike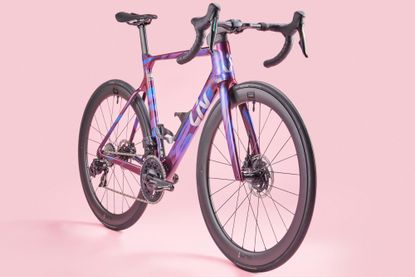 (Image credit: Future)
Having been a long term fan of the Liv EnviLiv I wonder if I was expecting too much from this latest iteration. Along the way in reworking its geometry into a more endurance focused aero bike it seems to have lost its zing. A shallower front wheel would go a long way to helping the handing, but ideally it all needs to be tilted forward to regain the sense of urgency that the EnviLiv once had.
Reasons to buy
+

A fair price point for the specification on board

+

Small size options (down to XXS)

+

Power meter on board (model depending)

+

Significantly improved cable routing on new model
Reasons to avoid
-

Handling at either slow speeds or in wind

-

Slow to pick up speed and quick to loose it on rises and climbs

-

Wheelset overwhelms rest of ride feel
You can trust Cycling Weekly. Our team of experts put in hard miles testing cycling tech and will always share honest, unbiased advice to help you choose. Find out more about how we test.
It's been 10 years since Liv first launched the EnviLiv aero race bike. It was something of a trail blazer at the time, being the first, and only, women-specific aerodynamic bikes.
Fast forward a decade and even the best women's specific road bikes are still debating what it means to be female and ride a bike, and some brands still questioning is women's specific geometry still relevant.
Clearly Liv firmly believe that women's bikes still have just as much relevance now as then, and as if to prove its point - have created an all-new Liv EnviLiv.
Liv EnviLiv: construction
As with previous iterations of the brand's flagship performance bike the 'designed to win' ethos remains. As we mentioned at the time of the 2023 Liv EnviLiv launch, the Liv EnviLiv Advanced SL frameset is, in theory, being raced under Dutch team Liv Racing TeqFind and Australian Team Jayco AlUla at the the 2023 WorldTour, as well as German Liv Racing triathlete Lisa Tertsch.
This new SL frameset has been totally reworked, and leaves little of the previous iteration behind, with not one tube remaining unadulterated.
You can read all the stats around the frameset design and wattage savings to be had in the launch story on the Liv EnviLiv's total redesign, but as a quick reference guide, the new AeroSystem Shaping Technology promises to enhance aerodynamic performance at every angle of yaw.
This has meant totally new geometry, which almost mirrors that of the Liv Langma Advanced millimetre by millimetre, and a new lay up structure, specifically to a new Advance SL Grade composite.
In effect it's lifted the front end up, rounded and slimmed down a lot of the tubing profiles, especially at the rear end. The tubing shapes reflect what we've already seen on the on the latest Giant Propel, unsurprising given the manufacturers are one and the same.
This has also created weight savings of 205g on the new EnviLiv frameset compared to the 2019 version of the bike.
Without a stripped down frameset I can't verify this weight claim, but I can tell you that the overall Liv EnviLiv Advanced Pro AXS on test came in at around 8kg for a size medium, which is also the largest size they make.
Liv EnviLiv: the build
The other area of construction note is the re-designed cockpit. The internal cable routing is much less convoluted than the previous EnviLiv model, piggybacking on the Giant Propel redesign.
The two piece Liv Contact SLR Aero bars and Giant Contact SLR Aero, OverDrive Aero stem does in theory allow for retro fitting of your own preferred front end. However, as with the Giant Propel, the D-shaped steerer tube and corresponding spacers (which allow for the aforementioned neater cable passage) significantly limit choice to pretty much Giant only.
You probably could find another stem that worked, but you'd have to do your homework in terms of locating a compatible brand. Swapping handlebars out is easier, thanks to a standard 31.8 mm diameter clamp, but again, you'd have to search for ones that accepted internal cabling with an exit port near rear center of the bars to make ensure cables and hosing were still integrated.
Our test model was the Liv EnviLiv Advanced Pro AXS, with the AXS denoting the fact that SRAM Force AXS is on board. It's the first bike we've seen equipped with the brand new groupset, which was launched on the 1st March this year.
You can read all about the new SRAM Force AXS launch over here, but it's worth highlighting here that we're not sure how much availability there will be of this specification, and it's currently not even showing as in stock, and when it is it'll be the most expensive version at £6,999.
As a quick group set recap, you get 12-speed wireless transmission, hydraulic disc brakes and an integrated Quarq D-Zero power meter.
The Ultegra Di2 version is however ready to buy now, which is exactly the same frameset, cockpit and wheels and again 12speed, but this time without any power meter, although it comes down a little in price to £6,699.
Finishing off the bike are the Giant SLR 1 50 Carbon Disc Wheel System, with 22.4mm inner width, shod in CADEX Race tubeless 700x25c (26.5mm effective width) tires.
Liv EnviLiv Advanced: the ride
I somehow managed to find myself riding the Liv EnviLiv in a curious window of bike testing. I've gone from riding the £300 Brand X road bike to riding this alongside the £8,200 Wilier Filante SLR. Quite a juxtaposition.
Having been used to the 11.5kg of the Brand X entry level bike, this racing beast was clearly no comparison. A set of two wheels and dropped bars was about the only common ground shared between them.
Rolling off the drive and it was clear that the Liv Enviliv is happiest going fast in a straight line. It's here where the bike's aero elements seem to come together to create forward propulsion, once wound up to speed, although this did seem to take a while and is quickly lost, especially if an incline is involved.
Not that its geometry alludes to this, as the much higher front end feels like a dramatic shift in the bike's genetics, but as we know, in aero optimisation, lower does not always equal faster.
There's only so much contortion a rider can do to create a small frontal area before it will negatively impact on their physical capabilities. So being positioned more upright on the EnviLiv does create space between knees, hip flexors and chest.
What was more pertinent for me was a much happier upper back and neck when riding the drops, as I wasn't straining to look upwards to just look ahead.
However, being in the drops, wasn't always just about being aero, and it wasn't totally pain free.
While riding in the drops on the flat was fun, when descending it became a necessity.
I live right on the edge of the Peak District, and while I'm blessed with countless remote and often quiet roads, the majority point either up or down and are always open to the elements.
Flanked by dry stone walls which are punctuated with gateways, these roads can be tricky to navigate, with the wind always curating a new challenge to contend with. Gusts swirl, twist and turn over the fields and moorland as much as the tarmac itself, making it hard to predict exactly which direction it will blow at you from.
While this constant buffering is generally manageable on most bikes, it seemed to take on a relentless interrogation on the Liv Enviliv, especially heading downhill. The side snatching from wind whistling through gaps in the walls was pretty hair-raising at times, making me want to get down low and cover the brakes in as the sudden blast tried to blown me off line.
I find that keeping low at the front is the best way for how to cycle in the wind, meaning that being in the drops is a no brainer, but the shape of the bars weren't the most comfortable, as someone with small radial grip, I found it overstretching my thenar web space (the space between thumb and forefinger). I had to drive my hand in to the bar in order to curl my fingers round the break leavers in order to be ready to scrub off speed.
I had a similar issue on the hoods too, highlighting my Shimano over SRAM preference. I struggle with the angular hoods on SRAM Force, even with its re-design, and the difference between this and equivalent performance level Shimano Ultegra Di2 is night and day for me comfort wise. It's something to think about when deliberating over Liv Enviliv spec choice. Personally the lure of an onboard power meter wouldn't be enough to sway me away from selecting the Liv EnviLiv Advanced Pro with Ultegra.
A pair of shallower rimmed wheels would have almost certainly addressed a lot of this squall, but then you'd really start questioning the ambition of the bike.
On the flip side, riding the bike slow also isn't without it's challenges.
The impact of a taller front end, which while seemingly a mere 8mm, has increased the trail by 15mm, which in turn has created a wheel flop issue.
This means that when the bike is ridden at slower speeds, e.g. climbing steep hills, the front end has a tendency to become wayward, flopping down left or right, and requiring a marked effort to correct. The faster you ride, the less the flop is felt, as the wheel inertia reduces reduces the torque require to correct the steering.
Liv EnviLiv: value and conclusion
I really wanted to love the all-new Liv EnviLiv, but it really just ain't my bag baby. The numbers in the wind tunnel show that on paper this is a faster model. After all aerodynamics is about the total package of watts saved, and not how swiftly a bike can respond to rider handling demands.
But when riding it back to back with the Wilier Filante SLR it struggled to even hold onto it's shadow. Admittedly there is a £2,700 price increase with the latter, but I'd rather hold out until I could afford as the Liv EnviLiv feels like too big of a compromise.
What I loved about the previous version of the Liv Enviliv was it's ability to master of all topography. While now I just don't think it's got the same chirpiness as before.
I do think that the wheels do play a big part, and are oversized, like an oversalted dish cancelling out all other flavors. While the bike doesn't clatter or batter you about like some extra stiff aero bikes can do, the EnviLiv's more relaxed endurance geometry focus is lost as your cortisol spikes from battling the wheels in anything other than a gentle breeze.
Price tag wise, the £6,999 means that it is exactly where it should be when looking across to peers for a like for like specification, but unfortunately it's just not the bike for me.
Liv EnviLiv: specs
Frame and Fork: Advanced-Grade Composite, disc
Groupset: SRAM Force AXS, 12s intergrated Quarq D-Zero power meter
Bars: Liv Contact SLR Aero bars
Stem: Giant Contact SLR Aero, OverDrive Aero
Wheels: Giant SLR 1 50 Carbon Disc WheelSystem
Tires: CADEX Race tubeless 700x25c
Weight: 8kg (medium)
Sizes: XS, S, M
Thank you for reading 20 articles this month* Join now for unlimited access
Enjoy your first month for just £1 / $1 / €1
*Read 5 free articles per month without a subscription
Join now for unlimited access
Try first month for just £1 / $1 / €1