How to cycle in the wind: pro tips to help keep you upright
Former pro Roger Hammond explains how to deal with strength-sapping gusts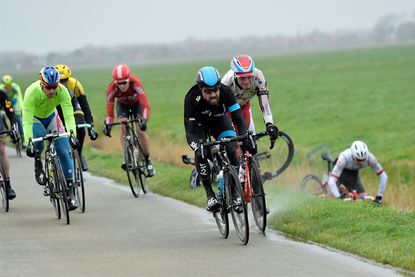 A gusty day can make for a challenging ride and years of competing in the Classics means that Roger Hammond has a huge amount of experience when it comes to riding in the wind.
One of the first things to consider is position: "In the wind it's a compromise between getting as long and as aerodynamic as possible but also being able to see the road," says Hammond. Getting low will reduce your frontal area and tucking in your elbows and hugging into the bars will increase stability.
When riding in a group in the wind, rotate through on the sheltered side of the group and pull off on the windward side. Never take long turns on the front as they are too fatiguing. The key is to keep things smooth.
>>> Tips for riding in the rain
If there is a group then it is worth making the effort to catch it or stay in it as you will lose a lot of time by riding on your own, as Hammond explains: "It's exactly the same sort of effort as a climber; if you don't make the effort at the bottom of the climb, you're never going to get there [to an echelon]."
The essentials
Be prepared for gusts when passing gaps in hedges or between buildings
Work with other riders to create shelter
Ride on the drops and tuck in low to the bars to increase stability
Don't overlap wheels as a gust could send you sideways
Leave your deep-section wheels for a less windy day
Check the weather forecast before planning your route
In an echelon, riders stagger themselves in a fan across the road to protect each other from the crosswind but as it can only go as wide as the road, some riders will be left in single file.
Hammond explains how people in this position are vulnerable to being dropped: "Echelons are the best way of riding into the wind in a group. You make sure that you only have people who can ride in the wind and understand how an echelon works."
Plan your route so that you tackle the headwind on your way out and then enjoy a tailwind on your return home. Planning ahead is even more important for a race, says Hammond.
"Make sure you know where the wind is going to start, whether it will be a headwind or crosswind. It's about looking up where the wind is coming from, understanding where there might be no trees, no hedgerows. It's all about preparation. It's the same for climbing. You've just got to treat it like a climb. And do your research."
Get aero
Key points
Getting down low on the drops and tucking in your elbows reduces your frontal area and helps you to hold a stronger, more stable position. Be prepared for your front wheel to feel light if a gust catches it, so push extra weight through the bars.
Pedalling a slightly harder gear in a slower cadence than usual can help you to feel more stable and in control than a lighter gear. Churning a big gear can make it easier to apply the necessary power to keep on pushing through a headwind.
If riding with others, position yourself slightly to the side of them out of the wind. Line your wheel up so their rear wheel offers your front wheel protection. Be prepared to ride hard to stay on the wheel in front.
>>> Seven simple steps to be a successful cyclist
In training, ignore your speed and instead focus on feel, power or heart rate as a measure of your effort. Riding in the wind requires as much focus and physical effort as climbing a mountain.
Make sure your clothing is tight-fitting and do up any zips so that your jacket cannot inflate and create even more resistance. You don't want to create a sail effect, billowing in the wind.
Be prepared to move around the bunch to find the most sheltered spots as the wind or road changes direction. If you are on your own, anticipate the shift from headwind or tailwind into a crosswind as you change direction, so you are braced for it and it doesn't throw you off balance.
Thank you for reading 10 articles this month* Join now for unlimited access
Enjoy your first month for just £1 / $1 / €1
*Read 5 free articles per month without a subscription
Join now for unlimited access
Try first month for just £1 / $1 / €1
Hannah Reynolds interest in cycling started while studying for a degree in Sports Science at the University College Chichester. A number of students and lecturers were elite and even world class cyclists, many of whom went onto long-term careers in cycling. Despite being a complete novice she was taken under the wing of the experts and given a fast-track introduction to the world of road racing, cross-country mountain biking, time trials and cyclo-cross. A committed dabbler whose passion outweighed her talent Reynolds has competed across all disciplines of cycling bar BMX. In the very distant past she has been south-east road race champion, southern cyclo-cross champion and finished third in the European 24hr Solo mountain-bike champs in 2011. She was also the Fitness Editor of Cycling Weekly for 15 years.
In more recent times Reynolds has worked as a cycle guide in the UK and France. She is author of several cycling books, France-en-Velo a guide to the ultimate 1000 mile cycle route from the Channel to Med; Britain's Best Bike Ride. LEJOG1000; A 1000 mile journey from Land's End to John o' Groats and 1001 Cycling Tips. Her cycling now is less competitive and more focussed on travel and helping her young son to experience the world by bike.