SRAM brings 12-speed, wide-range gearing to the gravel riding masses with Apex Eagle and Apex XPLR
Apex tier offers gravel and adventure groupsets for less than $1,000, but how does it perform?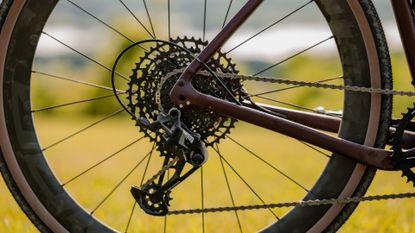 (Image credit: SRAM)
American component manufacturer SRAM today unveiled two, all-new 12-speed, wide-range Apex gravel groupsets, thereby folding its lowest tier offerings into the 12-speed gravel ecosystem.
Billed as a "continuation of our commitment to providing the right drivetrain for gravel riders, no matter how you define gravel," the mechanical Apex Eagle and Apex XPLR groupsets are made for those who like to go off the beaten path and explore further by bike. Best off all? The Apex groupsets retail for just under $1,000, making the gravel gearing accessible to more riders.
The introduction of a 12-speed entry level groupset comes at a time when the bike industry has seen an influx of new and returning riders thanks to the global Covid-19 pandemic.
"We think [12-speed Apex] is particularly well-suited to the needs of new riders, both in features and in price point," says JP McCarthy, Road Product Manager at SRAM.
The mechanical Apex Eagle and Apex XPLR are just two of the four groupsets launched today - we've also seen SRAM's Apex AXS electronic offerings.
Introducing: 12-speed SRAM Apex
SRAM Apex - What it is
With this product introduction, the Chicago-based manufacturer replaces its limited 11-speed Apex offerings with wide-range, 1x12-speed options for the modern rider.
The Apex collection is targeted at an audience that "knows how to have a good time," says SRAM. Specifically, the gravel-riding, bikepacking, adventure-seeking ridership that's looking for reliable, capable shifting without breaking the bank.
The Apex Eagle and XPLR series pair SRAM's classic DoubleTap shifting with powerful hydraulic braking in a robust, reliable and go-anywhere 1x12 gearing package.
The new SRAM Apex AXS comes in two versions:
SRAM Apex XPLR: With 11-36t and 11-44t cassette options, XPLR is an "all-around" groupset made to offer a 400% gear range to help you conquer gravel climbs and city commutes alike.
SRAM Apex Eagle: With 11-50t and 11-52t cassette options, the Eagle collection comes from the mountain bike side and is made for the most demanding and adventurous off-road routes. With a gear range of up to 520%, this groupset will help you carry a load across even the most technical terrain.
Both derailleurs make use of a clutch system for smooth jumps over a big gear range and reliable chain tension. They also feature SRAM's X-HORIZON straight parallelogram design, which is said to make ghost shifting impossible while also reducing shift force. The cage lock feature makes for fast wheel changes or chain installation.
Unlike the rest of SRAM's 12-speed groupsets, the 12-speed Apex tier is compatible with a regular, 11-speed, HG-splined freehub body instead of the SRAM-specific XDR drivers. While this makes the groupset more accessible to those who may already have an 11-speed setup, there is a 10% gearing loss as the smallest gear is now a 11T instead of 10T.
The Apex shift-brake levers: Offered with hydraulic brakes only, the Apex groupsets make use of SRAM's tried and true hydraulic braking platform and incorporate the same ergonomics as the SRAM AXS controls to suit hands of all sizes. The levers feature a textured hood and paddle for control and a Reach Adjust function for a personalized fit.
The Apex 1 Wide Crankset: The new Apex 1 wide crankset, compatible with both the Eagle and XPLR version, features aluminium crankarms, a DUB spindle, and X-SYNC chainrings for chain management.
Cross-tier compatibility: If you're looking to shave weight or upgrade your groupset over time, you can do that as long as the derailleur, chain and cassette correspond. I.e., you can swap the cranks or shifters, but an Eagle cassette won't play nice with an XPLR derailleur. However, you can certainly swap a lighter Force XPLR cassette in place of an Apex XPLR cassette (as long as you swap out the HG freehub body for an XDR freehub.)
Power meter option: Not just for elite riders anymore; there is a power meter upgrade option available in the aftermarket. The single-sided, spindle-based power meter nestles into the crank arm for precise and reliable power data that, SRAM claims, is just as accurate as its spider-based power meter. The power meter features a user-replaceable AAA lithium battery with a claimed battery life of at least 400 hours. The upgrade is just 40g heavier than a standard crankset and retails for $220.
Flat-bar option: And finally, SRAM is also releasing a 12-speed Apex flat bar option —both electronic and mechanical— for gravel, fitness, urban and e-bike builds.
SRAM Apex - What it lacks
- 1x, hydraulic brakes only: The Apex groupsets are limited to 1x only, replacing the existing 1x11 options. There's no 2x road-oriented option, and the groupset is not compatible with any cable actuated disc brakes.
- No XDR Driver: The move to an HG spined driver also came at the loss of the bottom, 10t gear and therefore a loss of 10% in the gearing range.
- While there is cross-tier compatibility, you cannot freely mix and match between the Apex XPLR and Eagle AXS series. While the shifters and crankset are cross-tier and cross-series compatible, the derailleur, chain and cassette are not. The XPLR series uses a flattop chain and is limited to a 44T cassette, while the Eagle uses an Eagle-specific chain and can go up to a 52T cassette. The rule of thumb is that the derailleur, chain, and cassette must match.
SRAM Apex - Weight
The complete Apex groupset —batteries, bottom bracket, disc brake rotos, chain, lockrings, housing and hydraulic fluid included— weighs 2,872 grams for the XPLR versions and 3,062 grams for the Eagle version. That's around 100 grams lighter than its Apex electronic siblings.
SRAM Apex - Price & Availability:
In the US a complete Apex XPLR groupset comes in under the magical $1000 mark, retailing at $947. UK buyers will have to spend just over a grand, though, as the complete group costs £1015. Likewise, in Australia it'll go on sale for A$1626.
Both US and UK consumers will be able to pick up Eagle for under $1000/£1000 - $929 and £986 respectively.
SRAM says it's expecting to see most of its Apex sales to come from the OEM channel — bike brands spec'ing the groupset on its complete builds. Still, for those wishing to upgrade to a wide-range gravel group, 12-speed mechanical Apex will be available starting September 2023.
SRAM Apex Eagle - First Ride Impressions
SRAM started off as a producer of mountain bike products, notably pioneering the grip shift in the late 1980s. It wasn't until the aughts that the Chicago brand introduced its first road gruppos, challenging Shimano's stronghold on the market.
SRAM's approach to mechanical shifting, called the DoubleTap, was and continues to be unlike anything else on the market as it allows up and down shifts with the same the hand, in one sweeping motion. A light push to shift down the cassette, a heavier push to go up the cassette. In a 1x system, a single lever does all the work, and I'll admit it had been a minute since I last used DoubleTap. But on my one test ride with the new Apex Eagle groupset, the muscle memory came back within minutes and I soon found myself shifting up and down the large cassette mindlessly.
I've always found DoubleTap to have a satisfying feel and click to it. Not unlike driving a stick shift versus an automatic. You just feel in control (even if you mis-shift from time to time). In short, the DoubleTap single-level ratchet system is tried and true, and it has just as many devotees as it has critics. It's a very different shifting experience from SRAM's electronic offerings and not nearly as smooth, but it's robust and reliable.
With its pie-plate sized cassettes, the Eagle gearing range favors exploratory and off-road riding. On the rolling hills of Illinois' driftless region, I was happy to have the wide range and easy gears especially. Though, on the road, it's not hard to spin out in a 38t or 40t x 11t low gear when riding in a group setting.
For bikepacking and adventures into the unknown, I tend to favor 1x mechanical setups as they're simple, provide a better chainline, and have fewer moving parts that can fail. The Apex Eagle and XPLR offerings are a welcome addition for those looking to buy their first gravel rig or upgrade their current 2x system to a capable 1x setup without breaking the bank. My time on the Apex Eagle was limited but genuinely enjoyable. To me, the Apex Eagle is trickle-down technology at its best.
Thank you for reading 20 articles this month* Join now for unlimited access
Enjoy your first month for just £1 / $1 / €1
*Read 5 free articles per month without a subscription
Join now for unlimited access
Try first month for just £1 / $1 / €1