A $1300 electronic, wireless groupset? Yes, please! SRAM introduces Apex AXS — the lowest-priced electronic groupset yet
With a regular HG spline freehub body and lower cost, this fourth-tier groupset makes electronic shifting available to a new audience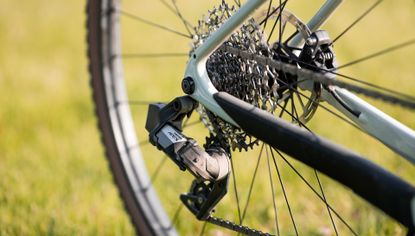 (Image credit: SRAM)
Trickle-down technology is a beautiful thing, and it may have taken SRAM eight years to get here but today, the American component manufacturer (finally) introduced a wireless electronic groupset at the entry level.
For those unfamiliar with SRAM's product hierarchy, 'Red' dentifies the top-tier products followed by 'Force'. Then there's 'Rival' in the middle and 'Apex' as the entry-level tier.
The Chicago-based brand first introduced its wireless, electronic shifting to the market back in late 2015 by the name of SRAM Red eTap. A hydraulic disc brake version, called HRD, soon followed, as did a so-called WiFLi (Wider, Faster, Lighter) version of its eTap rear derailleur, which was compatible with a wider range of gears than a standard rear derailleur. The eTap AXS (pronounced "access") ecosystem we use today was introduced in 2019 at the Red and Force level. A third-tier, Rival AXS, followed in 2021, and with today's release, a full four-tier lineup of SRAM AXS products is now available.
While an Apex-level electronic groupset had always been part of the long-term plan, it took a backseat to the brand's priority to meet the demands for and production of innovations like hydraulic brakes, 1x drivetrains, and wide range gearing. With those technologies now mastered and the electronic wireless shifting widely adopted by consumers at the higher end, Apex got the electronic treatment.
More than that, Apex also got a full makeover on the mechanical side with today's unveiling of the 12-speed Apex mechanical groupsets. More on that in our Apex mechanical article here.
"What makes this product introduction really timely are the countless new riders that have come to or returned to cycling in the last couple of years," says JP McCarthy, Road Product Manager at SRAM. "We are all super fortunate that cycling has not just weathered, but it's really thrived through a global pandemic."
"We're proud to introduce Apex AXS, which we think is particularly well-suited to the needs of new riders, both in features and in price point. This is a continuation of our commitment to providing the right drivetrain for gravel riders, no matter how you define gravel."
Introducing: SRAM Apex AXS
SRAM Apex AXS - What it is
With this product introduction, SRAM now offers an entry-level tier to its 12-speed eTap shift logic. This wireless electronic shifting is meant to simplify the riding experience so riders can focus on their ride, not their equipment. In this 1x setup, you tap one paddle to go to an easier gear and the other to shift into a harder one. As SRAM states, "nothing extra, nothing distracting."
While there are plenty of consumers still hesitant to adopt a wireless, battery-operated system —after all, a dead battery means you're now riding a single speed— benefits of the eTap system include precise, instant shifting with the push of a button; the option to shift multiple gears in just one click; programmable and customizable button functions; and a quick, clean installation —no cables to route!
The new SRAM Apex AXS comes in two versions:
SRAM Apex XPLR AXS: With 11-36t and 11-44t cassette options, XPLR is an "all-around" groupset made to offer a big range of gearing to help you conquer gravel climbs while also offering tight jumps for fast road riding.
SRAM Apex Eagle AXS: With 11-50t and 11-51t cassette options, the Eagle collection comes from the mountain bike side and is made for the most demanding and adventurous off-road routes. With a gear range of up to 520%, this groupset will help you carry a load across even the most technical terrain.
Unlike the rest of SRAM's AXS groupsets, the Apex tier is compatible with a regular, 11-speed HG-splined freehub body instead of the SRAM-specific XDR drivers. While this makes the groupset more accessible to those who may already have an 11-speed setup, there is a 10% gearing loss as the smallest gear is now a 11T instead of 10T.
Other features:
- Both rear derailleurs feature a spring clutch for quiet and secure chain management on- or off-road. The Eagle AXS derailleur also features cage lock technology for fast wheel changes or chain installation
- The groupsets are both 1x, 12-speed and hydraulic disc brake only.
- Cranks sold through the OEM channel will come with a 40t steel chainring but aluminum chainrings ranging between 36t to 46t will be available.
- The shifters feature a new, optimized hood shape meant to fit even those (like myself) with small hands, and new, textured hoods and paddles for control and comfort.
- SRAM Apex AXS is wireless blip compatible.
- Cross-tier compatibility: If you're looking to shave weight or upgrade your groupset over time, you can do that as long as the derailleur, chain and cassette correspond. I.e., you can swap the cranks or shifters, but an Eagle cassette won't play nice with an XPLR derailleur. However, you can certainly swap a lighter Force XPLR cassette in place of a Apex XPLR cassette as long as you swap out the HG freehub body for an XDR freehub.
- Power meter option: Not just for elite riders anymore; there is a power meter upgrade option available in the aftermarket. The single-sided, spindle-based power meter nestles into the crank arm for precise and reliable power data that, SRAM claims, is just as accurate as its spider-based power meter. The power meter features a user-replaceable AAA lithium battery with a claimed battery life of at least 400 hours. The upgrade is just 40g heavier than a standard crankset and retails for $220.
- Flat-bar option: And finally, SRAM is also releasing a 12-speed Apex flat bar option —both electronic and mechanical— for gravel, fitness, urban and e-bike builds.
SRAM Apex AXS - What it lacks
- 1x only: As stated above, the Apex AXS groupsets are limited to 1x only. There's no 2x road-oriented option.
- No XDR Driver: The move to an HG spined driver also came at the loss of the bottom, 10t gear and therefore a loss of 10% in the gearing range.
- Simplified finish: production costs had to be lowered in order to offer electronic shifting at an entry-level price point. This means material changes throughout, less machining, and a simplified finish. Rather than a shiny, polished finish, the Apex products feature a matte, laser-etched finish.
- Old HDR bleeding process: while the brake caliper shape and pads are similar to its Rival, Force or Red AXS peers, the Apex Shift-Brake system servicing procedure will differ.
- While there is cross-tier compatibility, you cannot freely mix and match between AXS XPLR and Eagle AXS series. While the shifters and crankset are cross-tier and cross-series compatible, the derailleur, chain and cassette are not. The XPLR series uses a flattop chain and is limited to a 44T cassette, while the Eagle uses an Eagle-specific chain and can go up to a 52T cassette. The rule of thumb is that the derailleur, chain, and cassette must match.
SRAM Apex AXS - Weight
The complete Apex AXS groupset —batteries, bottom bracket, disc brake rotors, chain, lockrings, housing and hydraulic fluid included— weighs 2,976 grams for the XPLR versions and 3,267 grams for the Eagle version. That's only around 100 grams more than its Rival AXS and Apex mechanical siblings.
SRAM Apex AXS - Price & Availability:
As already mentioned SRAM Apex Eagle AXS will cost under $1300/£1300 when it reaches stores. In the US it'll be $1292, and in the UK £1299. Apex XPLR AXS is cheaper still - $1195 and £1227.
SRAM says it's expecting to see most of its Apex AXS sales to come from the OEM channel — bike brands spec'ing the groupset on its complete builds. Still, for those wishing to upgrade to electronic, Apex AXS will be available starting this June.
SRAM admitted to Cycling Weekly that it had been a tad too aggressive coming out of the gate with its low Rival prices and that these prices are currently being adjusted. Summing up the retail prices as listed on the SRAM website, the 1x Rival XPLR AXS groupset comes in at $1,576, just a couple hundred bucks more than the Apex XPLR AXS.
It is so close to Rival pricing, McCarthy does expect "Apex to cannibalize some Rival sales, but that's ok."
SRAM Apex AXS XPLR - First Ride Impressions
I was an early adopter of SRAM eTap technology and have equipped my bikes with a wireless electronic groupset ever since its initial launch. As such, I am extremely excited by the opportunity for more riders to have access to this shifting technology. It's intuitive, ideal for someone who travels a lot and easy to use. Without cables, there's no cable stretch and the shifting is crisp and reliable mile and after mile. Sure, you have to remember to charge your batteries occasionally but I usually carry a spare, and in my six years of using the eTap groupsets —heavily, I might add— I've only run out of battery twice.
My go-to bike is equipped with a SRAM Force AXS XPLR drivetrain, giving me a pretty good comparison to this all-new Apex version. Now, I've had only one ride on the new Apex AXS XPLR, and in terms of initial impressions and performance, the difference between my go-to bike and this new SRAM Apex AXS XPLR is pretty minimal.
I personally quite like the simple, matte black aesthetics, and the weight difference, when offset by the Juliana Quincy demo bike equipped with Zipp's 3ZERO MOTO carbon wheels, is indiscernible.
On the road I did find myself spinning out and missing that 10T low gear. And the shifting, especially whilst riding uphill and out of the saddle, did feel less crisp and more jarring than my go-to Force AXS groupset.
Still, the shifting is quick enough and reliable. If you want electronic shifting without making a huge investment, Apex AXS is where it's at. For me, the fact that you can gradually upgrade to a lighter crankset or cassette is a big sales point. And what excited me most about this entry level electronic groupset is what it'll do to the cost of complete bikes. I know of some brands already that will spec their full-carbon, race-capable bikes with this SRAM Apex AXS groupset for around $3K. In a market that's been promoting bikes for as much as $14,000, this is a welcomed counterpoint.
It remains to be seen what the Apex level offering will do to its Rival or even Force siblings, but if you're new to electronic shifting or looking for a capable gravel bike, Apex AXS is well worth your consideration.
Thank you for reading 20 articles this month* Join now for unlimited access
Enjoy your first month for just £1 / $1 / €1
*Read 5 free articles per month without a subscription
Join now for unlimited access
Try first month for just £1 / $1 / €1