SRAM Red eTap goes wide range with WiFli rear mech
WiFli rear mech will handle cassettes up to 32 teeth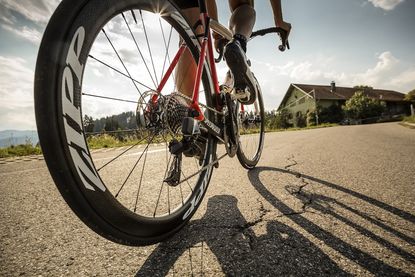 SRAM has been pushing the envelope with its cassette and gear range options on its groupsets, so it was only a matter of time until it introduced a wide range version of its top end SRAM Red eTap groupset.
>>> SRAM launches hydraulic disc braking for eTap
eTap was introduced with much fanfare earlier in the year, after extensive testing, and uses wireless signalling to transmit gear change signals between the levers and the derailleurs, each of which has its own battery pack attached.
The original mechanical braking was soon joined by a hydraulic disc brake option, but the gear range remained a race-focussed 11-28 maximum range. In the summer, Dura-Ace R9100 stole a jump on it though with an 11-30 range. Now eTap WiFli extends the range to 32 teeth, by virtue of a long cage rear mech. Minimum capacity is 11-26 teeth.
>>> New Dura-Ace Di2 v SRAM Red eTap: everything you need to know
At the same time, SRAM has updated the design of the eTap rear mech, to improve the gap between the mech and the chain, which it says offers more consistent shifting. With the 24g battery pack attached, the WiFli version of the eTap rear mech weighs a claimed 243g, against 235g for the short cage eTap mech.
Watch: Buyer's guide to groupsets
If you want to get your extra 4 tooth range, you'll need deep pockets though: the WiFli rear mech has a recommended retail price of £485.
As well as selling the separate rear mech, SRAM is also selling an eTap upgrade kit consisting of the WiFli rear derailleur, a SRAM XG-1190 11-32 cassette and a SRAM Red 22 11-speed chain. This is priced at £745.
>>> SRAM Red eTap ride review (video)
And a complete eTap WiFli groupset costs £1298 with rim brakes, £1744 with flat mount hydraulic disc brakes and £1753 with post mount discs.
SRAM says that WiFli stands for Wider, Faster, Lighter and that it gives the range of a triple but with faster shifting and substantial weight savings.
Thank you for reading 5 articles this month* Join now for unlimited access
Enjoy your first month for just £1 / $1 / €1
*Read 5 free articles per month without a subscription
Join now for unlimited access
Try first month for just £1 / $1 / €1